---
Jet Tent Pilot DX Camping Chair with Lumbar Support is a very large and comfortable chair with several adjustability options, a headrest, and with all parts replaceable.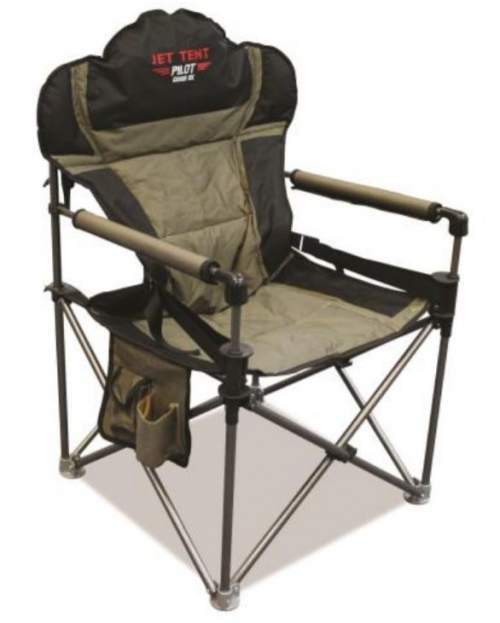 ---
Key features & benefits
Adjustable lumbar support.
Padded, solid & adjustable armrests.
Headrest.
All parts replaceable.
Huge dimensions.
Very comfortable.
Very strong.
Cup holder & pocket.

---
So what this is about
Here you have a folding camping chair that has been on the market for a number of years already. It comes with several adjustability options and support features. For transportation, it collapses and it remains large in one dimension only.
Lumbar support: One of the most important features here is its lumbar design and this is why I have included this chair in my list of camping chairs with lumbar support. This system is based on a strap that runs behind the back section. When you sit in the chair, you simply pull the strap on both sides and regulate the lumbar curvature. So as you realize this is adjustable horizontally and you can move it forward or backward, the picture below shows how it looks.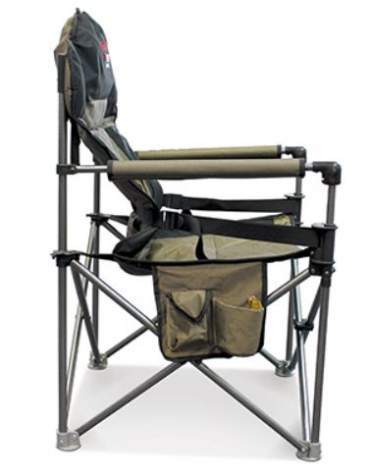 But this lumbar curvature is also vertically adjustable. The strap can be moved into three different sleeves shown in the picture below, so you can find the best position of the lumbar strap to fit your body size.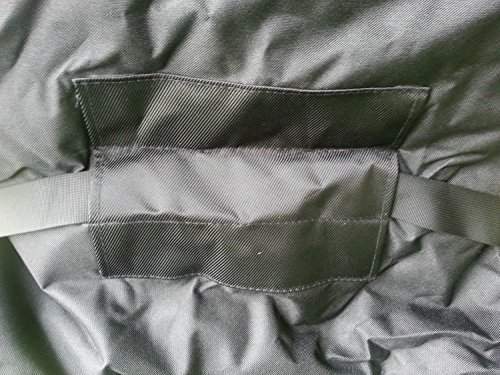 Armrests: You have solid armrests here but they are padded to avoid contact with metal. Here too you have an adjustability system – it is based on the vertical straps that run along the back poles. With this you change the angle of the armrest bars. Note that the armrests are very long, 23 inches (58 cm).
The armrests are indeed long and lightly padded but rather narrow. Those in the OzTent King Kokoda  Chair are more comfortable but their position is fixed.
Headrest: This is a chair with an exceptionally high back, so this creates a headrest, this is why it is included in my list of chairs with headrest. But they have added something clever here, you have a zippered pocket on the top where you can put anything (including its own carry bag) and create a pleasant pillow for the head support. You have something similar in the OzTent King Kokoda  Chair.
Cup holder & pocket: This Jet Tent Chair comes with a glass holder on the side, plus a small storage pocket with a flap.
The chair is padded and I have added it to my list of padded camping chairs.
---
Who is it for
Size-wise, this is indeed a large chair with 25 x 25 x 44 inches (64 x 64 x 112 cm) dimensions. But the seat is not so high, it is at 17 inches (43 cm) above the ground. Note that the armrests are very long and solid so you can get in and out of the chair very easily.
Capacity-wise, the chair supports up to 330 lb (150 kg) and this is quite normal and moderate. In my list of folding chairs, you can see some that support twice as much.
Weight-wise, the chair is quite heavy 14 lb (6.35 kg), but this is again similar to some other chairs of this type. You will see some in the comparison table below.
The packed size (L x D) 39.6 x 8 inches (100 x 20 cm) is not so great but this is a big chair and the carry bag is nicely designed, see the picture: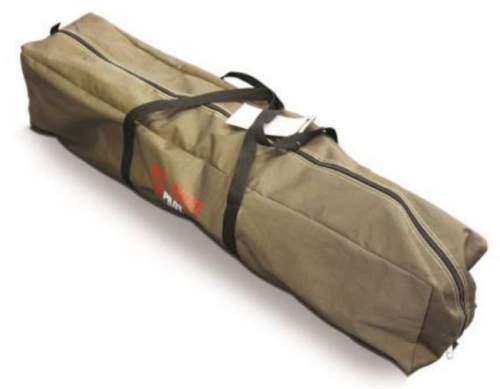 You need a car for transportation in any case, so in view of this, a kilogram of the weight more or less is not a big deal. What matters is its comfort and overall stability. But indeed if you need a lighter chair, please check this Kamp-Rite chair with lumbar support.
Please see a bit more about the chair in this short video:
---
Materials & construction
The frame is a heavy-duty powder-coated steel, and the fabric is a 600D  polyester. Note that the chair is fully padded.
The feet are very wide and this is a floor-friendly design regardless of if you use it at home or in a large family camping tent.
Replaceable parts
I already mentioned various adjustability features that add to the comfort and functionality, but you should know that all parts of this chair are replaceable. This is because everything is screwed on, so you can dismantle it and replace the part.
Even the armrests padding is with Velcro tabs so you can remove it and wash. The same is with the seat fabric which is removable and machine-washable.
---
The price & rating
The daily updated Amazon price is given in the link.
So it looks steep but this is indeed a quality item with a quality craftsmanship and attention to detail. So many adjustability options, plus replaceable parts, you will not find in any its competitors currently on the market.
There are just a few reports by Amazon customers and the chair has scored 4.7/5 average rating which looks incredible but it is not surprising.
Now, I use a variety of criteria and they are all the same for all chairs, for an easy comparison. So, my rating is different, but please see how I rate it:
My rating of the Jet Tent Pilot DX Camping Chair with Lumbar Support"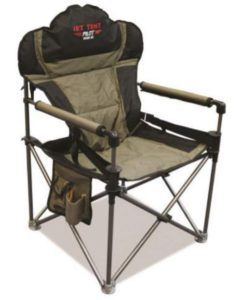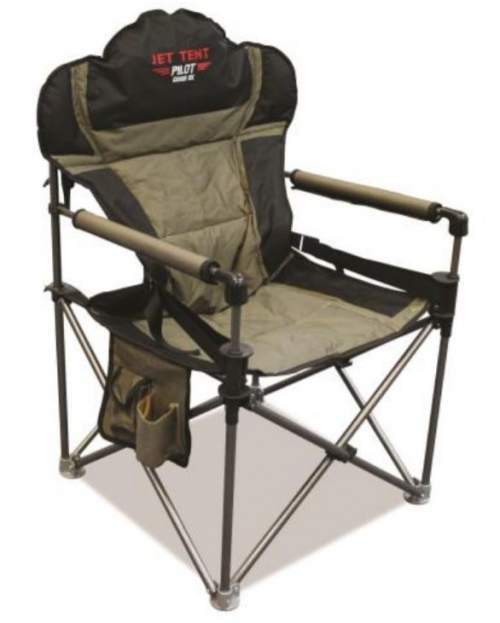 Product Name: Jet Tent Pilot DX Camping Chair with Lumbar Support
Product Description: Jet Tent Pilot DX Camping Chair with Lumbar Support is a very large and comfortable chair with several adjustability options, a headrest, and with all parts replaceable.
Brand: Jet Tent
Weight -

4.5/10

Dimensions -

8.5/10

Packed size -

5/10

Capacity -

8/10

Comfort -

9.8/10

Craftsmanship -

9.8/10
Overall
This is an expensive chair and this is reflected in my overall rating. But this is a top-quality product:
Pros
Very adjustable.
Very stable.
Quality craftsmanship.
Multiple support elements.
Storage elements.
Nice carry bag.
Padded chair.
Replaceable parts.
Cons
Expensive.
Heavy.
Narrow armrests.
---
Specifications
Type: folding & with lumbar support.
Weight: 14 lb (6.35 kg).
Capacity: 330 lb (150 kg).
Dimensions (W x D x H): 25 x 25 x 44 in (64 x 64 x 112 cm).
Packed size (L x D): 39.6 x 8 in (100 x 20 cm).
Seat size (W x D): 24 x 18 in (61 x 46 cm).
Seat height: 17 in (43 cm).
Armrests length: 23 in (58 cm).
Warranty: on the manufacturer's site they offer 5 years warranty.
---
Jet Tent Pilot DX Camping Chair vs Competitors
In the table below you can see how this Jet Tent chair compares with two other chairs with lumbar support. There are differences in the design and in the prices so please follow the links for more details, here I give just a few parameters, this all might help in making an informed decision.
Dimensions
(W x D x H), in (cm)

Jet Tent Pilot DX with Lumbar
25 x 25 x 44
(64 x 64 x 112)

39.6 x 8 x 8
(100 x 20 x 20)

OzTent King Kokoda with Lumbar
25 x 19.5 x 41
(64 x 50 x 104)

39 x 12 x 7
(96 x 32 x 20)

KingCamp Chair with Lumbar
38.2 x 23.5 x 41.3
(97 x 60 x 105)

---
Final thoughts
In the summary of this Jet Tent Pilot DX Camping Chair with Lumbar Support review, I wish to stress that I am really impressed with this chair. It is incredibly well built and reliable, with so many features that I do not remember any chair of this type that could be compared with it. But if you need something a bit smaller please check this OzTent Goanna with a similar design.

For more chairs with lumbar support, please check this list, all are with such a feature. But for folding camping chair in general, see this long list. Check also this EARTH Ultimate 4 Position Outdoor Chair which is reclining and with a headrest.
Note that I am not paid by this brand, this is not a sponsored post. This text is my unbiased view of the product. 
Thank you for reading. Please let me know if you have questions or comments, there is a comment box below. Do you have any experience with this chair? If so, please do share it here. 

---