---
OzTent King Goanna Camping Cot Stretcher is a huge steel construction suitable for tall people, a padded cot, easy to use, and with a nice carry bag.
---
Key features
Padded cot.
Collapsible military style.
Very long.
Great warranty.
Carry bag included.
---
Where to buy
This cot is currently available in some of Amazon stores so check the link and if you are lucky you might find it in your local Amazon store.
---
What type of a camping cot is this
This King Goanna is a collapsible military-style cot which therefore needs a simple assembly. This implies unfolding it and adding the two end bars. The collapsible design also implies that it remains large only in one dimension when packed, as opposed to folding cots that remain large in two dimensions.
This is also a lightly padded cot similar to its smaller cousin the Oztent Gecko cot. This padding insulates against cold, so if you are using it in the camp you might manage without any extra pad at least for a 2-season camping.
---
Who is it for
Capacity-wise, the cot supports the weight of up to 330 lb (150 kg). This is quite remarkable, but if you need something much stronger check this list of cots for heavy people.
Size-wise, the bed here measures 82.7 x 31.5 inches (210 x 80 cm), so this is a huge cot.
Weight-wise, this cot is far less impressive. In fact, it is on the heavy side with its 26 lb (11.8 kg). This together with the packed size of 41.3 x 6.7 x 5.9 inches (105 x 17 x 15 cm) tells you that this is for places with a car access.
But it comes with such nice carry bag so you can carry it short distances, and you will use it also to store it at home and keep clean from dust. You can use this cot as a spare bed for sudden guests.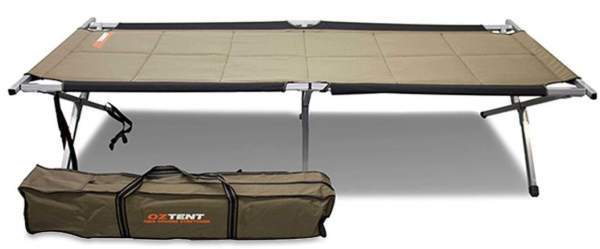 ---
Materials
The frame is powder-coated steel and all the elements except for the two end bars are permanently attached to each other, the bed fabric included. The fabric is a very durable 600D polyester and the padding is 1 cm thick.
The 6 legs are with some plastic caps, but this is a design which is not suitable for a soft ground.
If you use the cot in a tent, it is best to assemble it outside because it needs some space when you unfold it and rotate its legs to their position. You will see this in the video below.
Note that they give a great 5-year manufacturer's warranty for this cot, so they show lots of confidence in their product.
So have a look here, you will see how easy it is to assemble this cot. You do not need any extra tool or much force to make it ready.
---
My rating, price, pros & cons
This cot is currently available on Amazon at the price given in the link. It may look a bit expensive but this is a quality product with great features and a nicely designed carry bag. Please see how I rate it.
My rating breakdown of the OzTent King Goanna Camping Cot:
Weight -

6/10

Size -

9.1/10

Capacity -

8/10

Packed size -

8.6/10

Ease of use & features -

9.2/10
Summary
My overall rating of this cot is Very Good:
Pros
High-level craftsmanship.
Carry bag.
Easy to use.
Great warranty
Cons
Long when packed.
Expensive.
---
Specifications
Weight: 26 lb (11.8 kg).
Capacity: 330 lb (150 kg).
Dimensions: 82.7 x 31.5 x 18.9 in (210 x 80 x 48 cm).
Packed size: 41.3 x 6.7 x 5.9 in (105 x 17 x 15 cm).
Frame: steel.
Warranty: 5-year manufacturer's warranty.
---
OzTent King Goanna Camping Cot vs Competitors
This King Goanna is a large cot so have decided to show it side by side with two other cots that are even bigger. Note that those are currently among the largest cots on the market. As you see the King Goanna packs a bit better, but it is smaller of course. It is more expensive than the other two cots, but it is the only padded cot in the group.
41.3 x 6.7 x 5.9
(105 x 17 x 15)

48 x 9 x 5
(122 x 23 x 13)

45 x 9 x 7
(114 x 23 x 18)

---
Final thoughts
So this Oztent King Goanna Stretcher is indeed an extra large and very comfortable camping cot. The padding is a bonus and the same holds for its great reinforced PVC lined zippered carry bag.
It features a durable steel frame with cross leg design, and you have no poles anywhere underneath the bed deck so there is no chance for hot spots.

Thank you for reading. I have shown you already a couple of alternatives in the table above, but if you need more please check under the category Collapsible Cots, you will find them in all shapes and designs. Check this Eureka! Quick Set Camping Cot which is ready in a second.
Note that this is not a sponsored text and I am not paid by the manufacturer. Please use the comment box below in the case of questions or comments. Have a nice day.

---