---
The Kingcamp Ultralight Compact Folding Camping Tent Cot Bed with only 4.4 lb (2 kg) is a nicely packable and versatile portable tool for outdoor and home use.
Key features
Incredibly packable.
Lightweight.
Very easy setup.
Versatile.
Reasonable price.
The carry bag stuffs in the integrated zippered pouch and can be used as a pillow.
Who is it for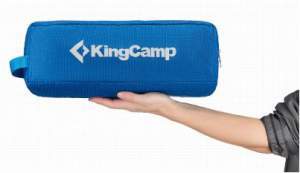 The Kingcamp Camping Cot packs incredibly well to a tube (L x D) 14 x 5.1 inches (36 x 13 cm), and this very much determines its best use and versatility.
So indeed you can use it for various activities outdoor and also as a spare bed for sudden guests at home, or for your kids' sleepovers.
It comes with its own nice stuff bag, so have it somewhere in the closet and use when needed, it doesn't take much space.
But its weight of 4.4 lb (2 kg) limits a bit its outdoor use, although it is indeed a lightweight tool. This would not be my top choice for hiking and mountaineering in the Alps where I normally go. Yet, I see it as a nice piece of equipment in every activity where you do not carry it on your back, like kayaking, cycling, or just camping at places with a car or motorbike access, at trailhead hotels, scout camps, open-air festivals, etc.
If you need something for hiking and backpacking, so something to carry in the backpack, check these ultra lightweight models.
It is so small when packed that you can transport it:
in a travel suitcase,
on a motorbike
on a bicycle,
in a car.
The weight capacity 265 lb (120 kg) is quite good, but for extra heavy people perhaps you might want to see my another text.
Its bed size 75 x 25 inches (190 x 64 cm) is not bad, but for exceptionally tall people I would suggest some other models here in the site, like this Helinox Cot Max.
About terminology
The word 'folding' in the name of this cot is not the best choice because this cot is collapsible. This means it packs to a very small size with only one relatively large dimension. Therefore I have included it in the group of collapsible cots.
The term folding implies two larger dimensions when packed, which is certainly not the case here; you can see foldable cots here. The difference is obvious.
Also, the term 'ultralight' is not the best. This cot is lightweight, but you will see below how it compares with some other cots. In my another text you can see true ultralight cots.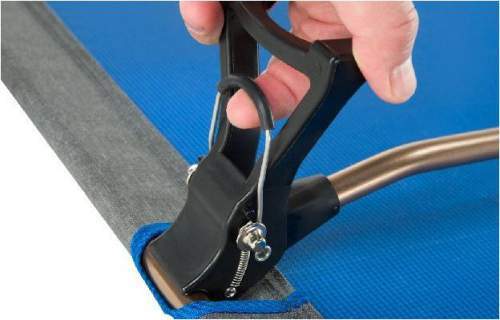 Fitting in a tent
This cot can easily fit in practically any solo tent, even in those that are particularly low like the Eureka Solitaire Bivy Tent, Catoma Badger, or Snugpak Ionosphere 1 tent.
It is very low so only some small items can be stored under it, like trekking poles or similar objects.
It is best used in a 2-person tent, either in a solo variant or by couples. Any regular 2-people tent can accommodate two cots of this type. Take this Kelty Gunnison 2 tent with its 89 x 51 inches (226 x 130 cm) floor size, or this Mountainsmith Morrison Evo 2 Tent.
The legs are with the design suitable for tent, see them below, so there is no danger for the floor. There are 8 wide plastic feet so the weight is distributed in an optimal way.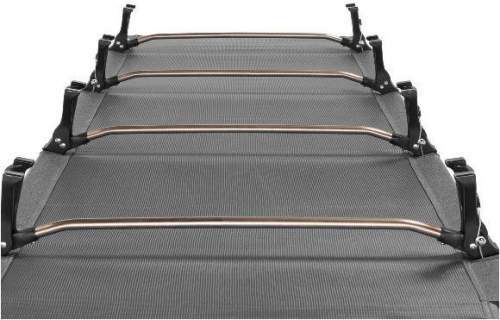 Can you use it in all seasons
Yes, you can. In the summertime you can use it as it is, without any pad. In the wintertime, you will need an insulated pad. But observe that you are off the ground so you need far less insulation than when you are on the ground.
This is about conductivity, the air under the bed takes 50 times less body warmth than if you are on the ground. So you will surely spend less on insulation; insulated pads can be very expensive.
What is included
You have a very nice carry bag with zipper. Inside you have a pouch where the carry bag can be packed and used as a pillow. It is not so big, but better anything than nothing, perhaps adding a jacket inside might help. You will see this in the video.
You have a set of 4 bars which are in fact legs, all shock-corded, see them below.
Two sets of 5 shock-corded segments of the side bars. When you assemble them, you have 2 side poles.
Bed deck fabric.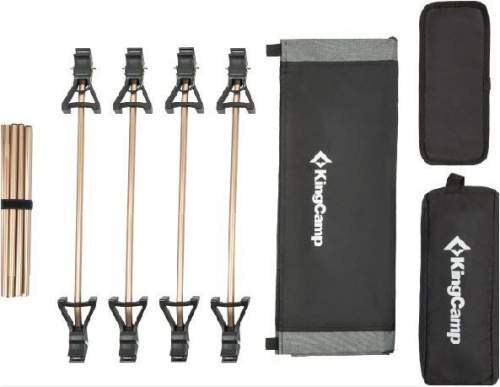 How to set it up
The setup is incredibly easy and you will see all in the video, no need to describe it here for you.
The price & my rating
Note that this is a type without end-bars, and even the side bars are completely covered by canvas, so all the bed surface is a usable space.
The daily updated price is given in the link, and you see also this is an Amazon Prime product so you can have it shipped for free.
Please see how I rate this cot:
My rating breakdown of the Kingcamp Camping Cot
Weight -

9.6/10

Size -

8.3/10

Capacity -

7.5/10

Packed size -

9.9/10

Ease of use & features -

8.2/10
Summary
My overall rating of this cot is Excellent:
Pros
• Nicely packable.
• Very comfortable.
• Very reliable.
• Versatile.
• Reasonable price.
• Easy to use.
• 5 great colors.
Cons
•  Not for extremely tall people.
Specifications
Weight: 4.4 lb (2 kg).
Capacity: 265 lb (120 kg).
Dimensions (L x W x H): 75 x 25 x 4.7 in (190 x 64 x 12 cm).
Surface to weight (m²/kg): 0.61.
Packed size: 14 x 5.1 x 5.1 in (36 x 13 x 13 cm).
Frame: aviation aluminum.
Fabric: 420D polyester fabric, rip stop, durable.
Carrying bag included.
Colors: 5.
Summary
In the conclusion of this Kingcamp Ultralight Compact Folding Camping Tent Cot Bed review, no doubt this is a great cot for home use, and for camping as long as you do not plan to carry it long distances. Its strongest point is its packability which is hard to match.
I love the choice of colors they provide, and its legs design as well. The setup is self-evident and easy, all can be done in just a couple of minutes. I can fully recommend this cot.
Note that they have recently launched yet another unique Camping Cot with 11 inches high legs.
You might want to check also this camping cot from the same brand, for use at places with car access. See also this Petrous Light Beam Low Cot 2.
Check on Amazon
Check at Walmart
I already mentioned ultra-lightweight cots described in this site, so please see this text. Need something with a mattress? No problem, check this impressive list.
Thank you for reading. Please let me know if you have a question or comment, I love to hear from you, there is a comment box below. I wish you a pleasant day.

---