---
Petrous Light Beam Low Cot 2 is a very versatile, backpack portable, nicely packable, and lightweight cot suitable for a variety of outdoor activities and for home use.
Key features & benefits
Backpack portable cot.
Very good price.
Very versatile.
Unique legs system.
Carry bag included.

---
What type is it
The Light Beam Low Cot 2 is also known under the name Siesta 3V Cot. This is a collapsible camping cot, and it really packs to a very small size of only 21 x 6.3 inches (54 x 16 cm). So I am truly impressed with this (but note that there are even more compact cots on the market, see the comparison table below).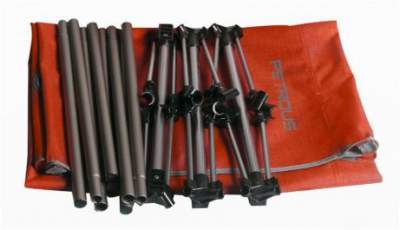 With the weight of 5.3 lb (2.4), this is definitely a backpack portable cot. The word 'low' in its name is about the height which is only 7 inches (18 cm).
If you have a close look at its legs, you will realize that this system is unique. They are V-shaped and connected with bars, see the picture below. So this is a very stable construction regarding longitudinal movement, and it is unlike any other cot reviewed so far in this site.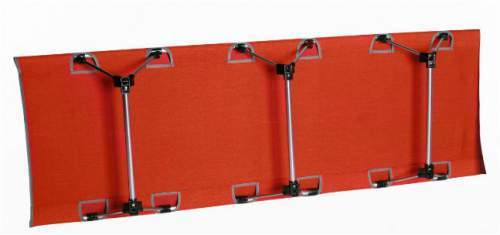 The lateral stability is due to the tension created in the bars and legs which you see in the picture above, and this is what makes the tension in the bed deck.
Who is it for
I guess it would be easier to say who it is not for. This is such a versatile, nicely packable and lightweight tool that it is hard to imagine any outdoor activity where it would not fit.
With such a great packed size you can easily transport it in the car, on a motorbike, on a bicycle, attached to the backpack, in a kayak, in a suitcase, etc.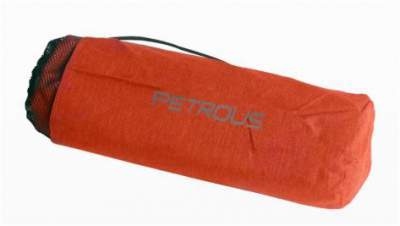 So this cot can be used in any campground, for hiking, mountaineering, fishing, motorbike or bicycle tours, open-air summer festivals, etc.
The cot is also a great spare bed at home for sudden guests. Keep it nicely packed and save from dust in its carry bag, and use when needed; it will not take much space wherever you keep it stored.
Pricewise, this is a really affordable cot, so it is equally good for entry-level outdoor enthusiasts as well as for advanced outdoor adventurers.
Sizewise, the bed is 75 x 25 inches (191 x 63 cm), so these are quite typical numbers. It is a bit narrow and not for very tall people; if you need a tool for really heavy and big guys better check here.
Overview
This is a structure with aluminum metal parts, plastic feet, and with 600D polyester bed deck. You will need a few minutes to set it up, but this is all done without extra tools and without much force.
From the pictures, you realize that this bed has no end bars, so this is good as you are free from pressure spots, and all 191 cm of length are the useful length.
There are no bars underneath the bed deck either; the cross-bars which connect the feet are far, almost completely on the ground. You can see this from the picture below.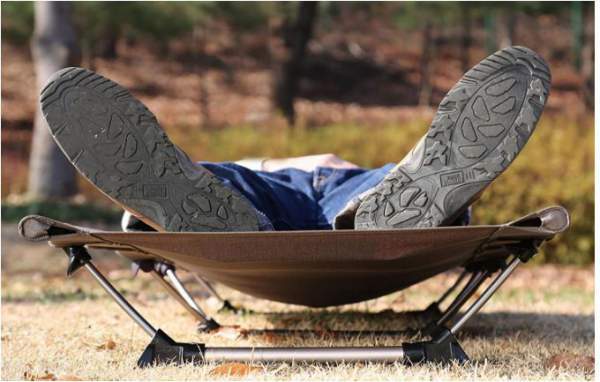 Note that the feet design is such that it will not sink even on sand or on a soft grass ground. But even if the feet sink a bit, the cross-bars which you see in the picture will prevent further sinking.
Using the cot in a tent
The Petrous Light Beam Low Cot 2 is only 7 inches (18 cm) high, so it will easily fit even in the lowest solo tents like Eureka Solitaire Bivy Tent or Catoma Badger tent. So do not worry about fitting it regardless of what type of tent you have.
But ideally, for a solo purpose, I would use it in a 2-person tent; in this case you will have space around, and you can even store some objects like poles under the cot, and you will have a place for the dog if it is with you.
Having a sleeping pad is not necessary for warm conditions, except for extra comfort. In a cold environment you will need some insulated pad, but no need to go for a high R-value because you are off the ground and you lose far less body warmth than when you sleep on the ground.
The feet are floor-friendly, so this should not be an issue regardless of the type of ground under the tent.
Pros & cons, my rating
The cot needs assembly, but this is so with any cot of this type. It is narrow, but again, this nothing unusual. See how I rate it:
My rating of the Petrous Light Beam Low Cot 2
Weight -

9.6/10

Size -

8.3/10

Capacity -

7.5/10

Packed size -

9.8/10

Ease of use & features -

8/10
Summary
My overall rating of this cot is excellent.
Pros
• Great design.
• Great price.
• Very versatile.
• Portable.
• Lightweight.
Cons
• A bit narrow.
• Needs assembly.
Specifications
Weight: 5.3 lb (2.4).
Capacity: 265 lb (120 kg).
Dimensions (L x W x H): 75 x 25 x 7 in (191 x 64 x 18 cm).
Packed size (L x D): 21 x 6.3 in (54 x 16 cm).
Frame: 70 series aluminum, 60 series aluminum.
Fabric: Poly 600D, PU coated.
Carry bag included.
Summary
In the conclusion of this Petrous Light Beam Low Cot 2 review to stress again that this is a nicely built cot, with a great price tag. It is light enough to be carried attached to the backpack, but perhaps not to very long distances. For backpacking, you might want to consider some of these ultra-lightweight models.

If you are still undecided, please look around; this site is all about cots. So check in the Categories above on the right.
Thank you for reading, and if you have any comment or question please use the comment box below. Have a nice day.

---