---
This new KingCamp Ultralight Camping Cot is with a unique legs design, with the bed 11 inches of the ground, and with an excellent 440 lb capacity.
---
Key features
Unique legs design.
Impressive capacity.
Fully collapsible.
Good packed size.
Bonus pillow bag.
Two elastic straps to keep a mattress in place.
---
Where to buy
Check on Amazon, they have very good prices and shipping conditions are usually the best. This is because of their 15 stores around the globe.
---
What this is about
KingCamp has several cots on the market and it is easy to get confused, some have similar names and the word 'ultralight' is used for a few of them.  So here too you have the word Ultralight in the name but this cot is definitely not in such a category.
This is a fully collapsible cot that packs nicely in its carry bag which is only 21.6 x 7 x 5.5 inches (55 x 18 x 14 cm).
The new cot should not be mixed with their another Kingcamp Ultralight Compact Folding Camping Tent Cot which is more compact in the packed state and with a completely different legs design.
Unique legs design
The legs system is completely unique here, so far I have not seen any cot with a similar design. But I guess there will be more soon, manufacturers tend to copy and sell under different names. So you see how the legs look in the picture below. There are four separate legs on each side, all folding, and each has two contact points (feet) on the ground: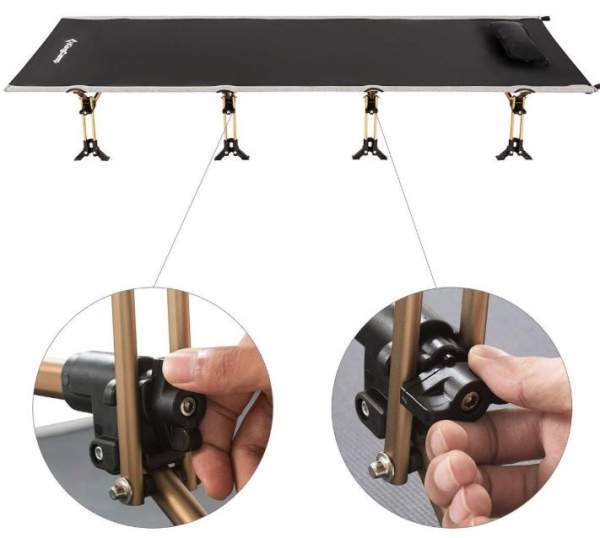 Each of the legs has its own separate locking mechanism which you see in the pictures above.
Note that these legs are quite high, you are 11 inches (28 cm) above the ground. This gives the feeling of having a real home bed and it also gives you lots of storage area underneath the cot if you use it in a tent.
What is included
You have the bed deck, two side poles, four pieces with folding legs, one carry bag, and one pillow bag. All the elements are shown here: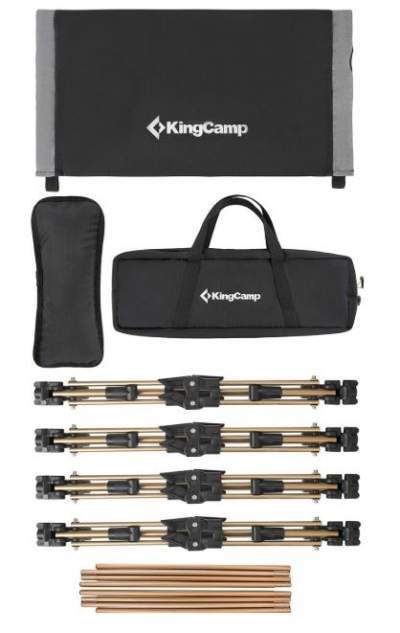 ---
Who is it for
Weight-wise, with its 7 lb (3.2 kg), this is a backpack-portable cot. But obviously I would not carry it long distances, so this is for camping at places with a motorized access. If you need something to carry on the trail, better check some of these ultralightweight backpacking cots.
Size-wise, the bed dimensions are quite typical, 75 x 25 inches (190.5 x 63.5 cm), but it is fair to say the cot is a bit narrow. So if you need something wider, see my list of extra wide cots. But if you are a particularly tall person check these cots for very tall people.
As mentioned already, the cot is relatively high so this may be suitable for elderly users. Getting up is easier than when you ae very close to the ground.
Capacity-wise, this cot is impressive. It supports up to 440 lb (200 kg). For this reason, I have included it in my list of cots for very heavy people.
In fact, I am pleasantly surprised with such a capacity in view of its fabric which is only 420D polyester. The metal parts are a strong 7075 aluminum alloy. 
---
Using this cot in a tent
As mentioned above, the cot is relatively high so you will need an appropriate camping tent. There are 16 feet here and they are reasonably large, see the picture below. So the weight is distributed to many spots on the ground and this should work well with a tent's floor. But I would add something underneath them to protect the floor if the ground is soft.
As mentioned above, using such a high cot allows you to have lots of extra storage area which would normally be lost if you sleep on a pad on the ground. This is one of the main reasons for using cots.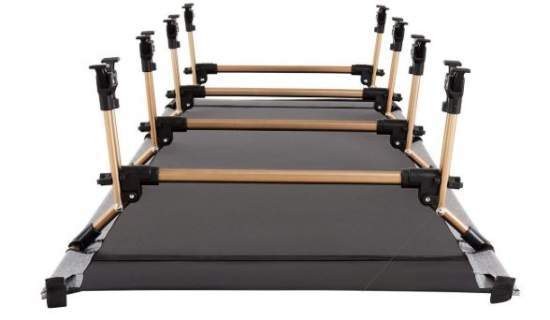 ---
My rating, pros & cons
This is a bit expensive product, but the capacity is great and it is very unique. Please see how I rate it:
My rating breakdown of the KingCamp Ultralight Camping Cot:
Weight -

9.2/10

Size -

8.3/10

Capacity -

9.5/10

Packed size -

9.4/10

Ease of use & features -

8.6/10
Summary
My overall rating for this cot is Excellent:
Pros
Great capacity.
Quality materials.
Good packed size.
Nice carry bag.
---
Specifications
Weight: 7 lb (3.2 kg).
Capacity: 440 lb (200 kg).
Dimensions (L x W x H): 75 x 25 x 11 in (190.5 x 63.5 x 28 cm).
Packed size: 21.6 x 7 x 5.5 in (55 x 18 x 14 cm).
Frame: aluminum.
---
KingCamp Ultralight Camping Cot vs Competitors
I have decided to show you two different options, but both of them are high cots. The Moon Lence cot is very specific because of its changeable height, this is why you see three numbers for its height. Please follow the link for more.
21.6 x 7 x 5.5
(55 x 18 x 14)

20.8 x 6.2 x 62
(53 x 16 x 16)

7.5, 13.4, 13.8
(19, 34, 35)
---
Final thoughts
So if you disregard the confusion regarding the name which is similar to the existing cots of this brand, this new KingCamp Ultralight Camping Cot is 1) not ultralight, 2) but it is unique.
However, you will not find many backpack-portable cots on the market with such a huge capacity. So the word 'ultralight' in its name should be understood from this perspective. This is why it is included in my list of cots for heavy people.
It looks pricey but the examples I gave in the comparison table above are in the same price range.
Many cots in this weight range are in the category Backpack-Portable Cots here in the site so please follow the link to read more. You might find far more affordable cots. Check this Hitorhike Camping Cot which is incredibly packable.

This is not a sponsored text and I am not paid by the manufacturer or related to them in any way. 
Thank you for reading. Please let me know if you have questions or comments, there is a comment ox below.


---