---
Yolafe Folding Camping Cot is instant setup, portable in its carry bag, with integrated elevated headrest and a pillow, and with a very good price.
---
Key features
Folding type.
Head incline.
Instant setup.
Tall cot.
Storage pouch included.
Pillow included.
Carry bag included.
---
Where to buy
This cot is available on Amazon, so follow the link and check the price and shipping conditions for your location.
---
What type of cot is this
So here you have one of those cots that fold and collapse. Here this means that it remains relatively large in one dimension only, see the picture below. When you need it, you spread it in seconds, there is no particular assembly.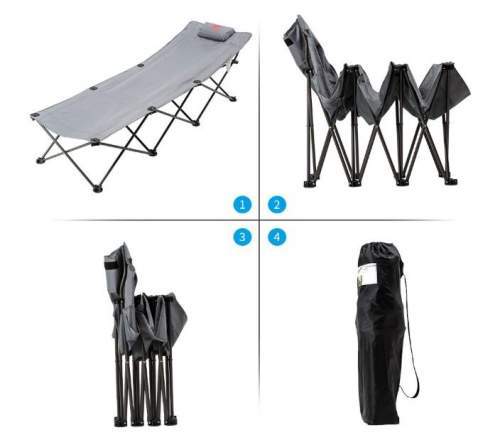 As you realize from the pictures, this cot comes with an integrated elevated headrest. The difference in the height between the headrest and the main part of the cot is around 12 cm. So you can manage with it without a pillow.
But in fact, it comes with a pillow as you see from the pictures. The other bonuses include the carry bag with a strap, and a storage pouch on the side.
Note also that this is Amazon Choice product. This means it is recommended by Amazon as a highly rated, well priced, and ready to ship immediately item.
---
Who is it for
Capacity-wise, the declared weight capacity is 300 lb (136 kg). So this is quite a typical number for such a type and suitable for most of the users. But if you need a cot for heavier users, please check our list with cots for heavy people.
Size-wise, with its 72.04 x 23.22 inches (183 x 59 cm) bed size, this is not a particularly large cot. So if you are a tall person you will want to check one of these cots for tall people, all longer than 210 cm.
Weight-wise, with 10.5 lb (4.76 kg) this is lightweight cot. You will see how it compares with some of its competitors, there is a comparison table below.
The packed size is reasonable, the dimensions are 36.22 x 15.35 x 6.7 inches (92 x 39 x 17 cm). So clearly you need a car for transportation. For shorter distances you can carry it attached to your shoulder, the carry bag is with a shoulder strap. I have included this cot in my list of best cots for car camping.
---
Materials
The bed fabric is a heavy-duty 600D PVC coated polyester fabric. Such a denier value is indeed very high so this is a strong material.
The frame is built from high strength steel tubes and with triangle structure. This gives stability against lateral movement.
There are 8 feet and they are with wide plastic caps, so this is a floor-friendly design, and the cot will not sink easily if you use it outside on a soft ground.
Using this cot in a tent
In the case of a floored family camping tent, I would always add some extra protection underneath the feet. Note also that this is a rather high cot, with the bed 15.74 inches (40 cm) above the ground, so this may be suitable for elderly people.
On the other hand, such a height implies that you have lots of space underneath the cot to store your camping gear.
The bed deck offers no insulation. For summer camping you do not need anything, except if you want more comfort. But in a cooler climate, you should plan some pad on the cot. Bear in mind that being on the cot, you always need less insulation as compared with using a pad on the ground.
---
My rating, pros & cons
This cot has collected a number of reports on Amazon, and the average rating so far is very impressive. Please see how I rate it. I use my set of criteria and apply them to all the cots here in the site, this helps when you compare them.
My rating of the Yolafe Folding Camping Cot:
Weight -

8.6/10

Size -

7.9/10

Capacity -

7.5/10

Packed size -

7/10

Ease of use & features -

9.7/10
Summary
My overall rating for this cot is Very Good:
Pros
Very good price.
Very easy setup.
Carry bag.
Headrest & pillow.
---
Specifications
Weight: 10.5 lb (4.76 kg).
Weight capacity: 300 lb (136 kg).
Dimensions: 72.04 x 23.22 in (183 x 59 cm).
Cot height: 15.74 in (40 cm).
Headrest height: 20.47 in (52 cm).
Packed size: 36.22 x 15.35 x 6.7 in (92 x 39 x 17 cm).
---
Yolafe Folding Camping Cot vs Competitors
When you see features of such a cot side by side with some other cots of the same type, you can make an informed choice. So I give two of them, all are with head incline and folding cots.
As you see, the Yolafe Cot is lighter than the other two cots, but it is also smaller. The Araer Cot has the best capacity, the KingCamp Cot looks identical as the Araer cot yet its capacity is far lower. The prices are almost the same. Please follow the links for more.
36.2 x 15.3 x 6.7
(92 x 39 x 17)

41.3 x 9.1 x 6.7
(105 x 23 x 17)

38.6 x 7.9 x 7.9
(98 x 20 x 20)
---
Final thoughts
So this Yolafe Folding Camping Cot is lightweight and portable. The size is not too impressive and it is best suited for kids and for women. It is very easy to use, the carry bag is with a strap so you can carry it short distances and use anywhere outdoors.
When not in use, the carry bag will keep it clean from dust, so store it somewhere at home and use also as a spare bed for sudden guests.

You might want to check how this cot compares with Alpcour Folding Camping Cot which is also with headrest.
Note that this is not a sponsored text, and I am not paid by the brand to write this text. Please use the comment box below in the case of questions or comments. Have a nice day.

---