---
ARAER Camping Cot is a fully folding portable cot with an instant setup, an integrated headrest, and a great capacity.
---
Key features & benefits
Integrated headrest.
Folding design.
Express setup.
Great capacity.
Reasonable price.

---
What type of cot is this
This is one of those cots that need no assembly, you can make it ready in seconds because it spreads like an umbrella in all four directions. The pictures below show it in several different stages when you take it down, the procedure of setting it up is equally fast, just in the opposite direction: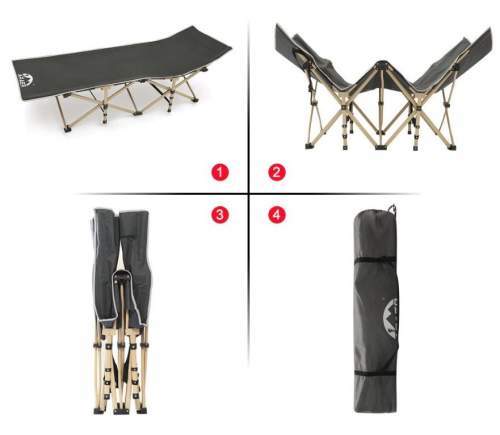 This cot comes with an integrated headrest so you can manage to sleep on it even without a pillow. There are many cots with such a design here in the site, see this LandTrip cot as an example, and also Osage River Folding cot.
---
Who is it for
Capacity-wise, this cot is very impressive, it can support people of up to 450 lb (204 kg). So this is more than many other cots here in the site, but there are even stronger cots out there, check this list with cots for heavy people. I have included it there for all good reasons.

Size-wise, it is far less impressive. The bed size is 74.8 x 26.4 inches (190 x 67  cm). So this is not for very tall people. If you need such a cot, check this list. But note also that there are no end bars here, so the whole mentioned length is a useful length. This is what makes it very different from so-called military-style cots that have a full frame along the perimeter.
Weight-wise, it is also not so impressive, it weighs 15.8 lb (7.2 kg). This explains its capacity. When you see the pictures, you realize how strong this construction is with so many legs and support bars.
But its packed size is not bad, it reduces to a bundle of (L x D) 38.6 x 7.9 inches (98 x 20 cm). You will see how it compares with its competitors, there is a comparison table below.
So if you use it as a camping tool, you will need a car to transport it. For home use, it stores nicely in its stuff sack and you can keep it clean anywhere and use when needed as an extra bed.
---
Materials & construction
The frame is with so many legs and support bars, plus the straps between the legs. You have 25 mm tubes and no less than 10 points on the ground. So the structure is very stable and strong.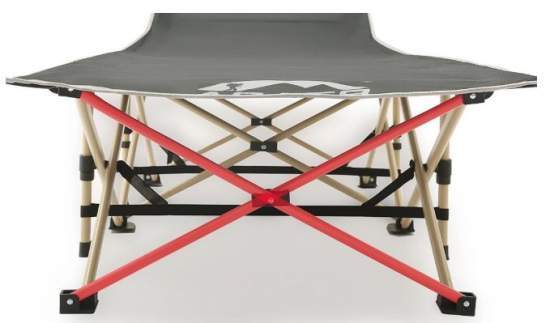 The bed deck is a breathable 600D double layer oxford fabric. Note that the headrest cannot be made flat, this is the same design in all cots of this type.
The carry bag is included, and it is with a strap so you can carry the cot attached to the shoulder or on the back. It is rather tight, just to know, it may be annoying a bit when you want to pack the cot.
---
Using the cot in a tent
The legs are with oversized plastic caps and there are 10 of them, so the weight is distributed and this is a floor-friendly design, see the picture above. You should not have any issue with the tent's floor.
The cot is 13.8 inches (35 cm) high, so you need a relatively tall tent. You can have such 2 cots in many 4-person tents, in particular those that are cabin-type like this Alps Mountaineering Camp Creek 4 tent.
Being 35 cm above the ground, you have quite a space to store some stuff underneath the cot. Though with so many legs and bars you will not be able to put large items.
---
My rating, pros & cons
This is a very affordable cot, and it has received very positive reviews from Amazon customers. See how I rate it:
My rating breakdown of the ARAER Camping Cot
Weight -

7.6/10

Size -

8.3/10

Capacity -

9.5/10

Packed size -

8.4/10

Ease of use & features -

9.7/10
Summary
My final rating for this cot is Excellent:
Pros
Great capacity.
Quality materials.
Good price.
Extra easy setup.
Cons
Not for tall people.
A bit narrow.
---
Specifications
Type: collapsible cot.
Weight: 15.8 lb (7.2 kg).
Capacity: 450 lb (204 kg).
Dimension (L x W x H): 74.8 x 26.4 x 13.8 in (190 x 67 x 35 cm).
Packed size (L x D): 38.6 x 7.9 in (

98 x 20 cm).

Frame: steel.
---
ARAER Camping Cot vs Competitors
From the comparison table below you will realize that the ARAER cot stands out mainly regarding the capacity. Please follow the links to see more.
38.6 x 7.9 x 7.9
(98 x 20 x 20)

41.3 x 9.1 x 6.7 (105 x 23 x 17)

40 x 8 x 5
(102 x 20 x 13)

---
Final thoughts
In the summary of this ARAER Camping Cot review, I wish to stress that this is not a unique design, there are many similar cots described here in the site. So this is mostly about finding the best price. Just check in the category Folding Cots. But the capacity is very good and I have included it in the list of cots for heavy people.

If you need to see some more options, please check around, all types are presented in the site. See more in the Categories above. See for example this KingCamp Camping Cot XL which is longer and with the same capacity. Check also this EVER ADVANCED Portable Folding Camp Cot which is longer and wider. You might want to use a portable cot with a changeable feet height like this Moon Lence Camping Cot for Adults.
Please use the comment box below in case of questions or comments. Have a nice day.

---