---
Osage River Folding Camp Cot is an express setup cot which doesn't need an assembly, a steel sturdy structure with an incredible price tag.
Key features & benefits
Great price.
Very easy setup, no assembly.
Good size.
Head incline.
Amazon's Choice item.
---
What type cot is this
As you see from the title, they describe it as a folding cot. When packed it reduces to a very small size with only one bigger dimension, 40 x 8 x 5 inches (102 x 20 x 13 cm). This is a type that does not need assembly.
From the picture above you also realize that this is a particular type of cots with the headrest. So one end of the cot is inclined and you can manage without a pillow.
---
Who is it for
You have already seen its packed size, and you realize that one dimension remains relatively large. So for outdoor use, you will need a car for transportation.
The weight is 13 lb (5.9 kg), this is very reasonable when you see how many legs and support bars it has. And you should know that this is a steel frame, so very durable and sturdy. So the cot is portable, and you can move it easily from the car to the tent.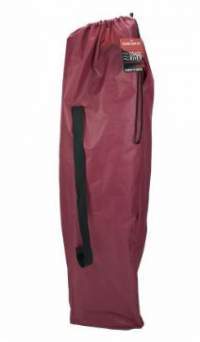 So as long as you do not have to carry it long distances, this is a versatile outdoor tool and it can be used for various activities. This can include vacations, base camp use, hunting, fishing, summer open-air festivals, scout camps.
For home use, I see it as a nice spare bed for sudden guests and for emergency situations of any kind. It stores in its carry bag, shown here, and you will keep it clean from the dust.
Sizewise, the bed is 75 x 28 inches (190 x 71 cm), so these are very good numbers. The capacity is 320 lb (145 kg), and this too is reasonable.
But if you are a particularly big and heavy guy, you might want to consider one of these cots for heavy people.
---
Materials and construction
All metal elements here are a durable tubular carbon steel with a powder-coated finish. The bed deck is a heavy-duty 600D PVC coated polyester fabric. So you have very good materials here.
The cot is with 10 feet on the ground, and you have many support bars. So this is a very stable structure and flexible enough to fit any surface.
Observe that all the feet are with plastic caps so this is a floor-friendly design, see the picture.

Yet another great feature, typical for this type, is that you do not have end bars here. So the length is the fully useful length and you have all 75 inches (190 cm) available, without pressure spots on your feet.
---
Using the Osage River Camp Cot in a tent
The cot is 18.5 inches (47 cm) tall, so it will not fit in bivy-tents, but it will fit in any normal solo tent and in all bigger tents. Such cots can also be used in bigger family camping tents for an off-ground sleeping.
This is both comfortable and useful because you can still store a lot of stuff underneath such a cot. When you sleep on a pad on the ground, there is no much space for your gear.
Do you need a sleeping pad
For home use, you do not need any pad, except if you want more comfort. But in a tent, if you are in a cold environment, like camping on a high mountain pass as I do frequently in the Alps, you will need some insulated pad.
I usually point out that sleeping on a cot implies that you need less insulation and less R-value for your pad, so no need to spend much on expensive pads. This is because you have the air under you, so you lose around 50 times less body warmth than when you have a ground under the pad.
---
The price & my rating
It is hard to find any true objection to this cot. They could have built it a bit longer though.
The price tag of this cot is incredible, you can see this in the link below. Note also this is an Amazon Prime product. All in all, this is a true bargain.
See how I rate this cot against my standard rating criteria:
My rating breakdown of the Osage River Folding Camp Cot
Weight -

8.2/10

Size -

8.3/10

Capacity -

8/10

Packed size -

8.2/10

Ease of use & features -

9.8/10
Summary
My overall rating of this cot is Excellent:
Pros
Very good price.
Good size.
Express setup.
Head incline bed deck.
Quality materials.
Versatile.
Cons
Not for very tall people.
---
Specifications
Type: collapsible cot.
Weight: 13 lb (5.9 kg).
Shipping weight: 15 lb (6.8 kg).
Capacity: 320 lb (145 kg).
Dimensions (L x W x H): 75 x 28 x 18.5 (190 x 71 x 47 cm).
Packed size: 40 x 8 x 5 in (102 x 20 x 13 cm).
Carry bag included.
Colors: 3.
---
Osage River Camp Cot vs competitors
This comparison table shows how the Osage River Cot compares with some of its main competitors. All are built in the same style. To see more please follow the links.
40 x 8 x 5
(102 x 20 x 13)

41.3 x 9.1 x 6.7 (105 x 23 x 17)

---
Final thoughts
In the conclusion of this Osage River Folding Camp Cot review, I must say I am impressed with its design and features, and with the price, of course.
Though this is not a unique design, there are several top-rated cots of this type described already in the site. So when you choose, it may only be the matter of the price and perhaps colors. The head incline is a useful feature in this type of cots, the setup is express, so I can fully recommend it.
You might want to compare it with this Niceway Oxford Portable Folding Bed With Storage Bag and also with this ARAER Camping Cot built in the same style. If you need something longer, check this KingCamp Camping Cot XL.
Check on Amazon
Check at Walmart
If you still need something different, please just look around, this site is all about cots and tent-cots and you will definitely find something for you. Please check the Categories on the right above. If you need something more portable, check this MARCHWAY Ultralight Folding Tent Camping Cot.
Thank you for reading. In the case of questions or comments, please use the comment box below. I wish you a nice day.