---
The Earth X-Tra Big Military Style Cot is a large cot which comes with several useful bonuses, a nice carry bag, and a really affordable price tag.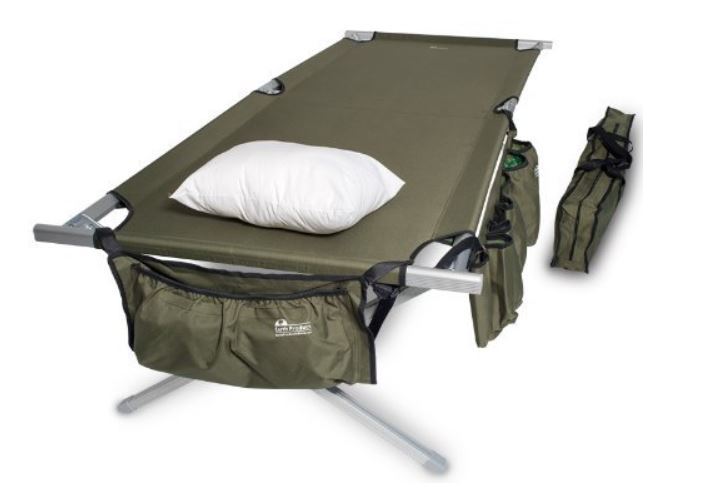 ---
Key features & benefits
Very long cot.
Several bonus storage elements.
Great price.
Amazon's Choice product.

---
What type cot is this
This Earth X-Tra Cot is a bigger version of its smaller cousin the Earth Ultimate cot which you have presented in my other review. So when you see the words Extra Large-Extra Wide-Extra Tall-Extra Strong which they use in the description of this cot, they mainly mean in comparison with that smaller cot.
The cot is military style as the name suggests, so you have the typical X-shaped legs profile and the bed deck with bars on all sides. So the cot needs assembly, as typical for this type, but this only implies adding the end bars. The remaining elements are preattached and you simply unfold it. In any, case, this all is done without any tools.
The cot is also collapsible and it packs to the size which is 40 x 8 x 5 inches (102 x 20 x 13 cm).
As you realize from the picture, the cot comes with bonus storage elements on the two sides. This is really useful and it will keep you organized. You will have you small items off the ground and at hand during the night.
---
Who is it for
I already mentioned the numerous words "extra" they use in the description, so indeed the cot is 80 x 29 inches (203 x 74 cm). As such it is really long and suitable for tall people, but if you are a particularly tall person, you should check this long list where all cots are longer than 210 cm.
Although the width is OK, this is far from a really wide cot; check this list if you need a truly wide cot.
They use the word extra also for its capacity, so the cot supports up to 375 lb (170 kg), but this is less than their Ultimate Cot. But again, if you need a cot for very heavy people, see here.
You have already seen its packed size, so this cot needs a car for transportation because one of its dimensions remain a bit longer. The weight is really good, you have only 14 lb (6.35 kg), so the cot is portable at least to short distances.
In view of all this, I see it as a nice camping tool at places with a car access, and these may include regular camps, trailhead hotels, scout camps, open-air festivals, and you name it. You can surely use it also as a spare bed at home for sudden guests and in emergency situations.
---
Materials & construction
The frame here is aluminum, but you have steel reinforcement at most critical points. The bed fabric is a washable mildew-resistant polyester.
The feet are with plastic caps, so this is a floor-friendly design, but in a tent with a soft ground underneath I would definitely add something under the feet.
The cot comes with a nice carry bag for storage and transportation.
---
Using the cot in a tent
The Earth X-Tra is a tall cot, so this is both good and bad. The good is that you can sit on it, you have 20 inches (51 cm) from the ground, and you can also store lots of your stuff underneath the cot when you are in a tent. Trust me you will need this storage area.
The bad is that you need a proper height tent, those very low solo tents will not do the job. For such tents you might want to check some lower cots like this Slumberjack Low Cot.
The best option with such relatively tall cots is to use some of cabin style tents; those are typically from the size of 4 people and up. So check these Eureka Desert Canyon 4, Kelty Sequoia 4, and Browning Camping Glacier 4 tent. Otherwise, see any larger family camping tent.
---
Using pads or not
I have seen some people speaking it was hard to sleep on the cot, in particular when it is completely new. The bed deck needs some time to break-in.
But for extra comfort, you can always add some sleeping pad, see some great options here, both insulated and uninsulated. You do not really need a thick pad when you are on a cot, and you can feel unstable so much above the ground, so better go for something thinner.
---
My rating, pros & cons
The daily updated price on Amazon is given on the link. I think the cot is totally worth it, a true value for the price. The customers' rating is a bit mixed, you can follow the links to see more, but see how I rate it:
My rating breakdown of the  Earth X-Tra Big Military Style Cot
Weight -

8/10

Size -

8.9/10

Capacity -

8.5/10

Packed size -

8.2/10

Ease of use & features -

8.8/10
Summary
My overall rating of this cot is Excellent:
Pros
Very good price.
Very good size.
Bonuses.
---
Specifications
Type: military style.
Weight: 14 lb (6.35 kg).
Capacity: 375 lb (170 kg).
Dimensions (L x W x H): 80 x 29 x 20 in (203 x 74 x 51 cm).
Packed size: 40 x 8 x 5 in (102 x 20 x 13 cm).
Frame: aluminum.
Fabric: polyester.
Carry bag included.
1-year limited warranty.
---
Earth X-Tra Big Cot vs Competitors
In the comparison table below I give this Earth Cot with two cots from other brands, all are military style. I chose very different sizes on purpose, so you can see what to expect when you choose larger or smaller cots. You will also realize that the words Extra Big in its name do not mean much when you compare it with some true giants.
But see also the name of the Texsport cot; this is a standard size cot and there is nothing really 'deluxe' in it; they play a bit with words to make an impression. Please follow the links for more.
40 x 8 x 5
(102 x 20 x 13)

45.1 x 7.9 x 6.7
(115 x 20 x 17)

---
Final thoughts
In the summary of this Earth X-Tra Big Military Style Cot review, I think it is obvious that they have built a nice cot, there are bonuses with it, and the price is more than fair. The size is great, but still check the numbers if you are a particularly tall person.
Note that such military-type cots have the end bars that take a few centimeters from both ends, so the effective useful length is a bit shorter.

If you still need something different, just look around; this site is all about cots, practically all models available on the market are presented here. I am sure you will find something for you, check in the Categories above. Once in the camp, you might need a good chair, so check this Helinox Chair Two Rocker.
In the case of questions and comments, please use the comment box below. Have a nice day.