---
EARTH Ultimate Extra-Strong Military Style Camping Cot is a collapsible outdoor bed that packs nicely, with several bonuses, great capacity, and a very good price.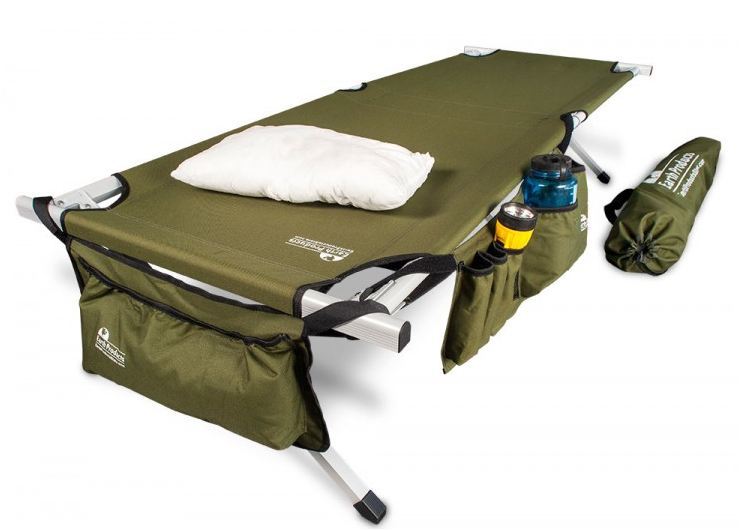 Key features & bonuses
Bonus storage system.
Bonus pillow.
Great capacity.
Quite a long cot.
Carry bag included.
5-year limited warranty.

What type is it
As the name suggests, the EARTH Ultimate Cot is in the group of military style collapsible cots. This implies a typical X-shaped legs structure, and two end bars.
The term collapsible tells you that in the packed state it reduces to a relatively small tube with only one larger dimension.
Who is it for
First about its length. The cot is 196 cm long, so quite a size indeed. But the end bars effectively reduce its useful length, bear this in mind. So in order to avoid pressure points on your feet or your head, you should not be taller than 186 – 188, roughly speaking.
Now about the weight. With 17.5 lb (7.94 kg), this is a moderate weight cot. Yet this so not something to carry long distances, definitely not in the backpack. You will need a car to transport it.
About the packed size. The packed size is good for the cot of this type, and it packs down to 38 x 8 x 6 inches (97 x 20 x 15 cm). So this together with the mentioned weight determines its users. This is only for car transport, and to be used at places at a car access. This can be any of the following:
Regular camping places.
Hunting camps.
Fishing camps.
Trailhead hotels.
Any open air gatherings (festivals, concerts).
Scout camps.
This cot is good for home use as well. Such a relatively small packed size, and the fact that it comes with a carry bag, makes it suitable for storing anywhere at home. It will not take much space in the closet, and it will not collect dust if you put it under your regular bed. So you will have an extra bed ready whenever you have sudden sleepovers.
Bonuses
This cot comes with several bonuses:
A side storage bag.
A storage pocket at the head of the cot.
A pillow.
A carry bag.
All these elements are shown in the picture above. The storage elements are attached to the frame by Velcro and they can be removed. So this all is very useful when you are using it outdoor, it keeps you really organized in the tent. Obviously, for home use, this is less needed, but you can remove it.
Setting it up and taking down
Being a military-style cot, it needs assembly. every time you use it. The bed fabric is permanently attached to the side bars and its legs are also attached to the structure. So this part is easy to use, just unfold it. But there are two end bars which you add one by one.
This all is done under 2 minutes, and the same is when you take it down. So the setup is definitely easy.
The cot packs in a really small volume, and you have the carry bag with a drawstring and strap for carrying it around.
The fabric of cots of this type may become loose and stretched in time, and they have dealt with this here very nicely. So you have Velcro tabs underneath the deck bed, and you can tighten the fabric when/if needed, see this in the picture.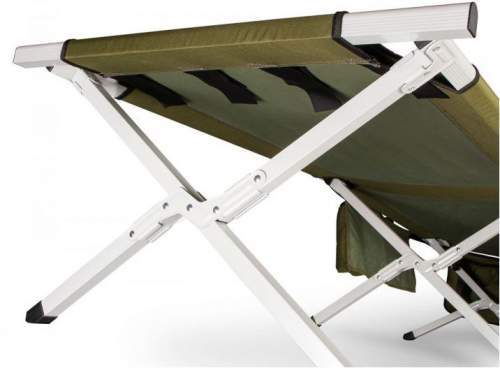 Using the cot in a tent
In the case of solo use, I see this EARTH Ultimate Cot best used in a 2-person tent. In such a case you have plenty of space around and under the cot. In such a combination, you can have enough space for your dog as well.
It is best to use a tent with a front door because it is very likely that you can get the bed unfolded to the tent. So you can assemble it outside and bring it in ready. I would recommend trying this Kelty Horizon 2 tent for such a case.
If you would use two cots in a tent, or even three, then the following tents would be the perfect choices: Kelty Camp Cabin 4 and Kelty Mirada Tent.
The legs are with plastic caps, there are 6 of them in total, so the weight is distributed, but I would be careful in the case of a soft ground under the tent floor. You might want to add some extra layer of protection. For example, some tents have a footprint, so you can fold it multiple times and put under the cot's feet. Yet another option could be tennis balls.
Using a sleeping pad or not
These cots can be uncomfortable for some, and I have seen people complaining that the bed deck is without much give in. You can always add a pad, see some great examples here. But for the summertime use, you do not need any pad in principle.
In the wintertime or if you use this cot in base camps or on high mountain passes with car access at high altitudes (I am just preparing to some high passes in the Alps), you will need insulated pads. Please check the link above, there are many of that kind available.
My rating, pros & cons
If you go to Amazon, you will see they write about plenty of space. It is long this is true, but it is rather narrow. Note that they also have a larger cot with the same basic features, the Earth X-Tra Big Cot.
The term assembly is explained above, it implies adding end bars every time you use the cot. This is not complicated, no tools are required.
This cot is very popular and it has received a very high rating by users. This is no surprise in view of its bonuses and the price.
As always in such situations, you have some people who express negative views and some with very positive views. I usually look at those negative first, and this time I noticed one which says "It is too short…" . So this really makes no sense, the length is given, so one should know in advance. And with 196 cm this bed is definitely not short, but if you are a really big guy, check one of these. Anyhow, see below how I rate it:
My rating breakdown of the EARTH Ultimate Extra-Strong Military Style Camping Cot
Weight -

7.4/10

Size -

8.3/10

Capacity -

9.5/10

Packed size -

8.4/10

Ease of use & features -

9.5/10
Summary
My overall rating of this cot is Excellent:
Pros
• Several bonuses.
• Great capacity.
• Carry bag included.
• Stable construction.
• Versatile tool.
• Portable tool.
Cons
• Narrow.
• Needs assembly.
Specifications
Weight: 17.5 lb (7.94 kg).
Capacity: 450 lb (204 kg).
Dimensions (L x W x H): 77 x 25 x 17 in (196 x 64 x 43 cm).
Folded size: 38 x 8 x 6 in (97 x 20 x 15 cm).
Velcro straps underneath for adjusting fabric tension.
Fabric: 600D polyester cover; washable.
Frame: reinforced aircraft-quality aluminum and steel.
Included carry bag with & strap.
5-year limited warranty.
Summary
To conclude this overview of the EARTH Ultimate Extra-Strong Military Style Camping Cot by stressing again its several bonuses and its weight capacity. There is not much to object to this cot except its width, but if you are fine with this, this is the cot for you. I can warmly recommend it.

Thank you for reading. In the case of questions or comments please use the comment box below. I wish you a nice day.

---