---
This Therm-a-Rest LuxuryLite Cot Bug Shelter review is about a very lightweight bug shelter that fits nicely with the popular LuxuryLite cot from the same brand. It offers a complete protection from bugs.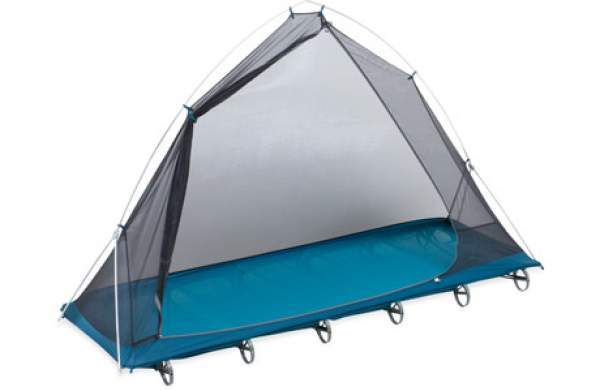 ---
Main benefits
This bug shelter is a part of the system with several ultra-lightweight portable elements.
It fits any LuxuryLite Cot from the Therm-a-Rest brand.
Complete protection from bugs.
Very portable & easy to set up.
---
So what is Therm a Rest LuxuryLite Cot Bug Shelter
This is a tool that nicely fits all LuxuryLite cots from the Therm-a-Rest brand. It is freestanding although based on a single-pole design which you can see in the picture above. As you realize from the picture, you have a really large side-entry door for an easy access.
Note that the Bug Shelter is sold separately from the LuxuryLite cot and several other pieces of equipment which all fit together nicely, see some of them below.
The Bug Shelter comes in two different sizes, that correspond to the sizes of the Cot, see more in the specifications below. It is constructed of a  high-clarity mesh which offers a perfect ventilation. It is delivered with setup instructions and the setup is really easy. It is equipped with elastic straps which you will use to attach it to the cot's feet.
Inside the Bug Shelter, you have an internal pocket and loops for gear storage and organization.
The daily updated price of this product is given in the link, and as you can see this is an Amazon Prime product so you can have it shipped for free.
Note also that the rating by Amazon customers for this product is very high.
---
Specifications for the bug shelter
Two sizes: regular (R) and L/XL.
Color: blue/gray.
Weight:
– R: 1 lbs 6 oz (625 g).
– L/XL: 1 lbs 8 oz (680 g).
Size regular:
– Width: 26 in (66 cm).
– Height: 55 in (132 cm).
– Length: 72 in (182 cm).
Size L/XL:
– Width: 30 in (76 cm).
– Height: 55 in (132 cm).
– Length: 78 in (198 cm).
Packed size:
– R: 5 x 18 in (13 x 46 cm).
-L/XL: 5 x 18 in (13 x 46).
Mesh: no-see-um netting.
Floor fabric: nylon mesh.
Complete protection from bugs.
Easy setup.
Large side door.
Attaches to the cot feet through elastic corner straps.
Internal pockets and utility loops for organization.
---
Other useful elements of the system
This Bug Shelter can be combined with the following elements from the same brand:
Therm-a-Rest LuxuryLite UltraLite Cot
The cot has been described in detail in this separate text, so please have a look. Here, just to stress that this is a completely portable backpacking tool with an incredible weight of only 2 lbs 12 oz (1.25 kg) for the R model, and 3 lbs 2 oz (1.42 kg) for the L model.
Therm-a-Rest LuxuryLite Cot Sun Shield
This shield comes with a reflective ThermaCapture coating which offers a truly cooling shade by removing greenhouse effects. In addition to this, you have taped seams for protection against the rain.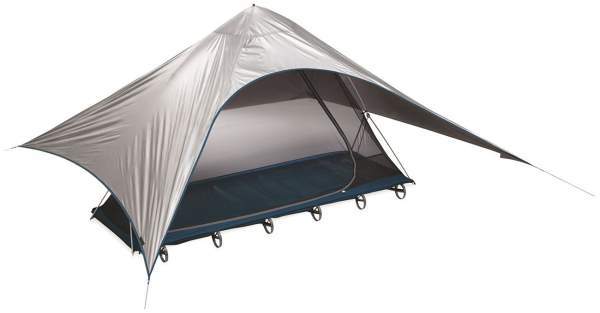 Specifications for the Sun Shield
Color: silver.
Weight: 15 oz (426 g).
Height: 55 in (132 cm).
Material: 20 D polyester with ThermaCapture.
Floor surface: 64 sq. ft (4.95 sq. m).
Stakes: 4.
Reflective coating.
Taped seams.

Therm-a-Rest LuxuryLite Cot Warmer
This is a piece of equipment to use instead of a sleeping pad. Since you are already off-the-ground when sleeping on a cot, you may not need an expensive and bulky insulating sleeping pad. This Therm a Rest Warmer may be completely enough as it effectively increases the warmth by up to 15 degrees.

This is a really inexpensive piece of equipment as you may realize if you check the link below.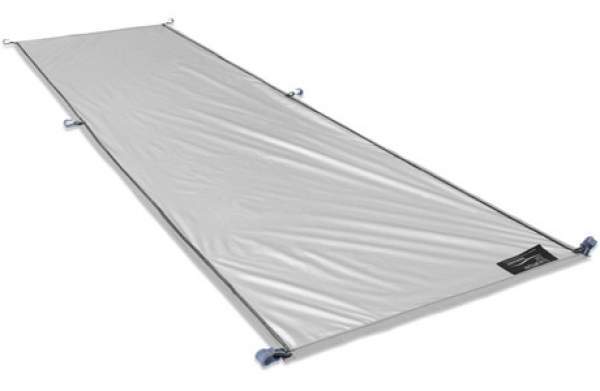 How the Warmer works
The technology you have here is the same as in some of well known and popular Therm-a-Rest sleeping pads. So what you have is the so-called  ThermaCapture Radiant Heat Technology which implies a reflective coating that reflects heat back to your body. This effectively transforms your cot from a 1-season tool to a 3-season tool with almost no added weight in your equipment, see the specifications below.
The features of the Warmer:
Three sizes:
– Regular: 21 x 72 in.
– Large: 22.5 x 78 in.
– XL: 28.5 x 78 in.
It is attached to the underside of your cot with six elasticized hooks.
The package includes a stuff sack for transport.
See some more features about the Warmer here: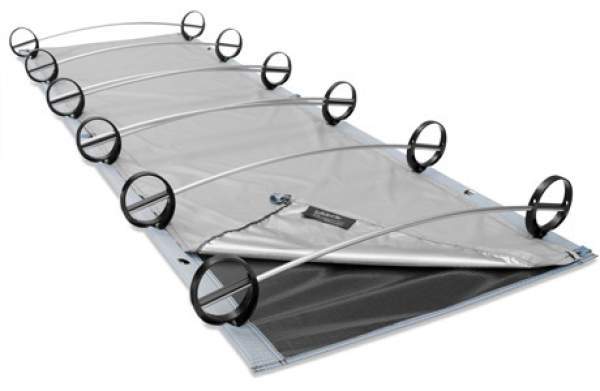 ---
Conclusion
To summarize this Therm a Rest LuxuryLite Cot Bug Shelter review, as you realize this is a tool that is normally used with the Cot and as such it provides a complete protection from bugs. But the Shelter can also be nicely combined with some other elements from the same brand and you can have protection both from the sun and from the rain, as well as from the cold when combined with the Warmer.
All these elements used together are portable and collapsible, so they can be used both as camping and backpacking tools. I stress in particular the features of the cot, which can be packed to an incredibly small size, see more here.
So, I hope the text has been useful. Thank you for reading, it will be great to hear from you, there is a comment box below. I wish you a nice day and pleasant camping with this Bug Shelter.
---