---
UBOWAY Unique Tunnel Shape Camping Tent Cot is a 2-in-1 sleeping system, nicely packable, backpack portable, and very affordable.
---
Key features & benefits
Completely freestanding system.
Great packed size.
Very easy setup.
Aluminum frame & poles.
2-in-1 system.
Great price.

---
What this is about
There is yet another cot-tent from this brand presented here in the site. But the tent-cot which you have here is indeed very unique as its name suggests, and it is also completely new on the market.
So this is a tunnel-shaped tent attached to the cot underneath it. The structure is fully freestanding so you can pitch it literally anywhere. You will not depend on the type of the ground, regardless if this is sand, rock, grass, mud, or snow.
Such a self-supporting and freestanding construction is simply due to the tension created in the fabric when you pass the poles and put them in the grommets on the sides.
This is a single tent-cot, and a fully double-layer construction with the inner tent plus the fly. But this is also a 2-in-1 system; so you can use it as a whole or just use a cot separately (at home, or in a larger family camping tent).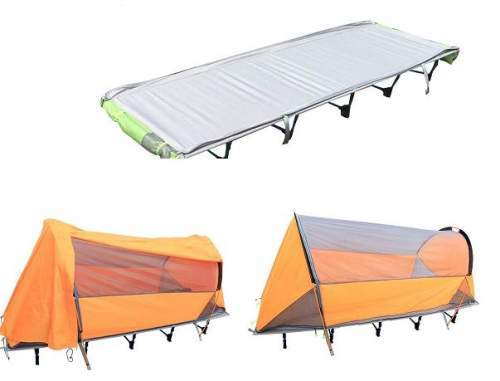 ---
Who is it for
Seasons-wise, they write it is a 4-season tool. Now, the waterproofness rating is such that it can indeed be understood as a year-round camping tool. Sleeping off the ground on its cot certainly helps. Though there are no guylines to secure the fly in strong winds, it attaches to the cot. Aso the span between the two loops is such that I would not want lots of snow accumulated on the roof.
On the other hand, the inner tent has large mesh sections and you cannot close them. This may be partly compensated by the full coverage fly. But in a cold environment, you probably would not feel great. All in all, I do not think this is a 4-season tool.
Climate-wise, I already mentioned what to expect in a cold climate. If you use it in a warm environment, there is lots of mesh on the inner tent for ventilation. If the sky is clear, you can sleep in the inner tent under the stars, you will be fully protected from insects and snakes, and you have the ceiling mesh plus mesh sections close to the bed deck, for optimal ventilation.
But there are no vents on the fly, so if it is raining for an extended period of time and you have to keep the fly on and closed, it might not be pleasant. In such situations you will have to try to keep the fly unzipped at least partly to have some air circulation.
Weight-wise, with its 7.27 lb (3.3 kg), this is a backpack-portable sleeping system. Note that you have a tent plus the cot, so the weight is not bad, but there are much lighter options on the market, see some of them in my list with backpacking tent-cots.
But the packed size is really good, 16 x 9.4 x 8.3 inches (42 x 24 x 21 cm), so you can transport it even on a bicycle.
Size-wise, the bed's dimensions are (L x W x H) 75 x 27 x 6.7 in (190 x 70 x 17 cm). So the size is moderate, obviously not for very tall people. So if you are a tall person, better check this Teton Sports Outfitter system, and also the Kamp Rite Compact Tent Cot XL and Kamp Rite Oversize Tent Cot.
Capacity-wise, it is declared as suitable for users of up to 330 lb (150 kg). This is quite typical but there are tent-cots that can support more; the mentioned Teton Sports Outfitter system is the best possible example.
All in all, this is a very versatile tool, it can be used for any outdoor activity. On the other hand, you can remove the tent and use the cot alone as a spare bed at home for sudden guests.
---
Materials & construction
All metal parts are aluminum, and this includes the 2 side poles for the bed, 5 legs, and 2 tent poles, see the picture. This is the 7001 aerospace aluminum alloy, a very hard material.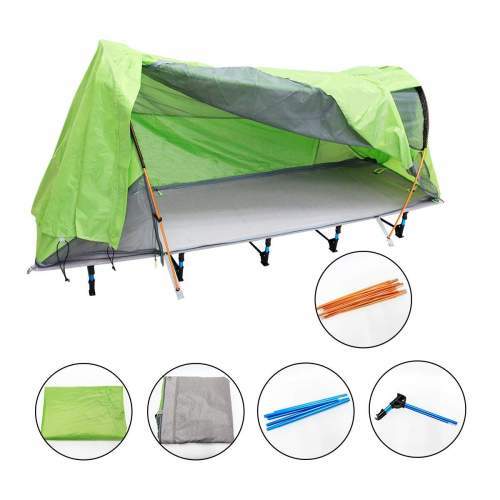 The fabric of the fly is 210T polyester taffeta rip-stop, with 2000 mm PU coating. The bed fabric is 420D polyester with 2000 mm PU coating. The gauze is B3 Terylene. So these are strong and waterproof materials, you will not need a bigger rating regardless of where you use it. The zippers are protected by storm flaps, and you also have Velcro tabs which keep them in place in the case of winds, they are visible in the picture below.
You are off-ground and this is what makes such a tool far better than any other where you sleep on the ground. You can set it up anywhere. The clearance between the ground and the bed deck is 6.7 inches (17 cm).
In a warmer environment, you do not need any sleeping pad, just a blanket or a sleeping pad will be enough.
The setup time for this system is 5 – 10 minutes maximum. You do not need any tools for that. I like the way how the pole sleeve is designed, this spreads eventual pressure due to winds to a larger area and makes the structure stronger, see the picture below.
Note also a small storage pouch in the picture below, useful to have for some small items during the night.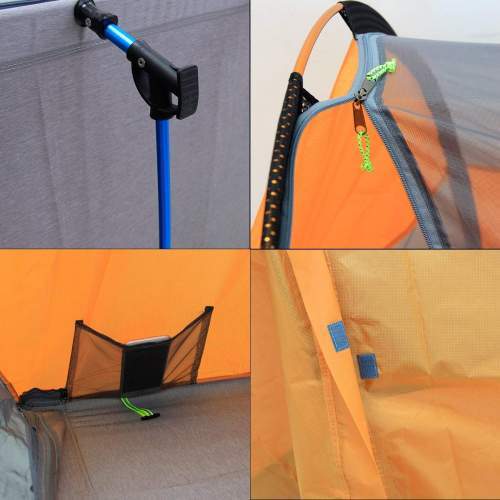 ---
My rating, pros & cons
If you use this system with the car, you can keep your stuff in the car. But if you carry this attached to the backpack and camp in the rain, the question is where to store your gear. There is enough space underneath the bed for shoes and boots and all other smaller items, the clearance is 17 cm, but your backpack will have to stay outside.
The price for this system is very reasonable. If you look separately each of the two components (the cot and the tent) you will realize this. See how I rate it:
My rating breakdown of the UBOWAY Unique Tunnel Shape Camping Tent Cot
Weight -

9.2/10

Size -

8.5/10

Capacity -

8/10

Packed size -

9.2/10

Ease of use & features -

9.3/10
Summary
My overall rating of this tent-cot is Excellent:
Pros
Easy setup.
Very versatile.
Very lightweight.
Portable.
Nicely packable.
Very good waterproof rating.
Cons
No vestibules for storage.
No vents on the fly.
---
Specification
Weight: 7.27 lb (3.3 kg).
Capacity: 330 lb (150 kg).
Dimensions:
– Tent (L x W x H): 75 x 47 x 45 in (190 x 120 x 115 cm).
– Bed (L x W x H): 75 x 27 x 6.7 in (190 x 70 x 17 cm).
 Packed size: 16 x 9.4 x 8.3 in (42 x 24 x 21 cm).
Carry bag is included.
---
UBOWAY Tunnel Shape Camping Tent Cot vs Competitors
The best way to understand the features of such a tool is to compare it with other similar items on the market. So here I give two of them, this might help in making an educated choice. Please have a look; I give only a few parameters, so follow the links for more:
22 x 5.9 x 5.9
(56 x 15 x 15)

22.4 x 6 x 6
(57 x 15 x 15)

22 x 5.9 x 5.9
(56 x 15 x 15)

---
Final thoughts
So you realize that this UBOWAY Unique Tunnel Shape Camping Tent Cot is indeed unique as its name suggests. The price is more than fair for what you have here.
The setup is easy, the weight is such that you can indeed carry it in the pack, but I would rather not use it that way. In any case, this is a versatile item regarding both the weight and the features, and you can use it for camping in 3 seasons at least.

If you need more options, please check in the category Collapsible Tent Cots and Tent Cots For One Person, you will find many items of this type.
Do you have any experience with such tools? If so please share it here, this will be useful to people who are undecided. There is a comment box below for such a purpose. Thank you for reading and have a nice day.

---