---
Desert Walker Tent Cot, the lightest existing on the market, is a 1-person backpack portable system for off the ground sleeping.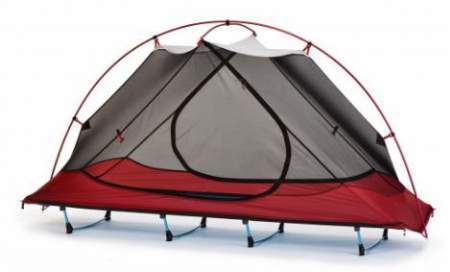 ---
Key features
Incredibly lightweight.
Freestanding.
Two doors and two vestibules.
Multifunctional: cot, tent-cot, cot and fly only.
Nice carry bag included.

---
What type is this
The Desert Walker Tent Cot is a freestanding tool that you can put on any terrain. The tent is attached to the cot through a long peripheral zipper. This in combination with a single main pole creates tension in the tent fabric and it is completely self-supporting and very stable.
From the pictures you realize that it has an extra ridge pole which is there to lift the side walls and to make them completely vertical. This adds to the mentioned tension and makes it even more stable.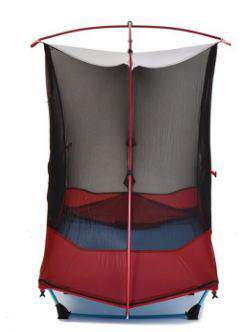 This is a completely collapsible tent-cot. So it packs to a very small size of only 22.4 x 6 inches (57 x 15 cm). But this also implies that it needs assembly each time you use it. You will see in the video how this is done.
The lightest cot-tent
Regarding the weight, this is a backpack-portable cot. In fact, with its weight of only 5 pounds (2.27 kg) for the complete system, this is currently the lightest tent-cot on the market.
---
Who is it for
Sizewise, with the bed's dimensions 78.7 x 26 inches (200 x 66 cm), this is a cot suitable even for very tall people. But observe that the width is less impressive.
I already mentioned its weight, so I am sure you will not find anything more versatile on the market. So regarding its outdoor use, this tent cot system is lightweight enough even for backpackers. If so, then it is a great tool also for hikers, mountaineers, climbers, kayakers, cyclists, motor-bikers, etc.
The mentioned packed size is such that you can transport it attached to your backpack or inside it, on a bicycle, on a motorbike, in a kayak, and in a car of course.
The legs are bars, there are 4 of them, see the picture below, so the weight is well-distributed and you can put it on any surface and they will not sink.
How about home use?
You should know that the tent can be separated from the cot. This means that you can use it even at home, for sudden guests or for your kid's sleepovers.

This same feature makes it useful for ordinary camping in some bigger family tent – use only the cot as a bed in such a tent.
How many seasons use
This is a 3-season tool, do not even think of using it in very harsh winter conditions and in a strong wind. This single pole would not last long.
---
What is included
You have the cot. Its weight alone is 2.6 lb (1.18 kg), so bear in mind, this is the lightest one on the market. Check my separate text about the lightest cots, you will see the Desert Walker Cot there. With this, you are 6 inches (15 cm) off the ground.
Then you have the inner tent. This is mainly a mesh, so you are completely protected from insects. Note that you have two doors, one on each longer side of the structure. Both are very large.
The waterproof fly. This is a full-coverage type and it creates two vestibules. So if you use one side for entry, you still have a big covered space on the other side for all your gear. I love this design.
The set of two shock-corded side poles. This is a very strong 7001 aluminum alloy.
The set of 4 aluminum legs-bars, with their shock-corded feet.
1 main tent pole + 1 short brow pole, both are aluminum. These poles make the tent freestanding. You put its ends to the two grommets on the cot, and you attach the inner tent to the poles and the structure becomes self-supported and freestanding.
9 aluminum stakes stored in their own small sack, plus guylines.
You also have a nice stuff sack with two straps with buckles and printed instructions for the setup.


---

Setup and construction
I think it is best that you see this video, it is a bit long, so put it on a higher speed. You will have a clear impression about this tent cot.
There are people who are against this whole concept, and this is fine. If you prefer sleeping on the ground, then do not use it. But sleeping on and off the ground is quite different in many ways.
In a warm environment, you do not need a pad with such a system. But if you use it in a cold environment, you will need some insulated pad, but then with a far lower R-value as compared with sleeping on the ground. This is because you lose around 50 times more warmth to the ground (when you sleep on the ground) than to the air (when you sleep on the cot).
The fly
The fly is very thin, 15D coated double-sided silicone nylon. They do not provide any official waterproofness rating, but it is coated and surely waterproof.
It is equipped with vents on both sides so this is a big plus for me. Guyout points and guylines are around, so with the provided stakes, you can secure it against the wind.
Note that the fly must be staked out in order to be used. The two vestibules are with a central zipper, so you can roll the two sides of each vestibule independently and create various configurations.
This is 3-in-1 system
I already mentioned that the cot can be used on its own, and of course, the whole system can be used as a cot-tent.
But having the fly, you can use it together with the poles and the cot only, without the inner tent. So this is something to consider if you are an ounce counter, but I do not think it is worth it. I would rather carry a few ounces more and have a full protection from insects and snakes.
---
Good and less good features & rating
The daily updated Amazon price is in the link below. So this is steep, but see what you have: the lightest cot on the market, plus a complete tent, plus this is an Amazon Prime product and you can have it shipped for free. See how I rate this tent-cot:
My rating breakdown of the Desert Walker Tent Cot
Weight -

9.6/10

Size -

8.5/10

Capacity -

9.5/10

Packed size -

9.8/10

Ease of use & features -

8.8/10
Summary
My overall rating of this cot is Excellent:
Pros
Incredible weight.
Very long.
A lot of storage space in two vestibules.
Great packed size.
Easy setup.
Multiple configurations, 3-in-1 system.
---
Specifications
Weight: 5 lb (2.27 kg).
Cot alone: 2.6 lb (1.18 kg).
Capacity: 440 lb (200 kg).
Dimensions (L x W x H): 78.7 x 26 x 41.3 in (200 x 66 x 105 cm).
Packed size (L x D): 22.4 x 6 in (57 x 15 cm).
Frame and poles: 7001 aluminum.
Fly material: 15D coated nylon double-sided silicone.
Inner tent: 20D nylon mesh.
Cot fabric: 600D oxford cloth.
---
Desert Walker Tent Cot vs competitors
Here is the Desert Walker Cot-Tent side by side with some other top models, see how it compares:
---
Summary
In the conclusion of this Desert Walker Tent Cot review, I must say that I am impressed with its features. If you are tired of sleeping on the ground and do not mind carrying a few ounces more for extra comfort, this is the right tool, if you can afford it.
Note that there are several cot-tents on the market that look identical to this cot, all are described within the site.

If you need something different, please look around, this whole site is only about cots and tent-cots, so you will surely find something for you. See this UBOWAY Unique Tunnel Shape tent cot which is indeed unique on the market. Check in the Categories above on the right. Check also my text with the list of best backpacking tent-cots.
Thank you for reading. If you have any question or comment, please do not hesitate to contact me, there is a comment box below. Have a nice day.