---
This iUcar Portable Camping Tent Cot Review is about a great ultra lightweight outdoor sleeping system which includes a cot and a two-layer tent, all with only 2.6 kg of weight.
Key features & benefits
This is an incredibly lightweight tool.
Very packable.
Versatile.
Easy setup.
Freestanding system.
Complete protection from elements and from insects.
Two doors.
Two vestibules.

What type is this
This is what its name says, a tent-cot. This means that you have a tent attached to the cot. So this is a freestanding off-ground sleeping tool, suitable for any terrain and for any surface.
This is a completely collapsible structure with an incredible packed size (length x diameter), 22 x 5.9 inches (56 x 15 cm). Remember, this is the tent and the cot together. Surely, you can easily attach this to your pack and carry long it distances, it is only 2.6 kg of weight.
Who is it for
Outdoor use
In the specifications on Amazon, you will see a statement that this is a 4-season tent. So do not be fooled with this, I do not understand why they need something like this. This is a great tool but its design is for mild weather conditions, it cannot possibly withstand any strong wind or snow. If you need a winter tent better check here.
On Amazon, it is in Expedition tents. So again, this may be so if you go to Africa and other similar places. I just came from the Alps where I was spending nights on high mountain passes well above 2000 meters, and I was sleeping in the car due to strong winds, camping outside in an ordinary tent was impossible. The car was shaking all the time from the winds. Such a tent would be smashed in minutes.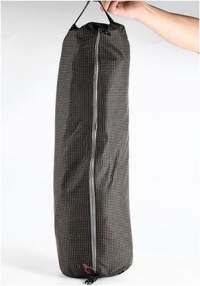 So who is it for really? First, see the weight. With 2.6 kg for the complete set (bed and tent), this is definitely a backpack-portable tool. I know that those who go ultra-light may not share my opinion, but see it from the following perspective. You do not need a pad with such a tool, at least in (very) mild weather conditions. My own self-inflating pad is around 600 grams, so you see. And you have a bed, remember.
Also, if you are traveling around on your motorbike, this is a tool for you. If you transport it in the car, it is so small you will not notice it in the trunk.
The same is if you are kayaking, cycling, hunting, or if you are taking part in some open-air festival and rock concert. You will need such a tool.
This is a quite long bed, 79 inches (200 cm), you should know this if you are a tall person. For shorter people, you may think that this may imply carrying an unnecessary weight, but see the comparison table below. You will notice that this tent cot is also the lightest in the group, so those extra inches should not be an issue.
Note, if you are in a dry area without rain, you can use it without the fly and have a super-lightweight variant, with full protection from bugs, and sleeping under stars. Sounds good, but this is not an option for the Alps.
Home use
This may surprise you, but this is an excellent tool to have at home as a spare bed for sudden guests. You simply unzip the inner tent and what is left is a great bed, see it here: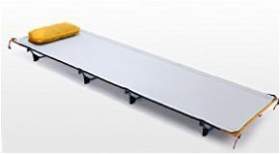 Using the cot in a tent
This tent-cot is a solo tool. But similar to the home use, you can use the cot alone in a tent. It will fit in any tent, literally. For example, if you are on a trip with your family or with your partner and you share some larger tent, you have the bed for such a trip.
Using the tent cot in cold weather conditions
In cold weather, you will need some insulated pad. But being off the ground, you need far less insulation. This is because the air under the cot takes around 50 times less body warmth than when you sleep on a pad on the ground.
So you can manage with pads with relatively low R-value. See some great options here.
Overview and construction
The cot
The cot is very similar to their other product presented here in the site, but this is not the same cot. So this is a nice bed with an easy setup and you will not need any tool for it. All is self-evident and you do not need brute force to make this bed ready. You have 4 shock-corded legs with bars, and shock-corded side bars.
Note that this is a structure without end bars. This implies that you are safe from pressure points, and the full length is, in fact, the useful length. This is 2 meters, quite a size.
The legs and bars are such that this cot will not sink on any terrain, and for home use there are no issues with the floor; the feet are with plastic caps. This is a great and stable design, see this all in the picture:

The tent
The tent is a true double-layer type. So you have the tent body which is practically all mesh, see the picture below. There are two large D-shaped doors on the sides.
This is a self-supporting free-standing structure of a particular type. So how is this possible with a single pole? This can only with tent-cots, not with ordinary tents. The inner tent is zipped to the cot and it is supported by a single main pole, plus a short transverse brow-pole which lifts the side walls and makes them completely vertical, see the first picture above.
The tension in the material is created by the fact that it is fixed on the base and then tensioned by the brow pole. So this tiny piece of a pole is all that makes the structure free-standing, and it also supports the fly which comes above.
You are completely protected from bugs and mosquitoes. So this is a good and very lightweight design.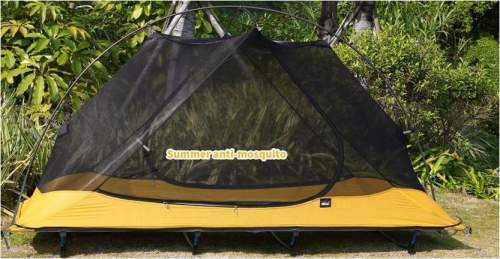 The second layer is the fly which covers the whole structure and creates two large vestibules. So you have a really large space to store your gear. The fly itself must be staked out to be kept in place.
The fly is with a vent, and in view of the fact that the tent is on its platform (i.e., on the cot), you have a lot of airflow from below. Guyout and anchor points are all around, so you can secure it against winds just like any other 3-season tent. I love all this concept.
What I dislike a lot is the fact that there are no indications at all about the waterproofness of the fly. There is only a statement that it is waterproof and windproof.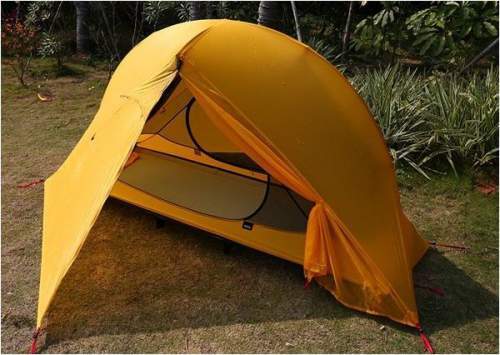 My rating
They did not do a great job with the description of this tool and you will realize this yourself. Pity in view of its overall features and quality.
The width of the bed is quite typical, there are narrower cots on the market, see the comparison table below, but you do not have much space for arms if you are a back sleeper.
They do not provide capacity data for this cot except the usual funny picture with 4 people standing on it, a bit disappointing to see this. My understanding is that it is 440 lb (200 kg). See my own rating of this cot:
My rating breakdown of the iUcar Portable Camping Tent Cot
Weight -

9.4/10

Size -

8.5/10

Packed size -

9.9/10

Ease of use & features -

8.8/10
Summary
My overall rating of this tent-cot is Excellent:
Pros
• Quite long.
• Ultra lightweight.
• Comfortable.
• Nicely packable.
• Versatile.
• Very easy to use.
• Carry bag included.
• Large storage area.
Cons
• A bit narrow.
• Expensive.
• Poor description.
Specifications
Best use: hiking, backpacking, kayaking, motorbike camping, car camping, travel, home use.
Weight: 2572 g (5.67 lb).
Package weight: 2600 g (5.73 lb).
Package size: 22 x 5.9 x 5.9 inches (56 x 15 x 15 cm).
Size (L x W x H): 79 x 26 x 42 inches (200 x 66 x 105 cm).
Off ground: 15 cm.
Materials:
– Inner tent: 15D nylon double-sided silicone.
– Outer tent: 15D nylon double-sided silicone oil.
– Gauze: 20D nylon yarn.
Frame and legs: 7001 aerospace aluminum.
Nails: ultra-light titanium.
Fasteners: phantom pure nylon fasteners.
Carry bag included.
Summary
To conclude this iUcar Portable Camping Tent Cot Review, I obviously love this tool and the whole concept of such ultra-lightweight backpack-friendly tent cots.
In this particular case, the legs system is very simple, far easier to deal with than what you have in some other tools (like the OUTAD and Therm-a-Rest cots in the table above where you have a bow-type design and circular legs). So yes, I can fully recommend this tent cot, if you can afford it.

Thank you for reading. If you feel this is not a tool for you, please have a look around. This site is only about tent-cots and cots. Practically all tools available on the market are presented here, you will surely find something for you. Check in the Categories on the right above. Check also my text with the list of best backpacking tent-cots.
In the case of questions and comments, please use the comment box below. Have a nice day.

---