---
Trekology YIZI GO Portable Camping Chair with adjustable height is a quite unique and versatile ultra-lightweight collapsible chair, easy to use and with a great price tag.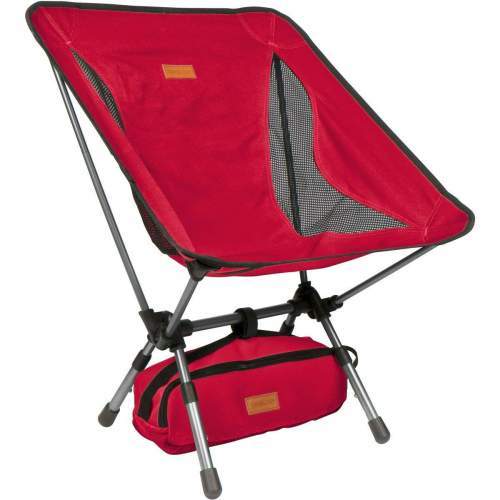 ---
Why would you choose this chair – key features
Very good price.
Ultra-lightweight.
Adjustable height.
Very easy to use.
Very reliable.

---
What type of chair is this
Here you have an ultra-lightweight and collapsible chair, so the weight is 2 lb (907 g) in the carry bag, and it packs down to only 11 x 4.3 x 6 inches (36 x 11 x 15 cm). The meaning of the word collapsible here is also that it needs assembly, but if you are concerned about this, no need to be, it sets up in a few seconds and without any tool.
Namely, all the pieces of the frame are shock-corded and permanently interconnected so you make the frame ready literally in a few seconds. After that, you simply put the sling by attaching it to the four ends of the frame. You will see in the video below how this is done.
With such a weight, I have included this chair in my list of backpacking chairs, so have a look there if you are in search of such an item and want to see more options.
The key feature here, one that sets this chair apart, is its adjustable height. This makes a big difference if the chair is used by several people of different body size. I have included it in my list of height adjustable camping chairs.
This is about legs length, you have a click mechanism and a pop-up button which allows you to extend or shorten the length and fix it in one of the three positions, see the picture below. You will see in the video below how easily this all is done.
Note that the difference in legs length implies slight differences in the footprint for this chair. For example, this might be important if you are using it in a kayak for fishing. So with the shortest legs configuration, the smallest footprint is (W x D) 14 x 11 inches (36 x 28 cm).
This is an item without sharp points, so you should not have any problem with it as a carry-on item. Its packed size of 11 x 4.3 x 6 inches (36 x 11 x 15 cm) is such that you will not have any problem to store it on any airplane, see the picture.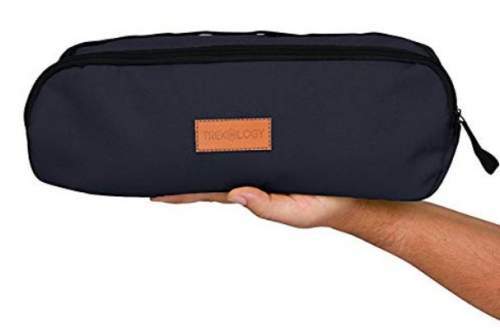 ---
Who is it for
Capacity-wise, this ultra-lightweight item supports the weight of up to 300 lb (136 kg). I find this really remarkable.
Size-wise, the seat is (W x D) 22 x 20 inches (56 x 51 cm), so this is quite reasonable. But the height is adjustable so the seat can be 13, 14, or 15 inches (34, 36, 38 cm) above the ground. This is not bad at all, but I feel that it still remains rather low.
Weight-wise, I already mentioned the weight so this is a very versatile item, definitely backpack-portable. Its packed size is such that you can transport it in any way, even on a bicycle, and you can carry it in your luggage as well. So it is suitable for a variety of activities, starting from travel, open-air concerts, sports matches, fishing, camping, outdoor adventures, etc.
---
Materials & construction
The materials are quite good here, so the frame is an aerospace-grade 7075 aluminum alloy, a very hard but lightweight material compared to the steel.
The sling is a 600D engineering grade nylon fabric, and they claim it is machine washable. On the legs, you have some sort of hard plastic or perhaps rubber caps for the floor protection.
The carry bag is made so that you can attach it to the chair and use as a storage pouch. You have Velcro tabs for this purpose. Note also they build the chair in 6 nice colors.
Please see more in this video by the Trekology company:
---
My rating, pros & cons
The daily updated Amazon price for this chair is in the link below, and frankly speaking I find this amazing for such a chair. You realize also this is an Amazon Prime product.
There are hundreds of customers reports on Amazon alone, so this is yet another amazing fact, and the average rating is very high. See how I rate it:
My rating breakdown of the Trekology YIZI GO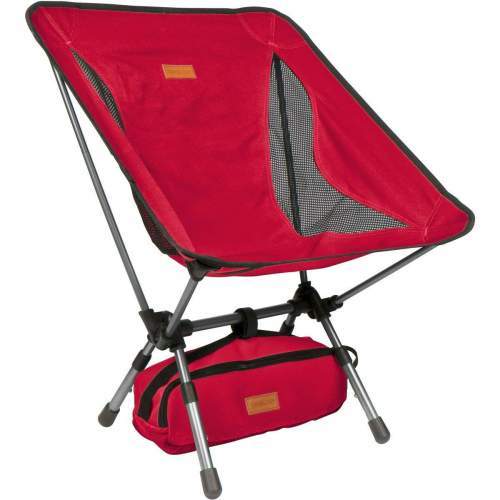 Product Name: Trekology YIZI GO Portable Camping Chair With Adjustable Height
Product Description: Trekology YIZI GO Portable Camping Chair with adjustable height is a quite unique and versatile ultra-lightweight collapsible chair, easy to use and with a great price tag.
Brand: Trekology
Weight -

9.2/10

Dimensions -

6.8/10

Packed size -

9/10

Capacity -

7.5/10

Comfort -

9.2/10

Craftsmanship -

9/10
Summary
My overall rating for this incredible chair is Excellent:
Pros
Great packed size.
Very lightweight.
Very easy to use.
Unique features.
---
Specifications
Weight: 2 lb (907 g).
Capacity: 300 lb (136 kg).
Max. dimensions (W x D x H): 22 x 20 x 27 in (56 x 51 x 68 cm).
Adjustable seat height: 13, 14, 15 in (34, 36, 38 cm).
Total height: 25, 26, or 27 in (64, 66, or 68 cm).
Packed size: 11 x 4.3 x 6 in (36 x 11 x 15 cm).
Colors: 6.
---
Trekology YIZI GO Chair vs Competitors
I thought it might be useful to you to see how this chair compares with some other similar items. So I took two of them from the same weight range, so these are not the lightest chairs on the market (see some lighter options here), but they are in the category of ultra-light chairs.
Note that the YIZI Go chair has extra mechanism and elements for the adjustable length, yet it is still practically the same weight as the other two chairs. So they have done a great job here. Please follow the links for more.
Dimensions
(W x D x H), in (cm)

22 x 20 x 27
(56 x 51 x 68)

14 x 6 x 4.3
(36 x 15 x 11)

22 x 24 x 26
(56 x 61 x 66)

14 x 5 x 3.5
(36 x 13 x 9)

19.3 x 17.3 x 27.2 (49 x 44 x 69)

13 x 5.5 x 5.5
(33 x 14 x 14)

---
Final thoughts

Do you have any experience with this chair or some thoughts to share? If so, please use the comment box below. I wish you a nice day.