---
ALPHA CAMP Lightweight Portable Camping Chair weighs only 2 lb and it comes with a price tag that is hard to match. Read more below.
---
Key features & benefits
Ultra-lightweight chair.
Backpack portable.
Easy to use.
Great price.

---
What type of chair is this
You see enough already from the name of the chair. So it is indeed a lightweight chair with its 2 lb (907 g). In fact, it is light enough to be backpack-portable.
It is of the type which needs assembly, and this is a really simple procedure. I am surprised to see that they write "Setup in Minutes"; there is nothing to work here in terms of minutes, it is rather in seconds.
The chair consists essentially of two parts only, see the picture below, the frame and the sling. Now, all the tubes in the frame are shock-corded and they assemble almost automatically due to the elastic string that runs through them. So they are interconnected all the time and you cannot lose any segment of them.
When the frame is ready in just a few seconds, you attach the fabric sling, there are four attachment points, small pockets where the ends of the frame poles fit, you see two of them in the picture below.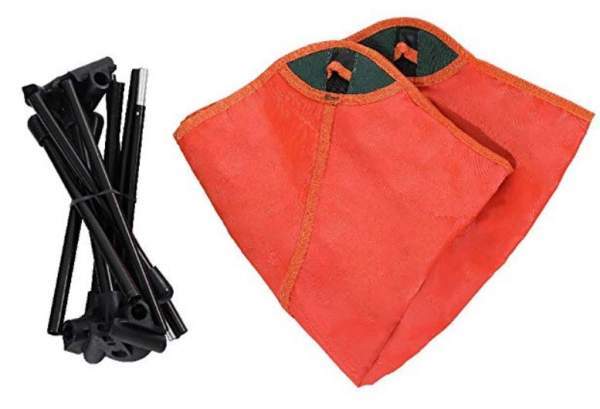 Note that the feet need an area of 13.4 x 13 inches (34 x 33 cm), you might want to know this if you use it in the kayak for fishing and the space is limited.
The feet are such that it will surely sink if you use it on a soft ground. So bear this in mind when you plan where to use it. They do not sell any sort of fabric to attach to the feet to prevent sinking. You might want to check this WildHorn Outfitters Terralite chair if you need something for a soft surface.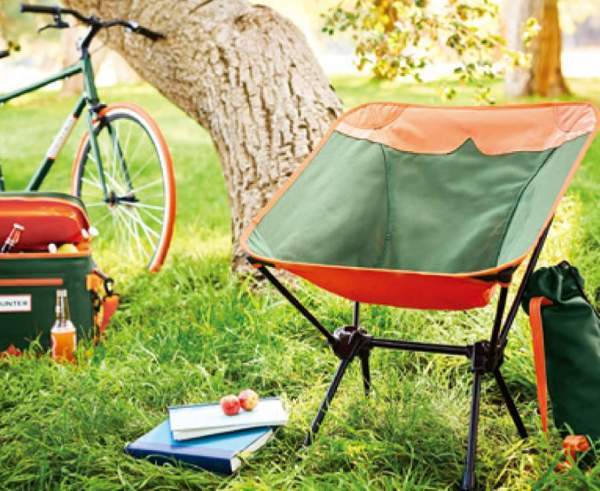 ---
Who is it for
Weight-wise, as mentioned above, it is suitable even for hikers and backpackers. This is why I have included it in my list of ultra-lightweight backpacking chairs.
But this also means that you can use it for any other outdoor activity, and also for summer festivals, sports matches, etc. This is a versatile item indeed.
Capacity-wise, the chair is designed to support the weight of up to 350 lb (159 kg). So imagine such a tiny and light item supporting so much weight, this means 175 kg of load per one kilogram of the chair weight.
Size-wise, the dimensions are not spectacular but they are reasonable and very similar to its competitors, you will see this in the comparison table below. Note that the seat height is 16 inches (41 cm) and this is not bad. But if you need something with an adjustable seat height, please check this Trekology YIZI GO Portable Camping Chair.
The packed size is very good, 14.2 x 4.7 x 4.7 in (36 x 12 x 12 cm), quite appropriate for such a small weight, see the picture below. So attaching it to the pack should not be a problem at all, and it will not take much space in the car trunk or in your suitcase for travel.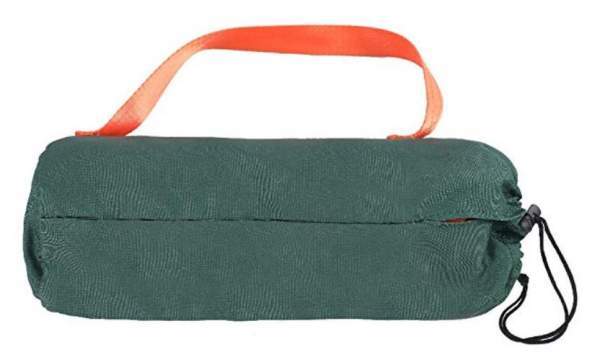 ---
The materials & construction
The frame is the best what you can see in this industry, this is a hard anodizing 7075 aircraft-grade aluminum alloy; this material is comparable to steel. The joints are some sort of bulky and hard plastic. There are spring plungers that prevent slipping or rotation, introduced for stability and comfort.
The sling is a dual-layer 600D oxford fabric that is machine washable. They apply double stitching and you have reinforcements at the most critical places, so I would say this is all properly done.
---
My rating
The reports by Amazon customers are very positive and the average rating is high. See how I rate it, I use the same criteria for all the chairs here in the site, this makes it easy to compare various chairs:
My rating breakdown of the ALPHA CAMP Lightweight Portable Camping Chair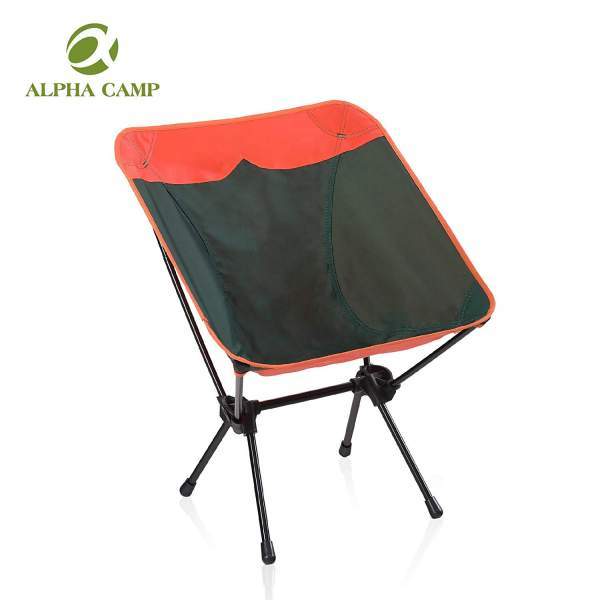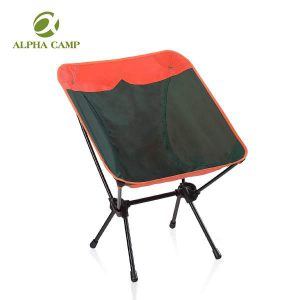 Product Name: ALPHA CAMP Lightweight Portable Camping Chair
Product Description: ALPHA CAMP Lightweight Portable Camping Chair weighs only 2 lb and it comes with a price tag that is hard to match. Read more below.
Brand: ALPHA CAMP
Weight -

9.2/10

Dimensions -

7.3/10

Packed size -

9.2/10

Capacity -

8/10

Comfort -

9.2/10

Craftsmanship -

9/10
Summary
My overall rating for this chair is very high:
Pros
Great packed size.
Very lightweight.
Very easy to use.
Great price.
---
Specifications
Weight: 2 lb (907 g).
Capacity: 350 lb (159 kg).
Dimensions (W x D x H): 22 x 20.5 x 27.5 in (56 x 52 x 70 cm).
Packed size: 14.2 x 4.7 x 4.7 in (36 x 12 x 12 cm).

Seat height: 16 in (41 cm).

Colors: 3.
---
ALPHA CAMP Camping Chair vs Competitors
In the comparison table below you will see that this chair is exactly the same weight as some of its competitors. So they look as if they come from the same factory, but there are some tiny differences in the construction that clearly show those are different models.
Though indeed the differences are not big and it may be important to check the prices, so please check for the latest updates in the links below, I do not give the prices here because they change all the time.
Dimensions
(W x D x H), in (cm)

22 x 20.5 x 27.5
(56 x 52 x 70)

14.2 x 4.7 x 4.7
(36 x 12 x 12)

22 x 24 x 26
(56 x 61 x 66)

14 x 5 x 3.5
(36 x 13 x 9)

22 x 20 x 27
(56 x 51 x 68)

14 x 6 x 4.3
(36 x 15 x 11)

---
Final thoughts
So in the summary of this ALPHA CAMP Lightweight Portable Camping Chair review, I would stress that this is really an ultra-lightweight chair with a great packed size and with an incredible price. Though it is very similar to several other chairs that are currently on the market, the differences are minimal.
I gave some alternatives for comparison just to see how it stands with competitors. If you need to see more, please check in the category Camping Chairs here in the site, and also in the list with ultra-light backpacking chairs.
Check also this Alite Designs Stonefly Camping Chair which is a unique item on the market with its armrests and cup holders while being a fully collapsible chair.

Thank you for reading. Have you used this chair in the past? Please share your thoughts here, there is a comment box below. I wish you a nice day.