---
Moon Lence Compact Ultralight Portable Folding Camping Backpacking Chairs with Carry Bag are two different chairs with a low and high back. Read more here.
---
Key features & benefits
Ultra-lightweight.
Fully collapsible.
Nicely packable.
Portable.
Easy setup.
Great price.

---
What this is about
Here you have two chairs with a similar design but with a very different back length. One is low and the other is high. So they have made a mess by selling them both at the same place.
The word ultralight which they use applies only to the low back chair. The other is a bit heavier and I would not put it in the same category. But I have included the low back chair in my list of ultralight backpacking chairs.
Both chairs are in the group of fully collapsible chairs and this implies two things: i) they need assembly, and ii) the are nicely packable. Now, the assembly is done in seconds, and you need no tools for that. In the text below, my focus is mainly on the low back chair because of its weight.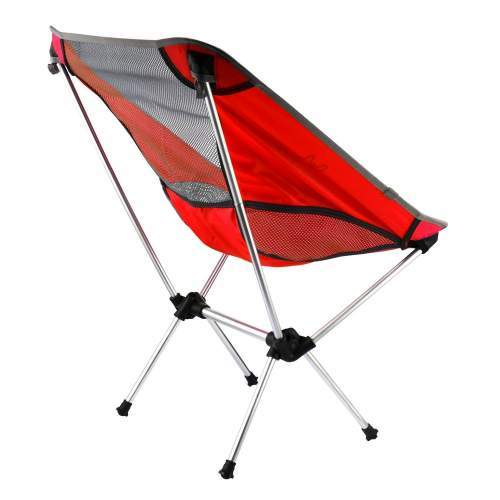 ---
Who is it for
Weight-wise, with its 2 lb (907 g) only, the Moon Lence Compact Low Back Backpacking Chair is light enough to be carried on the trail. Note that it is the same weight as this Sportneer Portable Lightweight Folding Camping Chair. And yes, there are also some lighter options available on the market.
Capacity-wise, this tiny chair can easily accommodate people with up to 242 lb (110 kg) of the body weight. But I do think that if you are a heavy person, better check something more durable (and far more expensive). The mesh of this chair tends to stretch after you use it for some time.
This is a versatile item, you can use it anywhere, and its packed size is great, 14 x 5 x 3.5 inches (36 x 13 x 9 cm). So attaching it to a backpack should not be difficult, and you can also easily transport it on the bicycle and motorbike, or in a kayak.
---
Materials & construction
The construction is very similar to what you have in several other chairs of this type. Basically, you have only two elements: the frame and the fabric. These two come in a nicely designed carry bag, see them all in the picture: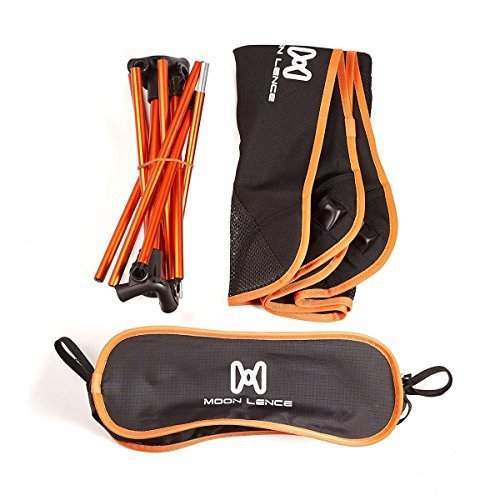 The frame includes several aluminum tubes that are all permanently interconnected. There is a shock-cord that runs through all of them, so you cannot lose any piece, and setting the frame is just a matter of seconds.
The fabric is with some tiny pockets on the back and here you put the ends of the two vertical back poles. You can see this all in the pictures below.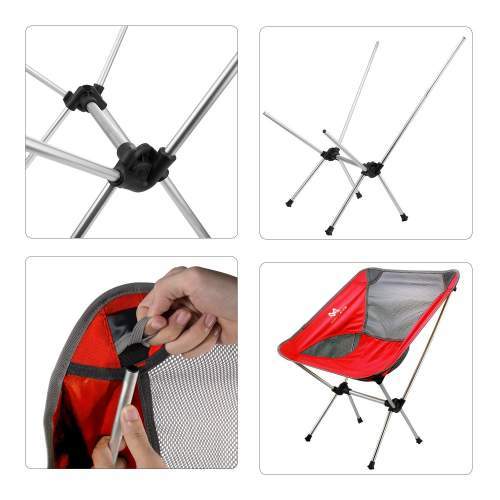 The feet are with rubber caps and they have a somewhat larger profile than its competitors, but even with this it will sink on a soft ground. So it is far better suited on a hard surface.
Setup
It is best that you see this video:
---
My rating, pros & cons
As of the moment of writing this text, there are almost 700 customers' reports on Amazon, and this chair has scored a really respectable average rating of 4.3/5. Though, I note that they sell both chairs together and it is not completely clear to which chair all those reports refer. As I said above, they made a mess. Anyhow, see how I rate it:
My rating breakdown of the Moon Lence Compact Backpacking Chair.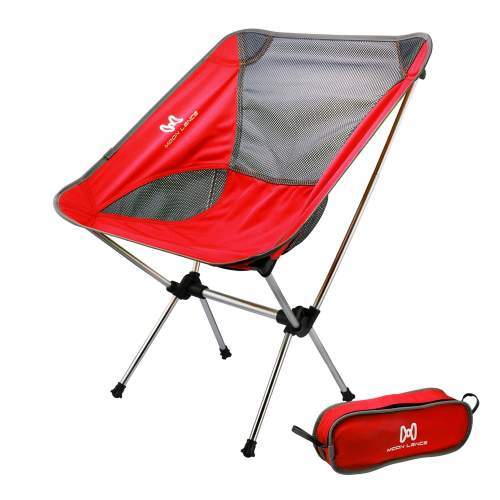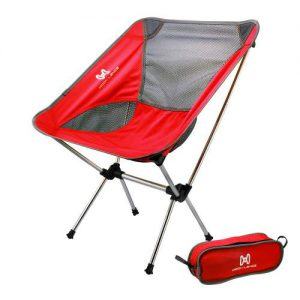 Product Name: Moon Lence Compact Ultralight Portable Folding Camping Backpacking Chairs with Carry Bag
Product Description: Moon Lence Compact Ultralight Portable Folding Camping Backpacking Chairs with Carry Bag are two different chairs with a low and high back. Read more here.
Brand: Moon Lence
Weight -

9.2/10

Dimensions -

7.4/10

Packed size -

9.6/10

Capacity -

7/10

Comfort -

9.4/10

Craftsmanship -

9/10
Summary
My overall rating for this chair is Excellent:
Pros
Incredible price.
Very lightweight.
Great packed size.
Very easy to use.
Great value/price ratio.
Great comfort.
---
Specifications
Type: collapsible chair.
Weight: 2 lb (907 g).
Capacity: 242 lb (110 kg).
Dimensions (W x D x H): 22 x 24 x 26 in (56 x 61 x 66).
Seat height: 15 in (38 cm).
Packed size: 14 x 5 x 3.5 in (36 x 13 x 9 cm).
Colors: 8.
---
Moon Lence Compact Backpacking Chair vs Competitors
To fully understand the features of this Moon Lence chair, it is best to compare it with other similar items. This in particular if you are not familiar with this industry and technology. This is why I give it side by side with two chairs from true top brands.
To understand what you see, note that the Helinox Chair Zero is currently the lightest on the market. Please follow the links to read more, you will be surprised by the differences in the prices:
Dimensions
(W x D x H), in (cm)

22 x 24 x 26
(56 x 61 x 66)

14 x 5 x 3.5
(36 x 13 x 9)

19.7 x 18.9 x 25.2 (50 x 48 x 64)

13.8 x 3.9 x 3.9
(35 x 10 x 10)

19.3 x 17.3 x 27.2 (49 x 44 x 69)

13 x 5.5 x 5.5
(33 x 14 x 14)

---
The Moon Lence high-back chair
They have the other version which they sell at the same place on Amazon. This is a bit heavier chair, with a much higher back section, and a bit more expensive but still totally affordable, and a great design as you realize from the picture: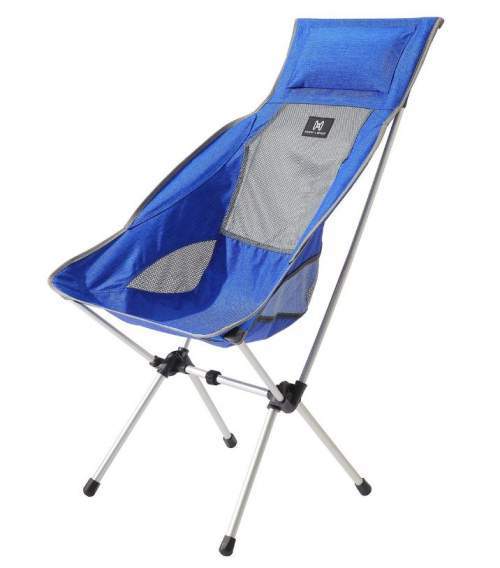 Note that they have it in several nice colors. The back section is 39 inches high (99 cm) so if you want a better back support this is it. Please see more here.
---
Final thoughts
In the summary of this Moon Lence Compact Ultralight Portable Folding Camping Backpacking Chairs review, I would stress that if you are on a budget and the price is very important, this is definitely the chair to consider. You will not find something that can match the price and quality combination that you have here.
The same holds if the portability is your important criterion. This is a very lightweight chair, and with an amazing packed size, it is among the smallest packed sizes of the chairs with 4 legs. You might wonder why I did not give it a higher rating for the packed size. The answer is simple, I have an exact formula for the packed volume, and a scale which I use for every chair presented here. So the rating is best understood when you compare it with competitors.

But if you still want to see more, please check in the category Camping Chairs here in the site. Only the top-notch items are presented. You might want to check this Trekology YIZI GO chair which is a unique design with adjustable height. Check also the WildHorn Outfitters Terralite Portable Camp Chair with an extra set of feet for a soft ground.
Note also that there is a backpack portable ultralight cot from the same brand presented here in the site, so have a look.
Thank you for reading. Please let me know if you have questions or comments, there is a comment box below. Have a nice day.

---