---
Coleman Trailhead Easy Step Cot is a unique military-style cot without end bars, so it is an instant-setup cot. It comes with a bonus side table and a storage pocket.
---
Key features & benefits
Easy setup, no assembly.
No end bars.
Great price.

Side table with cup holder.

Side storage pocket.

---
What type is it
This Trailhead Easy Step Cot should not be mixed with the Trailhead Cot and the Trailhead II Cot from the same brand. The differences are crucial and they include the following:
The frame follows the design of the military style cots so you have X-shaped legs, but there are no end bars here.
The absence of end bars is a big difference because this cot needs no assembly. So you have the frame and the bed deck all permanently attached to each other without extra pieces.
Instead of the end bars on the deck which would keep the structure from collapsing, you have the bar below, on the X-legs, which you press by the foot and lock the bed in place. You can see it in the picture below. This puts this cot in the group of cots with an express setup. It is ready in seconds, and it also folds and packs in seconds.
So technically, this is also a fully collapsible cot as well. But again, this is a design different from yet another cot from the same brand, the Coleman Pack Away cot which is also collapsible and with a bonus side table; the difference is in the legs' design.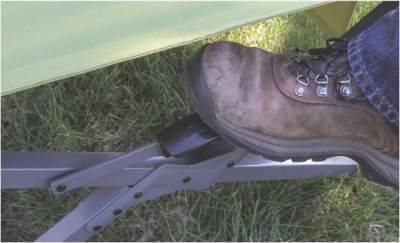 ---
Who is it for
Regarding the length, the bed is quite modest, so you have the sleeping area 72 x 30 inches (183 x 76 cm). But as you realize, the width is impressive. In any case, if you are a tall guy, better check some of these giants.
The packed size 39 x 10 x 4.5 inches (99 x 25 x 11 cm) is such that you need a car for transportation to your camping place. As its name suggests, this is a tool to be used in trailhead hotels or at any other place where you can get by car.
For home use as a spare bed for sudden guests and in emergency situations, you will keep it in its carry bag until the moment you need it.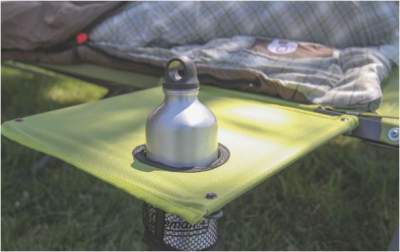 ---
Using this cot in a tent
The legs are with plastic caps for the floor protection, but in the case of a soft ground, you should add something extra to avoid damages.
If this is about large family camping tents, this is a tool for any of them, in particular for cabin style tents because it fits nicely against nearly vertical and straightened walls in such tents.
But bear in mind that the cot comes with the bonus side table that needs space, and also the frame is a bit longer than the deck (see the picture below), and overall dimensions are 76 x 42 x 15 inches (193 x 107 x 38 cm). Also, the cot is tall and it will not fit in bivy shelters, and in narrow solo tents. But it can easily fit in any 2-person tent used solo.
Being so tall, you can store some stuff under the bed, this is something that makes the difference as compared with sleeping on the ground.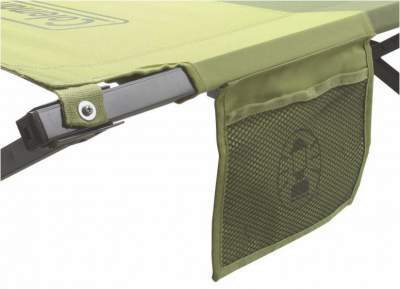 ---
My rating, price, pros & cons
The two bonuses (the side table and the storage pockets on the side) add the value and make this cot different from competitors. The cot is not long, but it is without end bars, so the whole length is a truly useful length.
The daily updated Amazon-US price is given below so you realize this is a great price for such a product.
See how I rate this cot:
My rating breakdown of the Coleman Trailhead Easy Step Cot
Weight -

6.5/10

Size -

8.3/10

Capacity -

7.5/10

Packed size -

8/10

Ease of use & features -

9.3/10
Summary
My overall rating of this cot is Very Good:
Pros
Quality materials.
Versatile.
Express setup.
Bonus side table and storage pockets.
Reasonable price.
Very wide.
No end bars.
---
Specifications
Weight: 22.3 lb (10.12 kg).
Capacity: 300 lb (136 kg).
Bed dimensions: 72 x 30 in (183 x 76 cm).
Overall dimensions (L x W x H): 76 x 42 x 15 in (193 x 107 x 38 cm). Note that the different width with respect to the bed's width is due to the attached removable side table.
Packed size: 39 x 10 x 4.5 in (99 x 25 x 11 cm).
Fabric: 600D polyester.
Frame: powder-coated steel.
Warranty: 1-year limited warranty.
Carry bag included.
---
Coleman Trailhead Easy Step Cot vs competitors
Here is a comparison table with the Easy Step cot side by side with two other cots, all are express setup tools. To see more please follow the links in the table.
Coleman Trailhead Easy Step Cot
39 x 10 x 4.5
(99 x 25 x 11)

40 x 7 x 6
(102 x 18 x 15)

---
Final thoughts
In the conclusion of this Coleman Trailhead Easy Step Cot review, it may be important to stress again its most important features: instant setup, and the absence of end bars. This in combination with its construction which looks like a military cot, makes it quite a unique cot on the market.

Thank you for reading. If you need something different, bigger, etc., just look around. This site is all about cots, so you will find something suitable for you. Check in the categories above, there are many cots of Coleman described in the site. If you need a padded cot, please check this OzTent Gecko cot.
In the case of questions or comments, please use the comment box below. Have a nice day.

---