---
FLAMROSE Sturdy Folding Outdoor Cot is a nicely built cot with an instant setup in seconds. This is a versatile tool built from very sturdy materials.
---
Key features & benefits
Express setup in seconds, no assembly.
Bonus pillow.
Great capacity.
Very strong and durable materials.
Carry bag included.

---
What type cot is this
The name they use for this tool is FLAMROSE Patented Camping Cots Sturdy Folding Outdoor Cot. Not sure what is patented because such a design is in some other cots on the market.
In any case, the Flamrose Cot is in the group of instant setup folding cots. So this is a tool that needs no assembly and you deploy it literally in seconds. It opens and spreads in all 4 directions like an umbrella, see the pictures: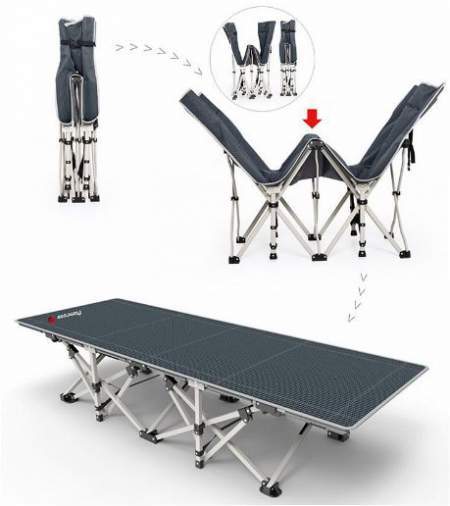 ---
Who is it for
This is a tool for people who do not want to spend time assembling the cot each time when they use it. Some cots can be very complicated as you probably know. This in particular holds for those users who are on some tour and change the camping place frequently.
The packed size is not particularly impressive, but it is very typical for this type, and you will realize this from the comparison table below. So you have it in a bundle which is 40.5 x 8.6 x 5.5 inches (103 x 22 x 14 cm). Clearly, you will need a car for transportation if you use it as an outdoor tool.
But this is also a spare bed for home use, for sleepovers and for an emergency in general. You have a carry bag included, see the picture, to keep it clean and safe until you need it.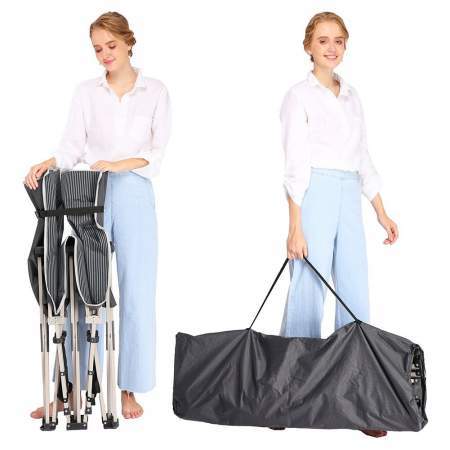 Need something for a nap in the office? This is the tool, note that you even have the bonus pillow included.
Sizewise, this cot is not for very tall people (though they describe it as 'extra wide and long'). In fact, the bed deck is 75 x 27 inches (191 x 69 cm), which is not so bad for many, but bear its length in mind if you are a tall person.
The capacity, however, is impressive, so it can support up to 400 lb (181 kg). This is not surprising in view of all the steel legs and support bars which you have here, 26 pieces in total, unbelievable, but see the picture: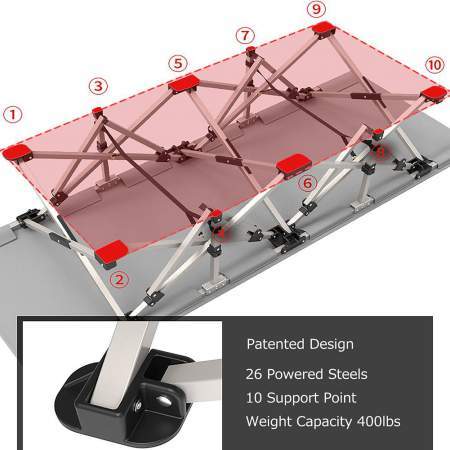 ---
Using this cot in a tent
As you realize from the picture above, the feet are a really floor-friendly design, so you will not have issues regardless of where you use this cot. It has 10 of them so the weight is well-distributed and there will be no much pressure on the floor.
So this is a great cot to be used in family camping tents, in particular in those that are cabin-style because of their straightened walls.
How about sleeping pads
I love to stress that you do not need any pad as long as you use this cot at home or in a relatively warm environment, except for extra comfort. But you may use a pad with a bit of insulation if this is a cold environment, see some great models here.
Though don't spend much on the insulation because you are off the ground and you lose far less warmth than when you sleep on the ground. This is the usual advantage of using a cot.
---
About FLAMROSE
I like what they write about themselves as a brand originating from a group of designers who are masters at combining aesthetic elements of design and ergonomic aspects of coziness.
This is a really nice statement, but I appreciate even more this: "We don't believe in taking shortcuts or sacrificing quality in any way." They have my respect for this. In view of this, it is no surprise that they offer 6 months replacement warranty for this cot.
---
My rating, pros & cons
This is a great cot and my list of pros is given below. See my rating:
My rating breakdown of the FLAMROSE Camping Folding Outdoor Cot
Weight -

7/10

Size -

8.3/10

Capacity -

9/10

Packed size -

8.2/10

Ease of use & features -

9.6/10

Price -

9.5/10
Summary
My overall rating of this cot is Excellent:
Pros
Quality materials.
Versatile.
Express setup.
Bonus pillow.
Cons
Not so big, but the size is quite typical.
---
Specifications
Weight: 18.8 lb (8.53 kg).
Capacity: 400 lb (181 kg).
Dimensions (L x W): 75 x 27 in (191 x 69 cm).
Packed size: 40.5 x 8.6 x 5.5 in (103 x 22 x 14 cm).
Fabric: quality breathable stylish 1680D durable oxford.
Frame: patented heavy-duty coated steel.
10 feet.
Warranty: 6 months replacement warranty.
---
FLAMROSE Cot vs competitors
Here is the Flamrose Cot side by side with two other cots built in a similar style, so all are instant cots. To see more please follow the links in the table.
40.5 x 8.6 x 5.5
(103 x 22 x 14)

42.1 x 11.4 x 7
(107 x 29 x 18)

---
Final thoughts
In the conclusion of this FLAMROSE Sturdy Folding Outdoor Cot review, I wish to stress again that this is a surely a quality tool. All you see here looks built to last, and they support the product with their 6 months replacement guarantee. So yes, I can fully recommend it for camping and for home use.

This site is all about cots so if you still need something different, just look around, you will find something for you. You might want to see this Coleman Trailhead Easy Step cot, a new tool on the market. How about a folding freestanding hammock? Check this Kamp Rite Kwik Set hammock. In the case of questions or comments, please use the comment box below. I wish you a nice day.

---