---
The Kodiak Canvas Swag 1 Person Canvas Tent is not a typical tent cot structure which you can see around in many texts in this site. In fact, it is quite different from the rest of the tent-cots presented here. The reason for adding it here is that it can nicely be combined with any 80 x 40 inches cot, and in this case, you indeed have a great tent cot for camping.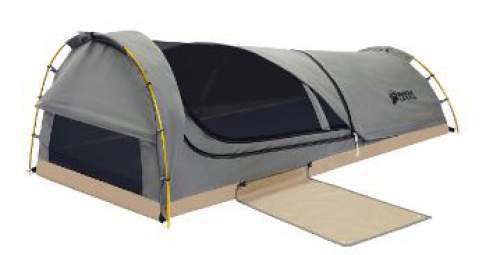 ---
Key benefits & standout features
A very comfortable system that includes a foam mattress and a flannel.
Very easy setup.
Complete protection from elements and from bugs.
Very durable and sturdy construction.
Completely waterproof tool.
Amazon's Choice item.
---
Kodiak Canvas Swag tent – description
This bivy tent is a complete sleeping system which can be used
on the ground and
off the ground, on a cot or on your pickup.
All you need is to add a blanket or a sleeping bag and sleep in full comfort wherever you are outdoor. You are protected from elements, bugs, snakes, and insects.
The tent is 80 x 35 inches (203 x 89 cm), so it provides a lot of space. But bear in mind its height, this is a bivy tent, so you have 27 inches only (68 cm).
Inside the tent you have two small pockets in the head section, one on each side, but there is much more, see below.
The materials and design
Both materials and design here are really remarkable, so it is hard to choose where to start in the description.
This is a premium-grade, Hydra-Shield 100% cotton duck canvas. So this alone is already one of the things that set this tent apart. You have a tight weave and silicone finish, and this makes it watertight while still remaining breathable. Clearly, this is good against condensation and mugginess, but those are hard to avoid, and this is where the design helps.
The poles are sturdy aluminum alloy. On the floor, you have a heavy-duty and puncture-resistant 16 oz vinyl. It is completely waterproof.
At both ends of the tent, you have mesh windows with their awnings, so you can keep them open all the time if you wish, and have a nice air flow. This helps against condensation.
All zippers, on the inner tent and the fly, are high quality and rugged, the clips are very hard plastic, and all guyout points are strongly reinforced.
The foam pad (yes, it is included, see more below) is very comfortable and covered by a flannel which is removable and you can wash it.
---
What is in the package
You have the inner tent body.
The cotton canvas fly.
The set of three poles.
Guyout lines.
2-inch thick, open-cell, polyurethane foam mattress.
A removable flannel.
A doormat, shown in the pictures, which can be attached to the tent body. This is very convenient to have, you will be using it to enter the tent and to avoid dirt or dust on your feet.
Stakes.
A carry bag.
The complete set can be rolled up and fixed with two straps. Note, you will be using a sleeping bag or a blanket and pillow of course; they all can be rolled up together and carried as a complete sleeping system.
---
The setup
This bivy tent is not freestanding. This means that you have to stake it out. You normally carry it rolled up and secured with straps, so just unroll it and stake in all the corners.
After that, you feed the two end poles through the loops/sleeves. They are of the different length so you cannot mix them. The longest goes to the front/head section, the smallest to the foot section. You fix the poles to the corner rings and attach the tent clips to them.
Note that the middle pole must be attached to the inner tent (net) through a Velcro tab on the top section of the inner tent/net. It is thus designed to support the inner tent from inside, while the other two poles are from outside and the tent hangs attached to them.
After that stake out both ends, this is how the tent really becomes functional and standing, it cannot be used until this is done.
Using it on the cot: Note that almost the same procedure is used if you put the tent on a cot. The only difference is that it will not be anchored the same way but you can fix it to the cot by using some strings. Here again, you will have to stake the ends to the ground. In any case, this all is done in a couple of minutes.
When you zip up the inner tent, the structure gets its tubular or cylindric shape which you see in the pictures. So you can sleep with the net only, or you can add the fly over it in the case of rain. In such a full setup, the central pole is not visible.
The rain fly has its own guylines so you can stake it out and this can separate it a bit from the inner tent and give you more airflow.
---
Who is it for, how to use it
This is a versatile bivy tent, but heavy. So you will be using it only at places with a car access, on the ground, or off the ground. But note that even in the packed state it is rather big, a tube 35 x 12 inches (89 x 30 cm). You can see it below, the surface visible here is the bottom of the tent.

Note also, this is a 3-season tool. Do not plan to use it if you expect a lot of snowfall. Its top is a cylindric surface and the materials are such that the snow would accumulate very quickly. This structure cannot withstand such a pressure, it is heavy already.
Back at home, what to do with it
Once you get back home, remove the pad and let it dry properly. You can certainly remove the flannel and wash it.
Let the tent body dries out completely, in particular, the bottom where you might expect some moisture from condensation.
After everything is dry and clean, roll it up and store till your next adventure.
See more about this bivy tent in this short video:
Specifications and summary of features
Type: camping bivy tent for one person.
Best use: any outdoor activity and sleeping at places with a car access.
Non-freestanding.
Three-season tent.
Tent weight: 17.5 lb (7.94 kg).
Size (L x W x H): 80 x 35 x 27 in (203 x 89 x 68 cm).
Packed tent size (L x D): 35 x 12 in (89 x 30 cm).
Materials:
– Roof and walls: 8.5 oz Hydra-Shield cotton canvas.
– Floor: 16 oz vinyl, polyester reinforced.
– No-see-um screen mesh.
– Mattress: open-cell polyurethane foam, 2 inches thick.
– Flannel cover.
– Poles: aluminum.
Durable, watertight, and breathable.
The top unzips and rolls back converting into a screen shelter.
Gear pockets.
Zip-open windows at both ends.
Doormat.
Cinch straps for compression.
Carry bag.
---
My rating, pros & cons
As you realize, I do not put the weight in Cons. The weight is part of the design of this incredible tent. It is heavy indeed because of quality material, this is 100% cotton canvas, so nothing else can be expected.
The Amazon-US daily updated price is given in the link. It may look steep, but this is a high-quality item, totally worth the money. Note also this is an Amazon Prime product and it is an Amazon's Choice item as well.
But again, being so heavy, I wonder why they did not make it longer. This is not a tool to carry around in any case, so a couple of extra kilograms would not change anything. See how the floor plan looks: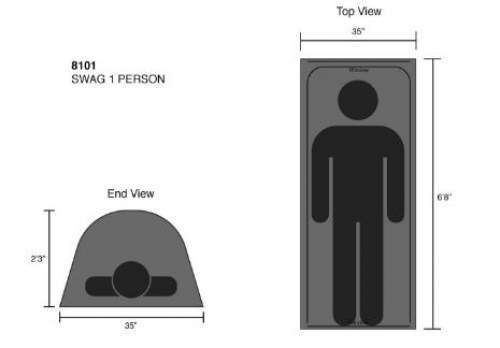 Another thing is the fact that it is not free-standing. In fact, it was easy to make it freestanding, and here is my solution to this. Instead of the third loop in the middle, they could have used a ridge pole that would connect the front and the rear loop. This would fix them in place and serve as a support for the fly. They would have a perfectly freestanding tool. Pity.
You do not have vestibules, but as I already pointed out, this tent must be used with a car. So your gear will be there, not a big deal. On the other hand, if you put it on a cot, you have covered space under it, so a vestibule is not needed.
This bivy tent is versatile in the sense that it can be used both on the ground and off the ground. See how it looks on the ground: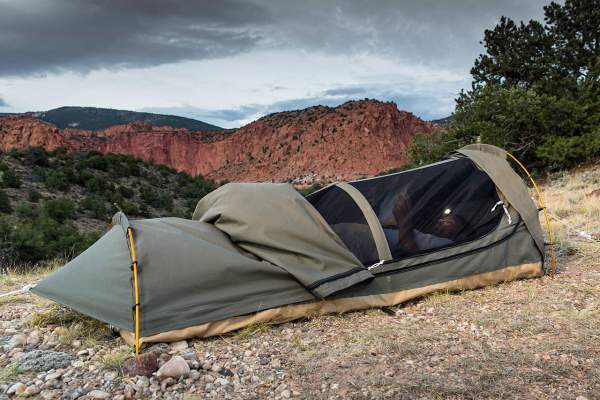 Below is my rating, please have a look:
Rating of Kodiak Canvas Swag 1 Person Canvas Tent
Weight -

6/10

Packed size -

6.5/10

Ease of use & features -

9/10
Summary
My overall rating of this product is Very Good:
Pros
• Very easy setup.
• Very comfortable.
• Very reliable.
• Top-quality materials.
• Versatile.
• Storage pockets.
Cons
• Not freestanding.
• Expensive, but is it really?
• Not for very tall people.
• No vestibules.
How about the cot?
The Kodiak Swag bivy tent is included here as a possible tent-cot or cot-tent tool. You have seen about the tent, so how about the cot?
To use it that way, you need a relatively large platform/cot. The majority of cots presented in the site are not wide enough, but there are some nice options. One obvious choice is the Teton Sports Outfitter XXL Camp Cot.
If you follow the link, you will realize that this extraordinary comfortable and strong cot is a part of yet another great combination, with the Teton Sports Outfitter tent.
This is how the Kodiak Tent looks when used on such a cot: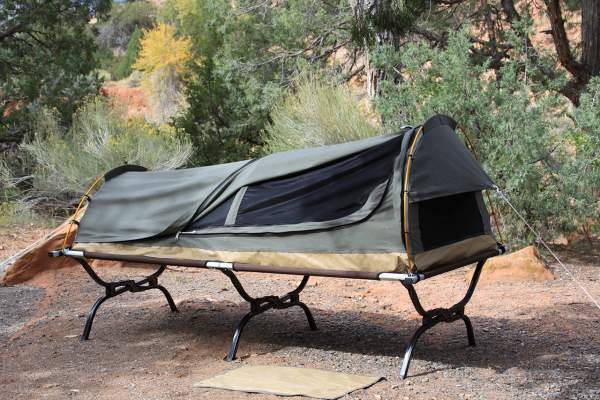 As you realize, this is an exceptionally comfortable option. You are off the cold ground, on a pleasant wide cot, with a soft mattress. The tent is staked with the guylines, and space under the cot can be used to put your gear there. In the case of rain, your items will be safe, how better it can be.
Comparison with competitors
The concept of the Kodiak Swag 1 person canvas tent is quite different from all tent-cots presented in the site, so I would not make a formal comparison as I usually do.
Instead, if you need something totally different in the sense of design, weight, price, etc., I would just point to the page where all models are presented. With this, you can first get some visual impression of what is presented there and then perhaps choose something else if the Kodiak tent is not an option for you.
---
Summary
So to conclude this Kodiak Canvas Swag 1 Person Canvas Tent review, I hope you have realized how extraordinary this bivy tent is. This is a top-notch tool which I can fully recommend to anybody. Nothing in this site is similar to it, therefore I cannot recommend anything instead of it.
But if you want something totally different in terms of weight, for example, the first that comes to my mind is this Therm-a-Rest cot tent. So why this? The reason is that this is a tent with cot, ultra-lightweight and completely suitable even for backpacking.

Thank you for reading, I hope this text has been useful to you. If so, please share it with others. Let me know if you have questions and comments, there is a comment box below. Have a nice day.