Ozark Trail XXL Weather-Resistant Deluxe Cot with Side Organizer is a very large cot with a huge capacity, a great choice for tall and heavy people.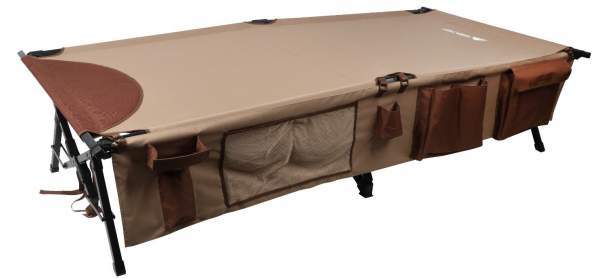 ---
Key features
Military-style.
Extra long cot.
Extra wide.
Huge weight capacity.
Incredible storage elements.
Great carry bag.
Pivoting arm/bar for adding the sidebar.
Locking bars in the corners.

---
What this is about
This Ozark Trail XXL Cot is what the letters XXL suggest, a huge cot in both dimensions and with lots of storage elements. So the word Deluxe in the name is totally justified.
This is also a military-style folding and collapsible cot, so if you are not familiar with such a type, it needs assembly. This means just unfolding it and adding the two end-bars.
I have seen some people complaining that adding those end-bars is hard, but this is not so. With most of the cots this is because of the tension in the deck fabric, and this is normal. But in this cot, you have a clever detail – a pivoting bar on one side. It is visible in the picture below as a small bar in the left corner.

I have seen that some call this cot the Ozark Trails Twin Bed Deluxe Cot, not sure if this is the right name.
---
Who is it for
Capacity-wise, this is one of the strongest cots on the market at least according to its declared capacity of 500 lb (227 kg). This is what qualifies to be included in my list of extra strong cots for heavy people.
Size-wise, this is a huge cot with the deck that measures 85 x 42.1 inches (216 x 107 cm). Clearly, it is large enough even for extremely tall users. So it is included in my list of cots for tall people.
The width of 42.1 inches is such that it definitely belongs to the group of extra wide cots for camping.
The packed size is not so great, you have a nice carry bag but it is quite long and the dimensions are 43 x 8 x 6.5 inches (109 x 20 x 16.5 cm). But you will see in the comparison table below that this is still better than in its closest competitors.
Weight-wise, with its 33.5 lb (15.2 kg) of weight this is not an item to carry long distances.
So this is a camping cot for practically anybody but you need a car for transportation.
---
Materials & construction
The frame is a very durable steel construction with powder coating against scratches and corrosion. The fabric is 600D polyester with a water-resistant PVC coating. There is some padding in the head section.
Setting the cot up
To set the cot up, you unfold it and then add one of the two end-bars simply passing it through the end sleeve and attaching it to the sidebars.
After that you pass the second end-bar through the sleeve and attach it to one sidebar and you attach it also to the pivoting bar which is on the other side of the bed. Then just press down and it will come to the place and you can attach it to the other sidebar. With this clever design you do not need much force at all.
There are also locking bars in the corners that additionally stabilize the cot, so the huge capacity is not a surprise.
The legs design is practically the same as what you have in yet another great cot, the Guide Gear XL Magnum Cot which is with an even bigger capacity. A similar design is also in the Slumberjack Big Cot.
Bonus side organizer – storage elements
This is yet another feature that sets this cot apart. Such a big storage system you will not find in any other cot currently on the market, though the Portal Cot has something similar. This is a side flap from a durable material with many storage pouches and pockets integrated in it, see the picture below.
It is removable, you have straps that attach the system to the side. This all folds around the cot when you take it down and store in the carry bag.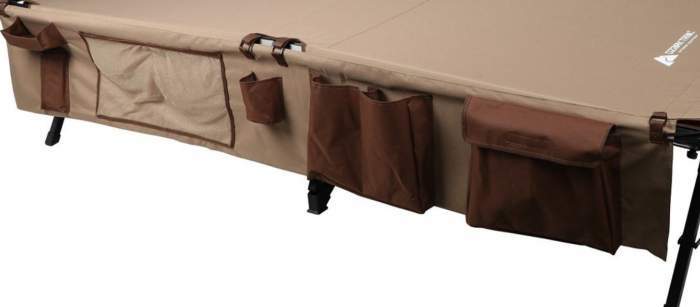 The carry bag is nicely built so all this fits inside nicely, see it in the picture:

---
Using this cot in a tent
The feet are with plastic caps so this is a floor-friendly design, but you can add something underneath them if you use this cot in a floored family camping tent.
It is important to bear in mind the dimensions of this cot, so choose a tent with the right size and shape. Normally, the most convenient option is a cabin style camping tent, you can see them many here.
The bed frame is 19.7 inches (50 cm) above the ground, so the bed is not too low, and this also allows for a storage area that you would not have if you would sleep on the floor in the tent.
Please see more in this video, note that the different name is used but this is the same cot. Observe that the person in the video initially misses using the pivoting arm, pity:
---
My rating, pros & cons
This is a huge cot and it comes with its incredible organizer which adds value. So the price is justified. Please see how I rate it:
My rating breakdown of the Ozark Trail XXL Cot:
Weight -

4.6/10

Size -

9.9/10

Packed size -

8.2/10

Capacity -

9.5/10

Ease of use & features -

9.5/10
Summary
My overall rating of this cot is Excellent:
Pros
Great size.
Huge capacity.
Quality item.
Great storage system.
Carry bag.
Pivoting arm.
Locking features.
---
Specifications
Weight: 33.5 lb (15.2 kg).
Capacity: 500 lb (227 kg).
Dimensions (L x W x H): 85 x 42.1 x 19.7 in (216 x 107 x 50 cm).
Packed size: 43 x 8 x 6.5 in (109 x 20 x 16.5 cm).
Frame: steel.
---
Ozark Trail XXL Weather-Resistant Deluxe Cot vs Competitors
I believe it is very helpful to see this cot side by side with some of its close competitors. This may help in making the right decision. So I give the two cots with a great capacity and similar in the design. As you see, the Ozark Trail cot is larger than the other two, and its packed size is better, but it is heavier as well. Please follow the links for the updated prices.
43 x 8 x 6.5
(109 x 20 x 16.5)

48 x 9 x 5
(122 x 23 x 13)

45 x 9 x 7
(114 x 23 x 18)

---
Final thoughts
In summary, this Ozark Trail XXL Weather-Resistant Deluxe Cot with Side Organizer is an exceptionally large camping cot with a very useful organizer. If you are a tall person and need a cot with a huge capacity, this is the model to consider. The setup is easy if you follow the instructions and the price tag is appropriate for what you get.

Please note that this is not a sponsored text and I am not paid by the manufacturer.
If you need more options, just search under the category Cots here in the site and you will find most of the models that are currently on the market.
Please use the comment box below in the case of comments and questions. Have a nice day.

---