---
Teton Sports Somnia Cot is a very lightweight cot with a particular design, suitable for outdoor and home use. Its carry bag is designed to serve as a storage space attached to the bed.
Key features and benefits
Very lightweight.
Quite unique design.
Collapsible.
Very easy setup.
The carry bag doubles as a storage bag attached to the bed.
Great packed size.
What type is it
The Teton Sports Somnia Cot is a collapsible type. This implies that in the packed state it reduces to a really small size, 37 x 6 x 3 inches (94 x 15 x 8 cm). So only one dimension is relatively big. But this is a particular type, with only four legs, so it looks almost like an ordinary home bed.

Who is it for
The mentioned packed size and the weight 10 lb (4.54 kg) determine the users and activities where you can use this cot. Obviously, it is lightweight for this type, but you need a car for transportation. It can also be used by kayakers and in any other situation where you do not have to carry it yourself. It looks very elegant with its 4 legs, a nice piece at home as a spare bed for sleepovers.
It comes with a nice carry bag so you can move it around from the car to your camp place, or keep free from dust when stored at home.
The bed size 74 x 28 inches (188 x 71 cm) is quite typical, but you realize it is not for very tall people. Its capacity is 275 lb (125 kg), so again quite reasonable, but if you are really heavy better try something else, see my list of impressive cots for heavy guys.
Overview and setup
The two pairs of legs are permanently connected with their X-shaped cross bars. Only the upper pins of these crossbars have to be placed in the holes on the legs, see the picture below. The black elements on the crossbars are used to fix them firmly in place so that the structure is very stable.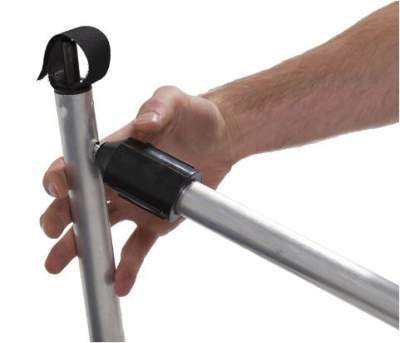 The sidebars are normally kept in the side sleeves on the bed deck, so the bed in the packed state is around half its length. There are holes in those sidebars where you fit the pins from the legs, and after doing this, you use Velcro tabs to keep the legs attached to the bars. Do not forget to attach the carry bag, it is used as a storage pouch on the side of the bed.
There is a video on Amazon where this procedure is presented. All is done by one person and without extra tools.
This is a lightweight aluminum construction weighing only 10 lb, yet supporting 275 pounds of weight. The picture below shows that you do not have any bar directly under the deck, and there are no end bars either. So you are safe from any pressure point when you sleep.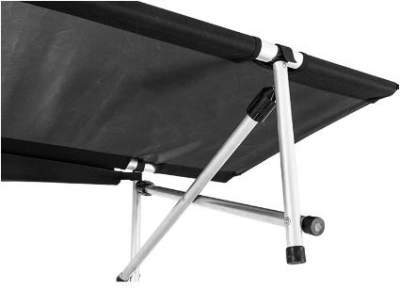 Using the cot in a tent
This cot is not high, so it will easily fit in most 2-person tents when used solo. In such a case you will have plenty of space around and also under the cot to store your equipment. You can even have a dog with you.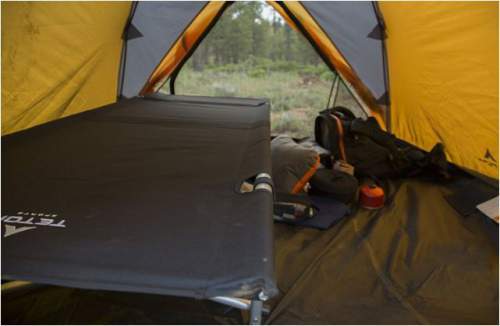 The legs are with plastic caps, see below, so they are in principle floor-friendly, but in the case of a soft surface better add some extra protection.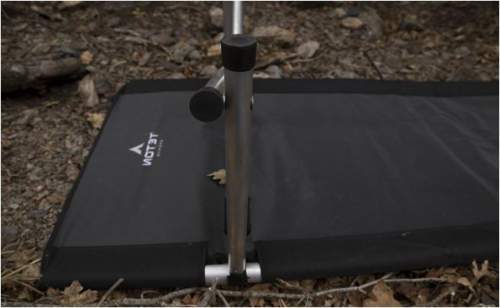 You do not need a pad in the summertime, except for extra comfort. But if this is about high elevations or winter conditions, check for some good insulated pad. Teton Sports has its own pads on the market and you can see them here.
My rating, pros & cons
The cot needs assembly, but this is done in a few minutes without any extra tool.
The daily updated price is given in the link below. Note this is an Amazon Prime product and you can have it shipped for free.
See how I rate this cot:
My rating breakdown of the TETON Sports Somnia Lightweight Camp Cot
Weight -

8.6/10

Size -

8.7/10

Capacity -

7.5/10

Packed size -

8.8/10

Ease of use & features -

8.4/10
Summary
My overall rating of this cot is Excellent:
Pros
• Very easy to use.
• Very comfortable.
• Versatile.
• Reasonable price.
• Carry bag included.
Cons
• Not for extremely tall and very heavy people.
• Needs assembly.
Specifications
Weight: 10 lb (4.54 kg).
Size (L x W x H): 74 x 28 x 15 in (188 x 71 x 38 cm).
Packed size: 37 x 6 x 3 in (94 x 15 x 8 cm).
Capacity: 275 lb (125 kg).
Fabric: 600D Brushed Poly Canvas.
Color: black.
Frame: extruded aluminum.
Legs: 4, aluminum.
Color: black.
Summary
In the conclusion of this Teton Sports Somnia Cot review, I wish to stress that this is a really nicely built cot, quite exceptional in its design. It requires assembly but this is done without any tool. It is far less expensive than its only competitor on the market.
The Teton Sports is a company which is well-known for its outdoor equipment, they have a very good support and help for their products.
Thank you for reading. If you need something different, please search in the Categories on the right above, this site is all about cots, you will find something for you. Note that Teton Sports has the biggest cot on the market, the famous Outfitter XXL. But if this is too big, try this Universal Cot from the same brand.
Please let me know if you have any question or comment, there is a comment box below. Have a nice day.