---
Here you have a list of very specific camping chairs with a swivel table, all nicely folding and easy to use, suitable for camping and for any other outdoor activity.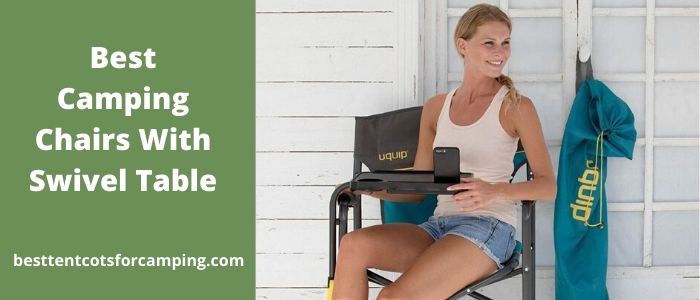 ---
If you search for such chairs, you will realize that there are many of them with a side table, but those with tables that can rotate and be placed in front of you are rather rare.
So here is my list with swing table chairs ordered by weight from lighter to heavier:
You will realize that each of them has something unique that makes it different from the other chairs in the list, but all of them are with the table of course.
---
1. Coleman Aluminum Deck Chair with Swivel Table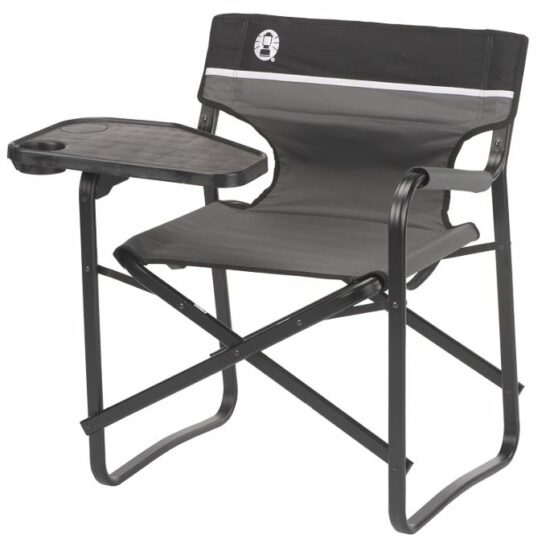 This is a folding table so all the elements shown in the picture remain permanently attached to each other, there is no particular assembly, you simply open it up in seconds.
With its 8.5 lb (3.8 kg) this is a portable chair and you will realize that it is very light for such a type. The table is built-in and it swivels 360 degrees, so you can use it as a side table as well. It can hold up to 10 pounds (4.5 kg), and you will never need more. It has an integrated cup holder.
The chair measures 27.2 x 26 x 31.1 inches (69 x 66 x 79 cm) when unfolded. You have solid and padded armrests so it is easy to get in and out. The frame is aluminum and it can support up to 225 pounds (102 kg).
The packed size is 31 x 20 x 7.5 inches (79 x 51 x 19 cm), so you realize it is thin and it will fit in narrow spaces for transportation and to store at home. Note that it has a carry strap instead of a carry bag.
---
2. Uquip Woody Portable Folding Directors Chair with Tiltable Table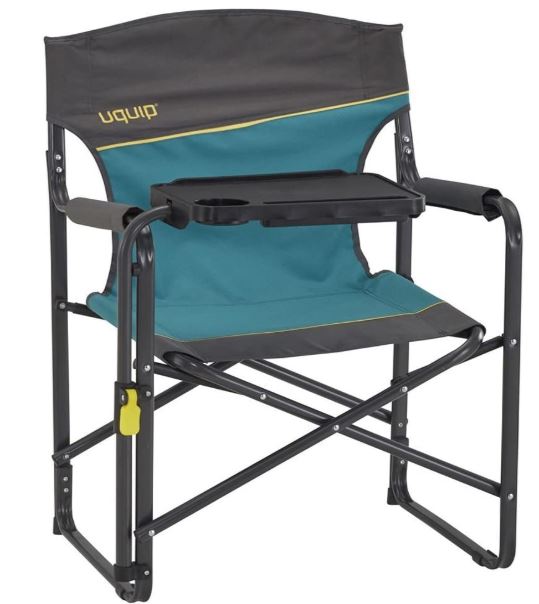 The word Tiltable in the name describes the fact that the swivel table can also be tilted and you can keep it at any angle. This is suitable when you read a book. There is a small knob on the side of the table which you use to fix it tilted. But there is yet another yellow lock on the frame, visible in the picture above.
The table is also with an integrated cup holder and a long and narrow slot where you can place your smartphone or tablet for reading books.
The chair's frame is steel and it can support up to 265 lb (120 kg). The weight is 12 lb (5.4 kg). The packed size is 34 x 21 x 5.2 inches (86 x 53 x 13 cm). So it is very thin when packed, and you will want to know that it comes with a nice carry bag.
You have padded and solid armrests. The seat is 15.7 inches (40 cm) above the ground, so the chair is not particularly high. The seat dimensions are 20.8 x 14.9 inches (53 x 38 cm).

---
3. OzTent Gecko Camping Chair with Lumbar Support and Swivel Table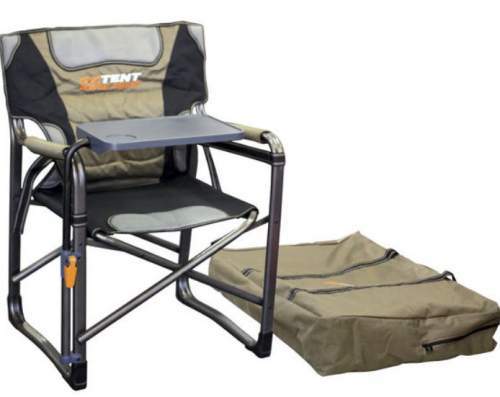 The Gecko Chair's unique detail is its adjustable lumbar support. This is why I have included it also to my list of chairs with lumbar support.
It is with solid and padded armrests, so the packed size is not so great yet it comes with a carry bag shown in the picture above.
From the name, you realize also that it comes with a swivel table. So you can position it in front of you and also on the side. There are several positions for it, and there are two locking mechanisms for this purpose.
The chair is padded, the frame is steel and the setup is incredibly easy, just unfold it in one simple move. The weight is 12.1 lb (5.5 kg), the capacity is 330 lb (150 kg) and the seat is at 18 inches (46 cm) above the ground.

---
4. Browning Camping Rimfire Chair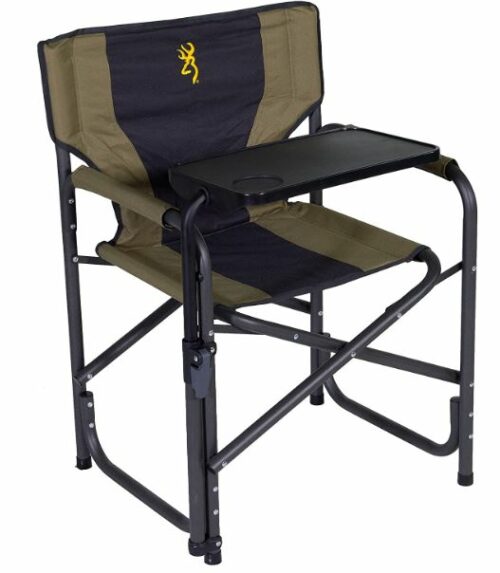 The Rimfire chair by Browning Camping comes with an adjustable swivel table that can rotate 360 degrees so it can be used as a side table as well. But it can be tilted too for reading.
The frame is a powder-coated steel, and you have high-quality 600D polyester fabric. It weighs 13.5 lb (6.1 kg) and the weight capacity is 300 lb (136 kg).
The chair is folding and its dimensions when open are 33.5 x 23.5 x 14 inches (85 x 60 x 36 cm). The seat is 16.5 inches (42 cm) above the ground, so this is quite moderate. Solid and padded armrests will help you to get in and out.

Please see more in this short video:
---
So this was my list with best camping chairs with a swivel table, it will be updated whenever I find a chair of this type worth adding here. This is why you might want to bookmark this site and visit again.
If you need something different, just follow this link to the category Camping Chairs here in the site, you will find them in all shapes and styles. Thank you for reading and have a nice day.