---
KingCamp Bamboo Folding Table with Carry Bag is an easy to use camping table with adjustable legs length, so you can make it perfectly horizontal regardless of where you use it.
---
Key features & benefits
Natural bamboo tabletop.
Adjustable legs.
Folding design.
Carry bag included.
Aluminum frame.
---
Where to buy
This KingCamp Bamboo Folding Table is available on Amazon. They operate globally and I have seen it on several of their stores. So please follow the link and check the price and shipping conditions for your location.
---
What type of a camping table is this
This is a folding construction as the name of this table suggests. More precisely, this is one of those tables that remains relatively large in one dimension only when it is packed. The structure is 4-folding type and you can see in these pictures how it folds: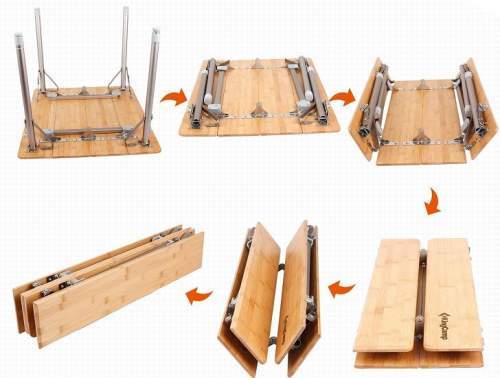 The dimensions in the packed state are 25.6 x 5.5 x 4.3 inches (65 x 14 x 11 cm). It comes with a bonus carry bag equipped with a strap (see the top picture above) so you can carry it attached to the shoulder.
The tabletop is particularly great here because this is natural bamboo, pleasant and easy to clean and maintain. The slats are 1.25 cm thick. You have them 4 on the table's width so they are around 12.5 cm wide each.
Note that they currently have 4 – 5 bamboo tables with different sizes, you will see them if you follow the links given here in the text.
Adjustable height
The legs are telescopic so you can have any height in the range 16.5 – 25.6 inches (42 – 65 cm). This makes it different from the Camco table shown in the comparison table below, which is the same size but with a different legs design.
The adjustment is similar to what you have in some hiking poles. You turn to screw which is on the tube and extend the tube that fits in it, then fasten the screw.
So this is a good design because you can adjust the legs independently to different lengths. This can be useful in a camp where the ground is rarely flat, and in particular if the area is sloped. You can still have a horizontal tabletop even in such circumstances. I have included it in my list of best camping tables with adjustable legs.
The tabletop is UV and water-resistant but they recommend not to have the table exposed to elements for a long time. All the metal parts are aluminum.
Observe that this is an Amazon's Choice product. This means it is recommended by Amazon as a highly rated and well-priced item, and it is available to ship immediately.
---
Who is it for
Size-wise, this is a rather small table with the dimensions 25.6 x 19.7 inches (65 x 50 cm). So I see it suitable for two people maximum. Note also that the maximum height is such that you will have to use a bit low chairs to use it as a dining table.
Weight-wise, the table is not particularly light but this is because of its bamboo top. Its packed size is such that you can transport it even on a motorbike.
So this is not a table to carry in a pack, if this is what you need, see these ultralight backpacking tables.
---
The price & my rating
This KingCamp table is on the US market with the price shown in the link below. Note that it is more expensive on the EU market. So it is a bit pricier than some of its competitors, but it is indeed nicely built and functional.
There are more than 50 reports by customers on Amazon alone, and the table has received a very high average rating of 4.6/5. My rating is a bit different, but I use my standard set of criteria and apply them to all the tables here in the site. This allows for easy comparison. Please have a look:
My rating of the KingCamp Bamboo Folding Table:
Weight -

7.5/10

Dimensions -

7.8/10

Packed size -

8.2/10

Craftsmanship -

9/10
Summary
My total average rating is:
Pros
Pleasant bamboo top.
Very easy setup.
Carry bag.
---
Specifications
Weight: 9.26 lb (4.2 kg).
Weight capacity: 66 lb (30 kg).
Tabletop size: 25.6 x 19.7 in (65 x 50 cm).
Height: 16.5 – 25.6 in (42 – 65 cm).
Packed size: 25.6 x 5.5 x 4.3 in (65 x 14 x 11 cm).
Frame: aluminum.
Tabletop: bamboo.
---
KingCamp Bamboo Folding Table vs Competitors
I give here side by side this KingCamp Table, the Camco Table which is with the same dimensions, and the Atepa Table which is also with a bamboo top but it is larger. All of them are with adjustable legs but there are differences in this design.
This comparison may help in making an informed choice, so please follow the links for more, the other two are presented in detail in my separate texts.
Dimensions
(W x D x H), in (cm)

25.6 x 19.7 x 25.6
(65 x 50 x 65)

25.6 x 5.5 x 4.3
(65 x 14 x 11)

31.5 x 23.6 x 25.6
(80 x 60 x 65)

31.5 x 6.3 x 4.3
(80 x 16 x 11)

25.6 x 19.7 x 25.6
(65 x 50 x 65)

26.5 x 5.5 x 4.5
(67 x 14 x 11)

---
Final thoughts
This KingCamp Bamboo Folding Table comes with its bonus carry bag to keep it clean from dust when stored at home, and it is useful also when you transport it to your camping place.
The adjustable legs will allow you to use the table on any surface, you will always be able to make the top perfectly horizontal. It is best not to keep it too much exposed to elements, to avoid damages to its tabletop.

Please check under the category Camping Tables if you need more options.
Note that this is not a sponsored text, and I am not paid by the brand. What do you think about this table? I love to hear from you, so please share your thoughts, there is a comment box below.

---