---
This Niceway Ultralight Portable Camping Cot is lightweight enough to be carried in the backpack and it is also with a great weight capacity.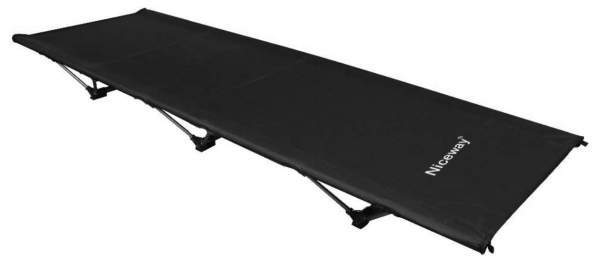 ---
Key features
Collapsible cot.
Backpack-portable.
Great capacity.
Reasonable price.
---
Where to buy
This cot is available on Amazon, so follow the link and benefit from their efficient shipping service.
---
What type of cot is this
I use the name and the title as it is suggested by the manufacturer. So this is indeed a portable camping cot and also nicely packable. This is a collapsible type which means that it needs a simple assembly. But this is done easily and without any tools.
But I do not see this cot as an ultralight backpacking item, see my separate list of ultralight backpacking cots to see why. Note also that there is yet another completely different camping cot from this brand here in the site, the Niceway Oxford Portable Folding Bed With Storage Bag, so do not mix them.
What is included
There are three main elements here: i) the bed fabric, ii) two sidebars, and iii) three legs. You also have a carry bag of course.
Note that each of the legs contains a ground bar and 4 support bars that create those V-shaped structures visible in the pictures, plus the connecting plastic elements. This is all shock-corded so each leg is practically one single piece and you cannot lose the parts. The same shock corded structure is in the sidebars. Here are all the elements: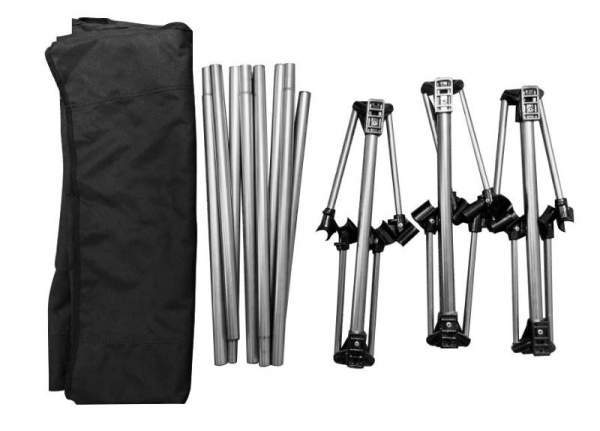 ---
Who is it for
Capacity-wise, the declared value for the weight capacity for this cot is impressive 330 lb (150 kg).
Weight-wise, with 5.5 lb (2.5 kg) this is a backpack-portable cot and you can indeed take it on some short trips attached to the pack. But as I mentioned above, no backpacker would take this cot on a long backpacking adventure.
The packed size 21 x 7 x 7 inches (53 x 18 x 18 cm) is such that you can also transport it on a bicycle or on a motorbike. So this is a versatile item indeed. The carry bag is with a nice shoulder strap to carry it attached on the shoulder or in the hand, see the picture.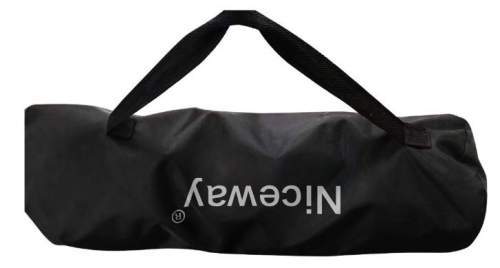 Size-wise, the dimensions 75 x 25 inches (191 x 64 cm) are reasonable. You realize that there are no end-bars here (see the picture below) so the given length is a truly useful length. You will see it compared with some other cots, there is a comparison table below.
---
Materials & Construction
They use an anti-tear and waterproof 900D thick Oxford cloth for the bed deck, so this is indeed a very strong material. You have durable steel tube brackets, 7075 aluminum alloy poles, and nylon feet.
As mentioned above, there are no end bars, only the sidebars are there, the picture below shows the bottom view.

Those V-shaped support segments on each of the legs add to the stability of this cot. As you see there are 4 of them for each leg-bar, in most of the cots on the market you have only 2. This is why it has such a great capacity, but this is also why it is a bit heavier than some of its competitors.
Using the cot in a tent
This cot is not so big and it is low, so it will fit in any solo tent. If so, then you can use it in any bigger tent as well. Note that the bed deck is 7 inches (18 cm) above the floor, so you have a valuable space to store some smaller items. This is the advantage of using a cot in a tent, otherwise the space under a pad is lost.
You are off the ground and for summer camping you do not need any sleeping pad except for extra comfort. In any case, you need far less insulation when you sleep off the ground.
The close view below shows you also that this is a floor-friendly design so you will not have issues with the tent floor or with the floor at home if you use it as an emergency bed.

---
My rating, pros & cons, price
This cot is on Amazon with the price shown in the link below. Observe this is an Amazon Prime product.
Please see how I rate it against the criteria used for all the cots here in the site:
My rating breakdown of the Niceway Cot:
Weight -

9.4/10

Size -

8.3/10

Capacity -

8/10

Packed size -

9.6/10

Ease of use & features -

8.2/10
Summary
My overall rating of this cot is Excellent. But see my pros & cons below.
Pros
Reasonable price.
Great weight.
Great packed size.
Great capacity.
---
Specifications
Weight: 5.5 lb (2.5 kg).
Capacity: 330 lb (150 kg).
Dimensions: 75 x 25 x 7 in (191 x 64 x 18 cm).
Packed size: 21 x 7 x 7 in (53 x 18 x 18 cm).
Frame: aluminum.
---
Niceway Cot vs Competitors
I have decided to show you this cot side by side with two other cots in the same size range so you can better understand its features.
As you realize the G2 Go2Gether Cot is the lightest, and the Hitorhike cot is the most affordable of the three cots, though the prices are rather close to each other. But the Niceway cot is with the best capacity. Please follow the links to read more.
---
Final thoughts
So this Niceway Ultralight Portable Camping Cot is a reliable and nicely built backpack portable cot, but the comparison table above shows that there are lighter items of this type on the market. Though its weight also implies greater stability and capacity because of the V-shaped support bars.

If you would rather have a different legs design, check this unique EVER ADVANCED Folding Camping Cot.
Note that this is not a sponsored text and I am not paid by the brand. Please use the comment box below in the case of questions or comments.