---
This Giantex Folding Grill Table with Storage Lower Shelf and Windscreen is a very functional and versatile portable camping table with plenty of storage elements and at a reasonable price.
---
Key features & benefits
Multiple storage & attachment features.
Carry bag included.
Windscreen.
Collapsible design.
Reasonable price.
---
Where to buy
This camping kitchen table is available on Amazon. They operate globally so please follow the link and check shipping conditions for your location.
---
What type of camping table is this
They describe it as a folding table and even use the words "one-piece design" but this is not so. In fact, this is a collapsible table with the frame that folds but there are a few other elements that you remove before folding the frame. These include the main tabletop, the shelf, and the shelf from the removable storage compartment.
So this table needs a simple assembly, but this is all done in seconds and the procedure of making it ready for use is presented in these pictures. This is why I have included it in my list of best collapsible camping tables.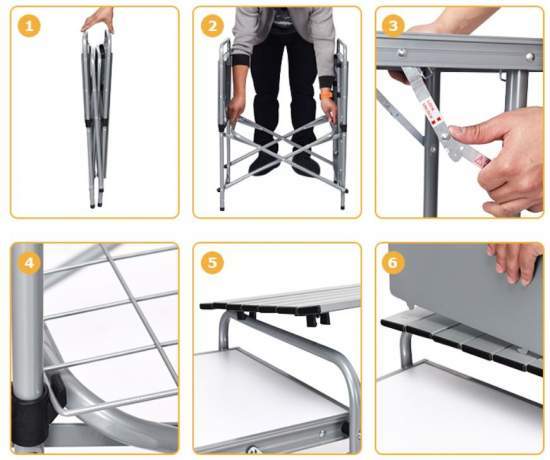 So as you realize, you unfold the frame and then fix the corners for stability, and then start adding the other elements. No tools are needed for all this.
Nore that it becomes thin when packed, but it remains relatively large in two dimensions, the packed size is around 38 x 18 x 7 inches (94 x 46 x 18 cm). The carry bag is with straps and it is shown below: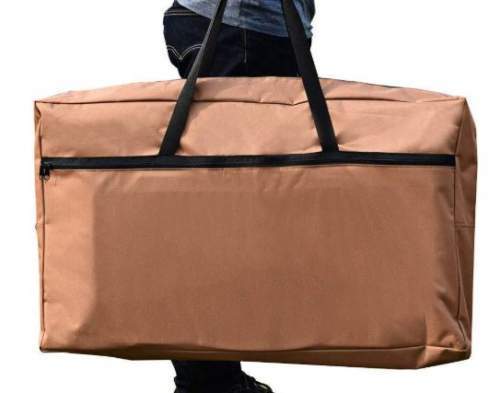 Storage features
You have several elements here and they include:
A wire shelf underneath the main tabletop.
A hanger for towels.
A storage compartment with its inner shelves.
Side storage pockets on the storage compartment.
Two side tables.
Because of all these features, I have included this table in my list of camping tables with storage elements.
Windscreen
The windscreen shape and dimensions are shown in the picture below, so you realize it is high and it gives protection from three sides.
---
How is it built
The main structure is steel. This is why the table is relatively heavy with its 21 lb (9.5 kg). But this is not surprising in view of so many elements and features. Note also that the weight capacity is great, 46 lb (21 kg) for the main table and 22 lb (10 kg) for the side boards.
The tabletop is a heat-resistant aluminum, and the two side tables are built from what looks like the medium density fiberboard. There are 6 legs here and they are with rubber feet.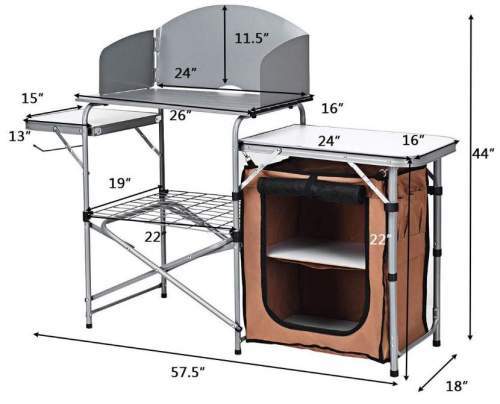 ---
The price, rating, pros & cons
The daily updated price is available in the link below, so you realize that this is a fair price for such an item.
This table has received tens of reports by Amazon customers and, as of the moment of writing this text, the average rating is very respectable 4.3/5. My own rating is a bit different, but I have a set of criteria that I apply consistently to all the tables here in the site so you can easily compare. Please have a look:
My rating of the Giantex Folding Grill Table:
Weight -

3/10

Dimensions -

9.5/10

Packed size -

3.5/10

Craftsmanship & features -

9.5/10
Overall rating
Based on the given specific ratings, the overall rating is Good:
Pros
Exceptionally functional.
Very easy to use.
Portable.
Storage elements.
Carry bag.
Cons
Heavy.
Large when packed.
---
Specifications
Weight: 21 lb (9.5 kg).
Weight capacity of the top table: 46 lb (21 kg).
Weight capacity of the side boards: 22 lb (10 kg).
Overall dimensions (L x W x H): 57.5 x 18 x 44 in (146 x 46 x 112 cm).
Top table dimensions: 26 x 16 in (66 x 41 cm).
Top table height: 32.5 in (83 cm).
Packed size: around 38 x 18 x 7 in (94 x 46 x 18 cm).
---
Giantex Folding Grill Table vs Competitors
You might want to see how this table stands when compared with some of its competitors. So the CampLand Table is almost identical, while the GCI Table is a completely folding construction and with more side tables but with fewer storage elements. Please follow the links for more.
Top Table Dimensions
(L x W x H), in (cm)

Giantex Folding Grill Table
26 x 16 x 32.5
(66 x 41 x 83)

38 x 18 x 7
(94 x 46 x 18)

CampLand Folding Cooking Table
26 x 13 x 31.7
(66 x 33 x 81)

31 x 19.7 x 6
(79 x 50 x 15)

GCI Outdoor Slim-Fold Cook Station
24 x 16 x 32.3
(61 x 41 x 82)

34.6 x 20.9 x 3.7
(88 x 53 x 9.5)

---
Final thoughts
In conclusion, it is hard to find any true objection to this Giantex Folding Grill Table with Storage Lower Shelf and Windscreen. It is indeed very functional, although a bit heavy and large when packed. But it is still portable and very thin when packed so it will fit in narrow spaces.
The included carry bag can be used to keep it stored at home and clean from dust, and also for transportation. This is a great table for BBQ, camping, picnics, backyards parties, and for tailgating. Fully recommended.
I have added it to my list of best outdoor tables for grilling and best portable camp kitchen.

For more camping tables options please check under the category Camping tables here in the site. You might want to compare this table with the Mountain Summit Gear Deluxe Roll Top Kitchen built in a similar style.
Note that this is not a sponsored text, and I am not paid by the brand. Please use the comment box below in case of questions and comments. Have a nice day.
---