---
This EVER ADVANCED Folding Camping Cot review is about a portable and compact collapsible steel tent bed suitable for various outdoor activities.
---
Key features & benefits
Collapsible cot.
Moderately light.
Good packed size.
Carry bag included.
Great price.
---
What is in the name
The manufacturer describes this EVER ADVANCED Folding Camping Cot as a folding type and I use the official name as given by the brand. But it would be more appropriate to describe it as a collapsible cot, so this is a structure with separate elements that need assembly. This is all done in a couple of minutes and without extra tools. All the elements are shown in the picture: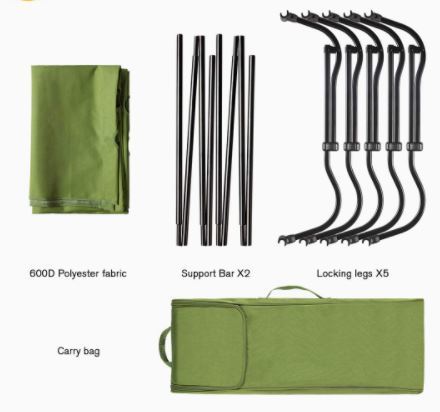 So if you are not familiar with such a design, there are two shock-corded side poles that you place into the sleeves of the bed deck. Then you add its folding legs one by one. These steps are presented in the pictures: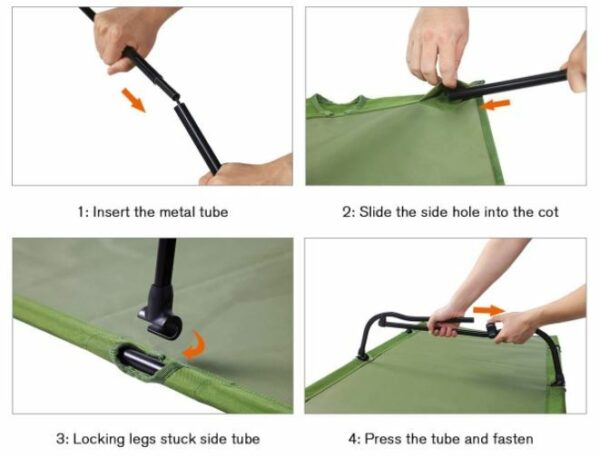 I find this cot a bit similar to ALPS Mountaineering Ready Lite Cot and also to this World Outdoor Products Big Bear Easy Roll Up Camping Cot, but the legs are different. The same legs design is in this Zempire W Leg Stretcher V2.
The side poles consist of several tubes and their length determines the packed size of the cot, which is quite good 27.6 x 8.7 x 3.5 inches (70 x 22 x 9 cm). All these elements fit nicely and easily in its particularly nicely designed carry bag shown below.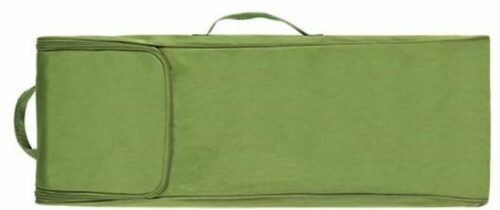 Materials
The frame is all steel, so this explains the weight given below, but this is still a light cot in view of such a material and so many legs-bars.
The picture below reveals that there are long overlapping sections in each of the legs, so this adds lots of unnecessary extra weight, but this is a part of the legs locking feature. Namely, legs lock to the side bars, but you see also that two parts of the same leg lock to each other in the middle.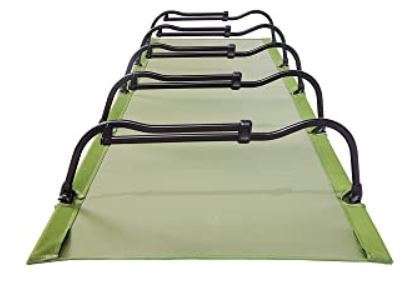 The fabric is a 600D polyester, so this is a type of material used standardly in such cots.
---
Who is it for
Regarding the weight, in view of its 11.8 lb (5.35 kg) this is a portable cot, but I do not think you would be willing to carry it long distances.
My guess is that if you are a very light person, you may omit one or even two of the legs and shed the weight a bit. This is only if you have to carry the cot a longer distance.
The packed size shown above is also such that you would need a car for transportation. This is why I have included it in my list of cots for car camping.
Regarding the capacity, officially this cot is for users up to 250 lb (113 kg). This is quite a modest capacity for camping cots but this should be enough for most of the users. But if you need a cot with substantially more capacity, please check my list of cots for heavy people.
Regarding the dimensions, you have the bed size 76 x 25.6 inches (191 x 65 cm), again quite typical numbers and suitable for many people. There are no end-bars so the length given here is the true useful length. But if you are a tall person, you might want something longer, so check my separate list of extra long cots for tall people.
Regarding the price, this is an incredibly affordable cot, a true bargain in view of all its features.

Using this EVER ADVANCED Folding Camping Cot in a tent
Note that the cot is low, you have 7.9 inches (20 cm) clearance, and this is both good and bad. The good is it will fit in any tent, no matter how low it is. The bad is that you cannot store lots of gear underneath it, but this is still high enough for long items like poles, axe, fishing rods, etc.
The good side of the legs design is that they will not sink easily if you put the cot on a soft ground or sand. They are quite safe to use in a floored tent as well.
When you sleep off the ground you always need less insulation than when you are on the ground. For summer camping you do not need a pad with such a cot, except if you want more comfort.
---
Specifications
Weight: 11.8 lb (5.35 kg).
Capacity: 250 lb (113 kg).
Dimensions: 76 x 25.6 in (191 x 65 cm).
Height: 7.9 in (20 cm).
Packed size: 27.6 x 8.7 x 3.5 in (70 x 22 x 9 cm).
Warranty: 12-month warranty against defects applies for all Ever Advanced products.
---
Rating, pros & cons
I have a set of rating criteria applied to all the cots here in the site so you can easily compare them. This cot scores pretty well:
Reliable collapsible cot with a steel frame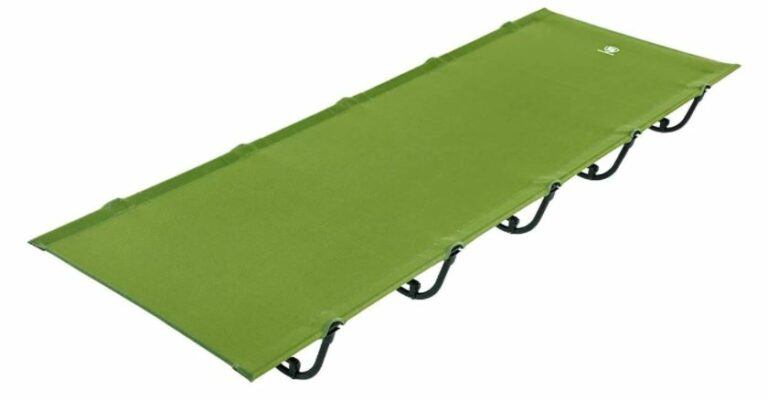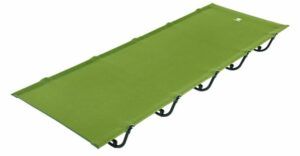 Product Name: EVER ADVANCED Folding Camping Cot
Product Description: This EVER ADVANCED Folding Camping Cot is a portable and compact collapsible steel tent bed suitable for various outdoor activities.
Brand: EVER ADVANCED
SKU: B07VDKH45P
Weight -

8.4/10

Size -

8.3/10

Capacity -

7/10

Packed size -

8.8/10

Ease of use & features -

8/10
Summary
This cot scores well in all the rating criteria so the overall rating is Very Good.
Pros
Great carry bag.
Moderately light.
Steel frame.
Great price.
---
Final thoughts
In the summary of this EVER ADVANCED Folding Camping Cot review, I guess it is important to realize that the name is a bit misleading, this cot needs a simple assembly and it is collapsible. The legs design is quite unique on the market, they attach easily but they also add lots of weight. The price is simply incredible.

For more options please check under the category Cots here in the site, you will find them in all shapes.
You might want to bookmark this site and visit occasionally, this will keep you informed because we add texts here regularly. Thank you for reading and have a nice day.