---
FDegage Folding Camping Cot is a new tool on the market, lightweight, backpack-portable, nicely packable, and with an easy setup.
---
Key features & benefits
Lightweight, backpack-portable cot.
Great packed size.
Good price.
Simple setup.
Bonus storage pouch.

---
What is in the name
The FDegage Folding Camping Cot is in the group of collapsible cots. It is very lightweight, only 4.8 lb (2.18 kg), so this is also a backpack portable cot.
If you check on Amazon, you will realize that they sell two very different cots on the same place and under the same name. So this is rather confusing. The cot presented here is the one that needs assembly. This implies that you have to add sidebars and then attach the 5 bar-shaped legs.
They use the word 'folding' in the name, which is not completely appropriate because the cot doesn't fold, you dismantle it completely every time you pack it.
In any case, this cot is not unique, many similar items are available on the market and most of them are presented here in the site. So it makes sense checking carefully in order to find something that suits you best regarding the size (to avoid carrying unnecessary weight if you are a short person), and the price.

---
Who is it for
The mentioned weight and the great packed size, which is only 15 x 6.3 inches (38 x 16 cm), determine the best use and the users of this cot.
So the cot can be carried attached to the backpack on shorter hiking, climbing, and mountaineering tours. It is small enough to be transported even on a bicycle, on a motorbike, in a kayak, and in the car of course. This is a very versatile tool for many outdoor activities.
At home, it can be used as a nice spare bed for emergency situations and for sudden guests. You can also keep it in the office and use it when you need a nap. It will not take much space regardless of where you store it, and it will remain clean in its storage bag.
---
What is included
You have the following elements:
2 sidebars,
5 support bars (legs),
bed cloth,
1 pillowcase,
1 storage bag,
installation instructions.
The pillow is multi-purpose; just fill it with any soft stuff like your cloth and you have a pillow, otherwise use it as a storage bag.
---
Using the FDegage Camping Cot in a tent
This cot is very low, only 6.7 inches (17 cm). This means it will fit in any solo tent or shelter, you can see some great examples here. In view of this, it can certainly be used in any other larger family camping tent of course.
The legs are with plastic feet for the tent floor protection, see the picture below, so you will never have any issue of this type. The 5 bars which you have under the cot are such that they will never sink in the ground even if you put it on a sand or on a soft grass.
---
Setup & construction
The setup is done in the following way. You pass the two shock-corded sidebars through the sleeves, and then attach the legs to it. The legs are also shock-corded so there can be no confusion or lost elements. This all is done without any extra tool and without force, and you can see the steps in the pictures below.
The good thing, typical for all cots of this type, is that you do not have any end bars. So although the cot is not particularly long, the whole length is a useful length and you will not have pressure points on your legs. The same is under the bed deck, there are no bars anywhere near it.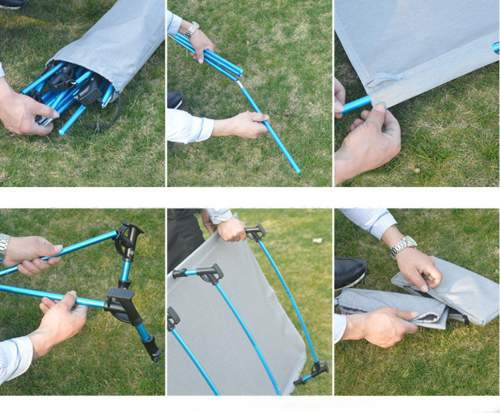 The sidebars and legs a very durable aluminum, but the fabric is only with 420D, just to know that there are more durable materials around if you are a heavy person.
---
My rating
The 70 cm width of this cot is very reasonable for a backpack portable tool. But its 190 cm length is not so great if you are a tall person. In this case, you might want to check some other tool.
Note that there are several colors of this cot and the prices are slightly different.
The rating by Amazon customers is confusing due to the reasons I mentioned above; they have very different cots under the same name. In any case, my rating is shown below.
My rating breakdown of the FDegage Collapsible Camping Cot
Weight -

9.6/10

Size -

8.4/10

Capacity -

7/10

Packed size -

9.9/10

Ease of use & features -

8.2/10
Summary
My overall rating of this cot is Excellent:
Pros
Reasonable price.
Very easy setup.
Nicely packable.
Very versatile.
Cons
Not for very tall people.
Modest capacity.
---
 Specifications
Weight: 4.8 lb (2.18 kg).
Capacity: 242 lb (110 kg).
Dimensions (L x W x H): 74.9 x 27.6 x 6.7 in (190 x 70 x 17 cm)
Packed size (L x D): 15 x 6.3 in (38 x 16 cm).
Frame: durable heavy-duty 7075 aluminum alloy.
Fabric: 420D thickening polyester.
---
FDegage Folding Camping Cot vs Competitors
See how this cot compares with the two cots from other brands, all built in the same style. The differences in the parameters are very small, but there may be differences in the prices, so please check the links for more info.
14.9 x 6.3 x 5.9
(38 x 16 x 15)

---
Final thoughts
In the conclusion of this FDegage Folding Camping Cot, I would stress that this is a quite typical item, similar to many other cots of that type on the market. My guess is they all come from the same manufacturer in China.
So have a look around, some of them are given in the comparison table above, and much more you can see under the backpack portable cots category. There may be some differences in the prices. Check for example this G2 GO2GETHER Camping Cot built in the same style but lighter.
But if you need something for backpacking, please check here. Some of these cots are below 1.3 kg.

Thank you for reading. Please let me know if you have any question or comment, there is a comment box below. Have a nice day.

---