---
This Camco Deluxe Foldable Outdoor Grilling Table with Side Tables is an impressive and versatile steel & aluminum construction with plenty of useful features and a great price.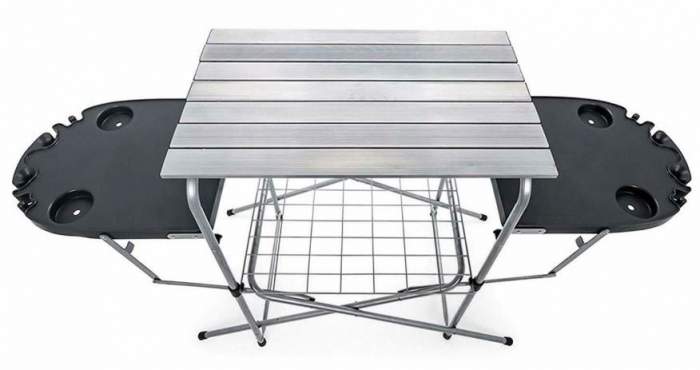 ---
Key features & benefits
Steel frame.
Aluminum tabletop.
Collapsible design.
Side tables.
Storage shelf.
Carry bag.
---
What type of camping table is this
As you realize from the name, they describe it as a grilling table because it has plenty of features for such a use. But you can use it as you wish, the side tables which you see in the picture can be used for dining. Their height is 25 in (64 cm).
But this is a collapsible and folding camping table and this implies the following. The biggest part of the structure is a folding system with all the elements pre-attached to each other. But there is a roll-top accordion-type tabletop which you add after you unfold the frame, plus a storage shelf which you also add separately. All the elements are shown in this picture: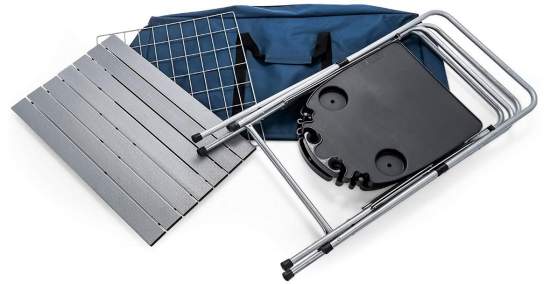 The most important steps in the setup are shown in these pictures: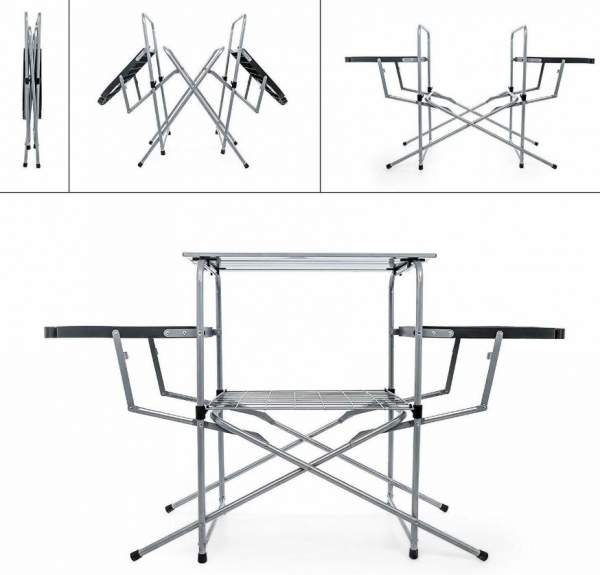 So the table needs a simple assembly and this is why this is not a folding table strictly speaking. But this all is done in less than a minute. I have included it in my list of best collapsible camping tables.
Storage elements
There are several elements that you can use for extra storage and they include:
The two folding side tables.
Numerous attachment elements on these side tables, see the picture below. They include cup holders and other types of holders, and hooks for utensils.
Metal storage rack which you add underneath the tabletop. They are well separated so you can store lots of stuff here.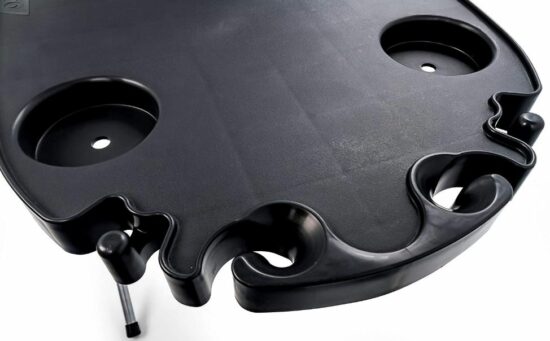 The picture below shows the view from the narrow side of the structure, so you get some idea about the storage space it offers. Because of all these features, I have added it to my list of best tables with storage elements.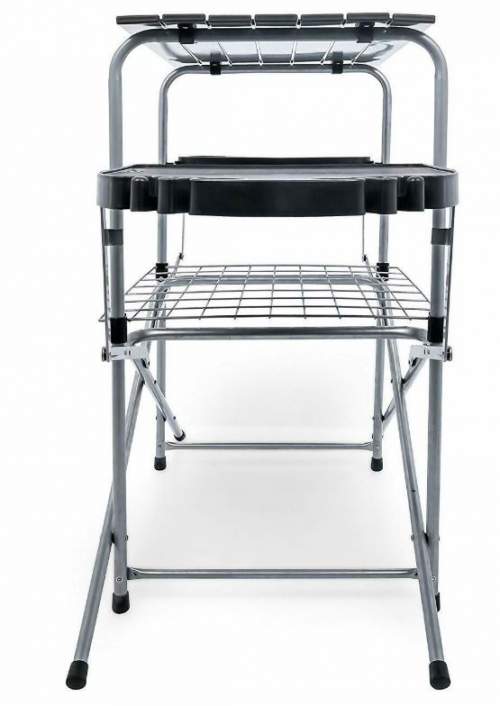 The central tabletop is very tall so you have 33 inches (84 cm) from the ground. This is a proper height for a grilling table. The top table's dimensions are 26 x 16 inches (66 x 41 cm) and the distance between the rack and the tabletop is around 12 inches (30 cm). I have added it to my list of best outdoor tables for grilling.
---
Materials
The frame is steel and the tabletop is aluminum. The side tables are some hard plastic. The pictures below show the tabletop close view and its underside with clips:
As you see from the pictures, there are 8 feet here and all are with plastic caps, see two of them in the picture: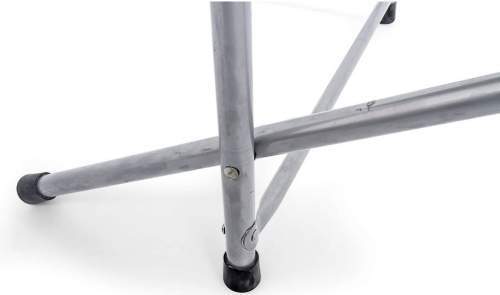 Attaching the rack is easy, the picture below shows its holder on one of the legs: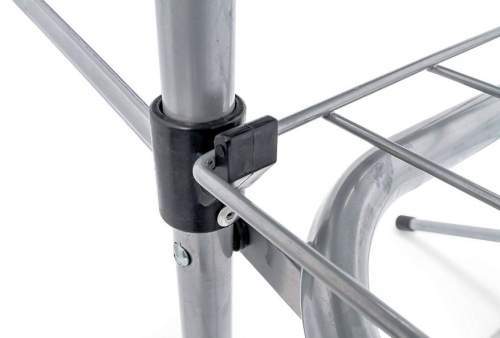 There is a carry bag included as well shown in the picture below. So you can carry all the elements nicely packed inside. This also allows you to keep it clean from dust when stored at home.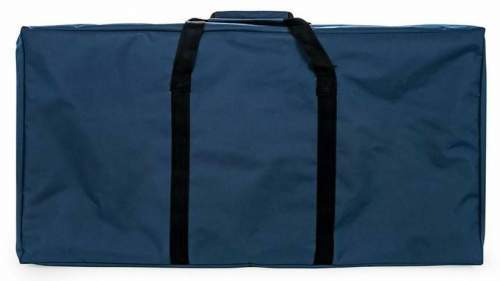 Please see more in this short video:
---
Who is it for
Regarding the dimensions, practically you have three tabletops here, and they offer the total area of around o.6 square meters. So this is a large surface and even if you have a grill on the highest table, you can still use the two side tables as dining tables, they are high enough for such a purpose.
Regarding the weight, with its 20 lb (9.1 kg), this is not an item to carry long distances. But the carry bag is with handles and you can move it easily in the camp.
The packed size 37.7 x 20.4 x 6 inches (96 x 52 x 15 cm) is such that you clearly need a car for transportation. It is a bit large but it is also thin so it will fit in narrow spaces.
Regarding the capacity, this table is impressive. The central tabletop can support up to 100 lb (45 kg). Each of the two side tables can support up to 20 lb (9.1 kg).
---
The price & rating
The link below gives the daily updated Amazon price of this Camco Deluxe table and you realize that this is a fair price for such a nicely designed camping item. Note also that this is an Amazon Prime product so you can have it shipped for free. But it is much more expensive on the EU market, more than twice the US price.
This table has been on the market for many years already, at least 8 years or so. Naturally, it has collected a huge number of reports by users. On Amazon alone you have them more than 650 as of the moment of writing this text, and the average rating is impressive 4.5/5.
Now, my own rating is quite different, but I use a set of criteria and apply them consistently to all the tables here in the site. This allows for easy comparison.
My rating of the Camco Deluxe Foldable Outdoor Grilling Table with Side Tables:
Weight -

3/10

Dimensions -

9.5/10

Packed size -

3.5/10

Craftsmanship & features -

9.7/10

Price -

9.7/10
Summary
The best here are the price, craftsmanship & features, and dimensions.
Pros
Exceptionally functional.
Easy to use.
Portable.
Storage features.
Affordable.
Carry bag.
Cons
Heavy.
Large when packed.
---
Specifications
Weight: 20 lb (9.1 kg).
Packed size: 37.7 x 20.4 x 6 in (96 x 52 x 15 cm).
Tabletop dimensions: 26 x 16 in (66 x 41 cm).
Tabletop height: 33 in (84 cm).
Side table(s) dimensions: 18 x 15.5 in (46 x 40 cm).
Side table(s) height: 25 in (64 cm).
Capacity:
– Tabletop: 100 lb (45 kg).
– Side table(s): 20 lb (9.1 kg).
Frame: steel.
---
Final thoughts
In conclusion, this Camco Deluxe Foldable Outdoor Grilling Table with Side Tables is really nicely built and very functional. It has so many storage and attachment elements that you always need in a camping kitchen. This is a versatile item and you can use it for tailgate parties, and for camping and picnics.
Check on Amazon
Check at Walmart
Please check under the category Camping Tables here in the site if you need more options. You might want also to check this functional GCI Outdoor Slim-Fold Outdoor Cook Station.
Note that this is not a sponsored text, and I am not paid by the brand. I love to hear from you, so please use the comment box below. Have a nice day.