---
This FUNDANGO Heavy Duty Lightweight Folding Camping Cot Bed comes with leg extensions and you can use it with two different heights as shown in the pictures.
---
Key features & benefits
Collapsible cot.
Two heights.
Lightweight.
Reasonable price.
---
Overview
This Fundango cot is in the group of collapsible outdoor beds. This means it needs a simple assembly, there are several elements in the package and they are all shown below together with its carry bag.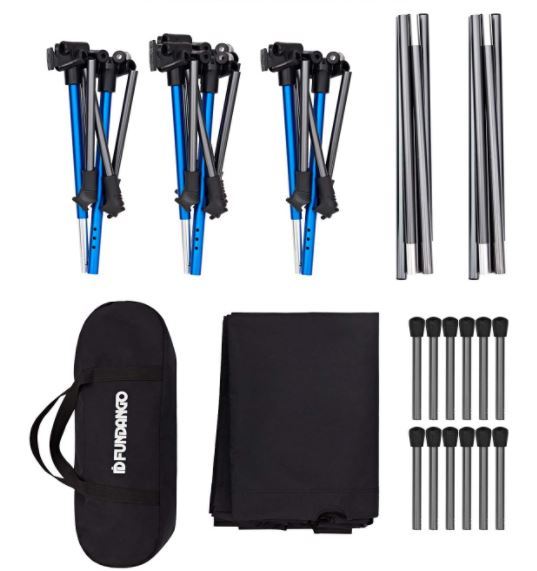 What you see in the picture are its shock-corded legs, shock-corded side bars, 12 leg extensions, and the bed's fabric. You do not need any tool to make the bed ready. 
Two heights: I mentioned this above, so this is useful because without extensions you can use the cot in a very low tent. The cot is 7.8 inches (20 cm) high without extensions. This is still well above the ground so you can store some pieces of your camping stuff under the bed.
With extensions, the bed is 12.9 inches (33 cm) high, and this may be useful for elderly users or when you sleep in a tall family camping tent in general.
Note that extensions are with plastic caps, but those are narrow and I would not use them without extra protection in a floored tent. With such leg extensions, this cot is similar to the Naturehike Cot, you might want to compare them. But see how this is done in this Moon Lence Camping Cot for Adults.
Materials
All metal elements are built from the 7075 aluminum alloy so this is a strong and durable material with zink, magnesium, and a few other metals added.
Note that legs have V-shaped elements that attach them to the side bars, and this adds extra stability. This is not so in the case of the previously mentioned Naturhike Cot. The extensions are also angled so the cot is quite stable even with extensions.
For the bed, they use a 420D ripstop polyester, it is breathable and they claim it is specially treated but it is not clear what they mean by this. It comes with a useful storage system on the side.

---
Who is it for
Regarding capacity, this cot is officially for users of up to 330 lb (150 kg). This should be good for most people, but if you need a cot for a very heavy user, please check my separate list of cots for heavy people.
Regarding dimensions, the bed's length is quite good, it measures 77.1 x 27.1 in (196 x 69 cm). Observe that there are no end-bars here, so this all length is a truly useful length and you have no pressure spots. The width is less impressive, so if you need more space to sprawl you will find it in my list of extra-wide camping cots.
Regarding weight, this cot can be described as light, it weighs 7 lb (3.2 kg). But this is not something to carry on the trail, you have ultralight cots for such a purpose.
The packed size is excellent, the carry bag measures (L x D) 19.6 x 5.9 inches (50 x 15 cm), so no matter how you transport it, the cot will not take much space. You can transport it even on a bicycle or on a motorbike.
---
Specifications
Weight: 7 lb (3.2 kg).
Capacity: 330 lb (150 kg).
Dimensions: 77.1 x 27.1 in (196 x 69 cm).
Height: 12.9/7.8 in (33/20 cm).
Packed size (L x D): 19.6 x 5.9 in (50 x 15 cm).
---
Rating, pros & cons
Below you can see summarized my rating and pros & cons. Not surprisingly, it scores great.
Interesting design with two heights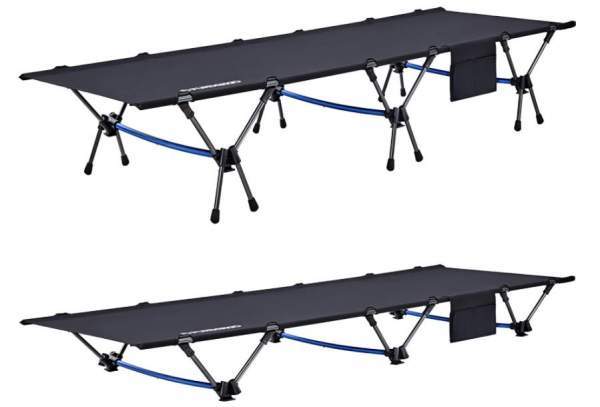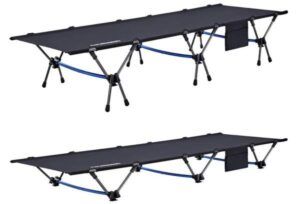 Product Name: FUNDANGO Heavy Duty Lightweight Folding Camping Cot Bed
Product Description: This FUNDANGO Heavy Duty Lightweight Folding Camping Cot Bed comes with leg extensions and you can use it with two different heights as shown in the pictures.
Brand: FUNDANGO
SKU: B0895QF16J
Weight -

9.2/10

Size -

8.5/10

Capacity -

8/10

Packed size -

9.9/10

Ease of use & Features -

8/10
Summary
This cot scores well in all rating criteria so the overall rating is Very Good.
Pros
Very light.
Excellent packed size.
Convertible.
Good price.
Carry bag.
---
Final thoughts
So this FUNDANGO Heavy Duty Lightweight Folding Camping Cot is indeed an interesting construction, and its convertible design makes it versatile in the sense that it can fit in any tent.
The packed size is one of its best features and the weight is such that it can be attached to the pack and carried on some short trips. You can use such a cot for camping, hunting, road trips, at the beach, or as a spare bed at home. You can also keep it in the office to take a rest after long working hours.

Please check under the category Cots if you need more options, there are many of them presented here in the site. Thank you for reading. Let me know if you have questions or comments, there is a comment box below.