---
Here you have my selection of Coleman camping chairs, folding, heavy duty, very easy to use, and affordable, with a variety of features that make them suitable for any outdoor activity.
Coleman has many outdoor chairs on the market, and they build them in various styles. So I did my best to present here representatives of various types. 
The common feature for all of them is that they do not need any assembly. They come ready to use, and each of them you open and close in seconds.
---
My list of Coleman folding camping chairs
Below you have the chairs ordered by weight from heavier to lighter:
These chairs are described in detail in my separate texts so please follow the links to read more.
---
1. Coleman Living Collection Sling Chair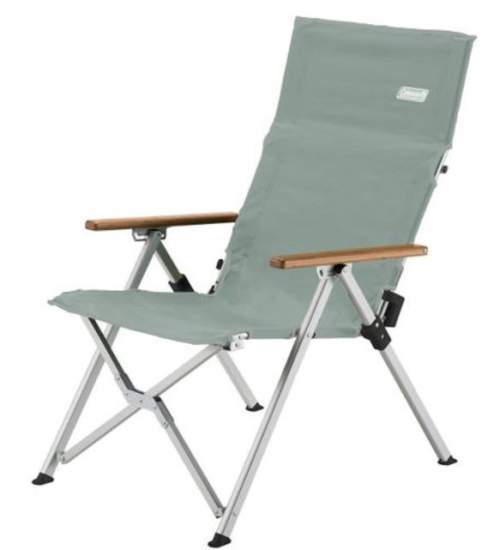 This chair is from Coleman's very popular Living Collection that includes 5 different products, all of them are presented here in the site.
This is a folding and very easy to use recliner chair, it offers 3 backrest positions. As you realize from the picture, its backrest is very high so you have a headrest. 
The frame is a combination of aluminum and steel, and the chair has pleasant wood armrests. A carry bag is included. The chair weighs 10.6 lb (4.8 kg) and its capacity is 250 lb (113 kg).

---
2. Coleman Big-N-Tall Quad Chair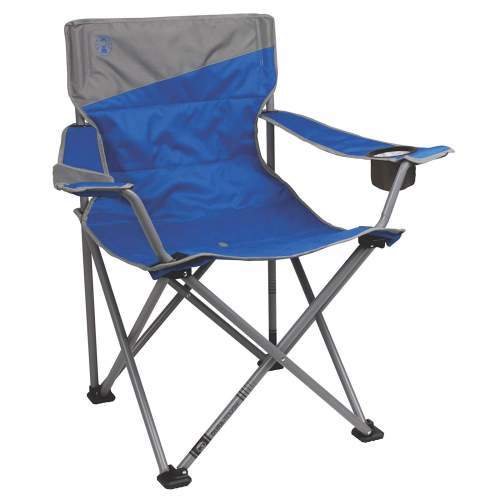 The capacity of this chair is impressive, it is officially for users of up to 600 lb (272 kg). So this is enough even for the heaviest people.
The chair is lightly padded, and you also have soft armrests, a bonus cup holder, a storage pouch, and a cell phone sleeve.
In view of its capacity, this is a lightweight chair, it weighs only  9.9 lb (4.5 kg). The packed dimensions when stored into its included carry bag are 38.2 x 7.9 x 7.1 inches (97 x 20 x 18 cm).

---
3. Coleman Oversized Quad Chair With Cooler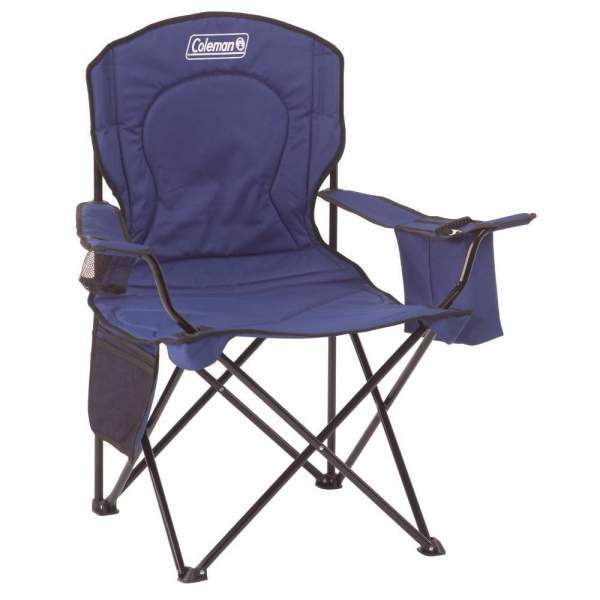 The word Oversized in the name of this chair imply dimensions (W x D x H) 37 x 24 x 40.5 inches (94 x 61 x 103 cm). It is fully padded, and it has soft armrests.
Here you have a cooler on one side and also a storage system and a cup holder on the other side.
The capacity is quite good, it supports up to 325 lb (147 kg). The weight is 9.9 lb (4.5 kg). This chair is also incredibly affordable.

---
4. Coleman Portable Deck Chair With Side Table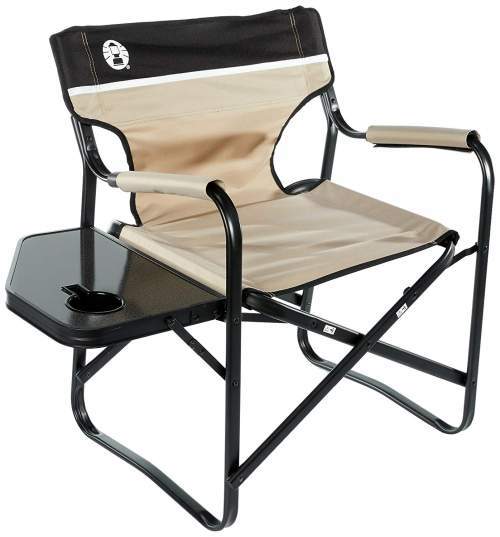 This official name given above tells you that the main feature here is its side table and an integrated cup holder.
This is an incredibly popular chair that has been on the market for a number of years already, tested and tried by many, and a very reliable product.
The chair is folding, and one of those that fold thin but remain a bit bulky in two dimensions. Note also that it is very lightweight, this is because the frame is aluminum. So it weighs only 7.12 lb (3.22 kg) and its capacity is 225 lb (102 kg).
You have bars on the ground, so with this design it will not sink regardless of where you use it, and this is also a floor-friendly design. The price is also partly behind its popularity.

---
5. Coleman Kickback Breeze Chair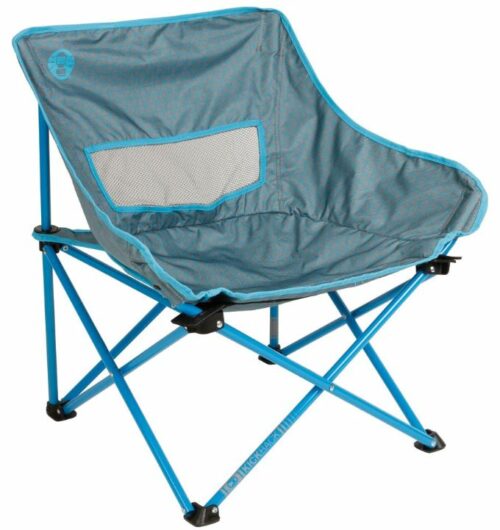 This Coleman Kickback Breeze Chair is a very lightweight construction in view of its 5.73 lb (2.6 kg). This is remarkable when you see its numerous support bars and the fact that the frame is steel.
The chair is very easy to use and folding, the fabric is pre-attached so this all folds like an umbrella.
It comes with a carry bag, and as usual for Coleman you have a great price. This chair is a part of the official furniture of the US National Park Foundation.

---
6. Coleman Living Collection Flat Fold Chair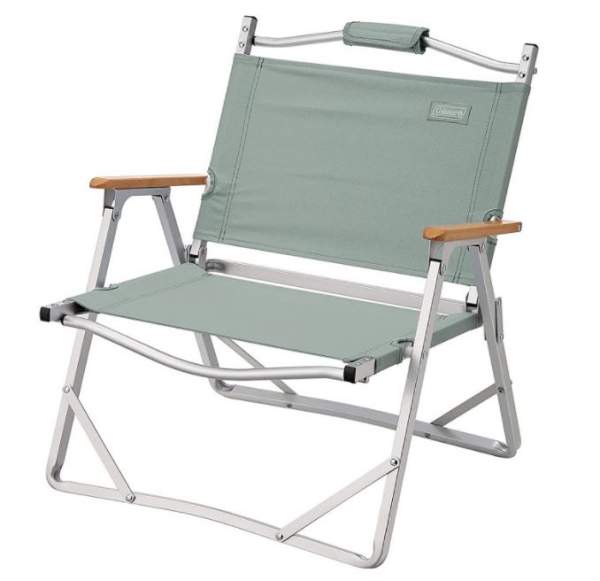 This chair is yet another from their Living Collection. It is lightweight and very easy to use. When folded it becomes very thin, and this is behind the words Flat Fold in the name, it is only 3.35 inches (8.5 cm) thick.
It comes with pleasant wood armrests, and you have an aluminum frame. The chair weighs only 4.85 lb (2.2 kg), and its official capacity is 250 lb (113 kg).

---
7. Coleman Folding Camp Chair Woodsman II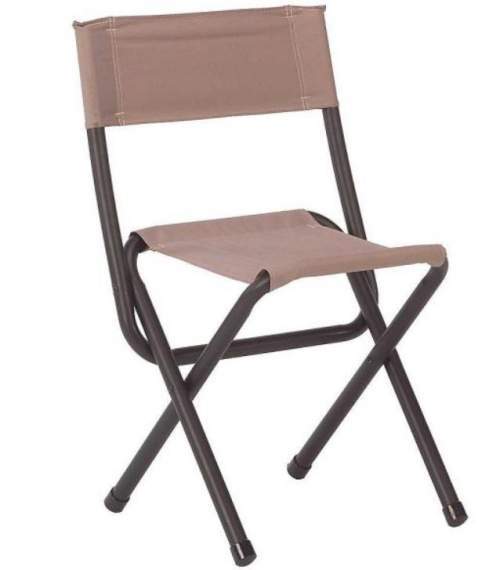 This Coleman Folding Camp Chair Woodsman II is a type without armrests, suitable for playing guitar in the camp, and also for hunters.
It is incredibly popular, and this is not surprising when you see its weight and its price. The frame is aluminum and this is behind its weight which is only 2.9 lb (1.31 kg). Its official capacity is 225 lb (102 kg).
The chair becomes thin when packed, and its folded dimensions are 22.24 x 19 x 4 inches (56.5 x 48.3 x 10.2 cm). The seat height is 17.5 inches (44 cm).

---
Final thoughts
So this was my selection of Coleman camping chairs, they are all folding, easy to use, and heavy-duty. Some of them are with prices that are hard to match.
Coleman has many outdoor chairs on the market and I add them here in the site all the time. So this list will be updated and this is why you might want to bookmark this text and check it occasionally, this will keep you informed.
Let me know if you have questions, there is a comment box below. Thank you for reading. Subscribe for my weekly newsletter, the subscription form is below.