---
The Coleman Forester Series Bucket Chair is a folding and easy to use comfortable outdoor chair with a headrest, a carry bag included, and a great price tag.
---
Key features & benefits
Folding chair.
Headrest.
Easy to use.
Carry bag included.
Very reasonable price.
---
What this is about
This Coleman Forester Series Bucket Chair is one out of three chairs from their Forester series. Its dimensions are very similar to their Forester Series Sling Chair but here you have a differently shaped seat. You can see both chairs below, the Bucket Chair is on the left.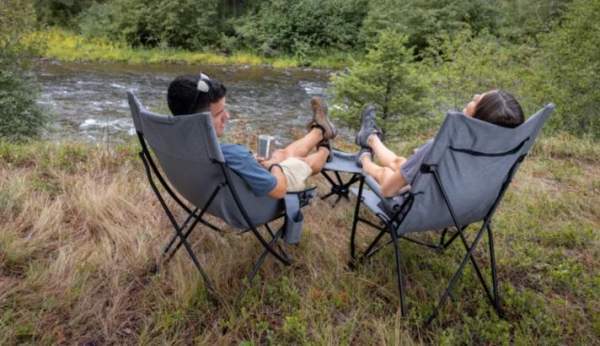 So this is again a folding chair without assembly, you can open it and close in seconds. It folds like an umbrella, the picture below shows how it looks in this case. It packs easily into its included carry bag shown in the picture.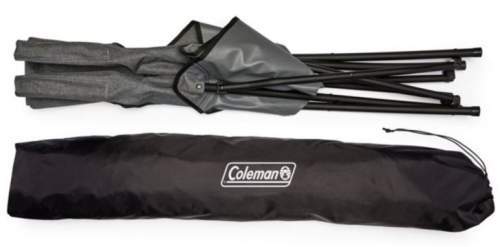 Materials and other details
The frame is a strong steel with X-crossed support bars for lateral stability, you can see them below. The polyester fabric is simply attached and fixed on the ends of the poles, so this is a streamlined and elegant design.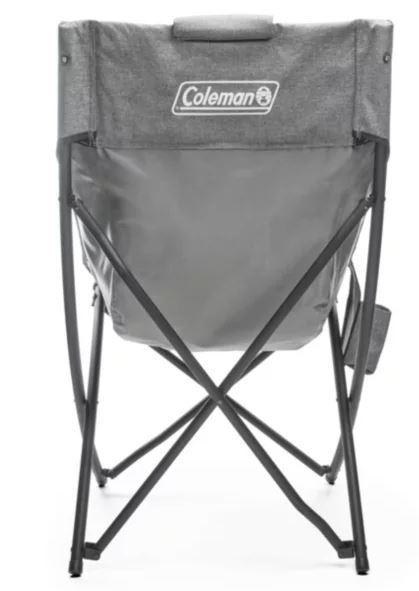 I am not so impressed with the feet, they are narrow and not the best option on a soft ground. The Sling Chair from this series has much wider feet.
Note that the backrest is very high so you have a good headrest here. If you follow this industry, then you may know that there are no many chairs of this bucket type with such a high backrest.
There is also an oversized bottle holster on the right side, it is shown below.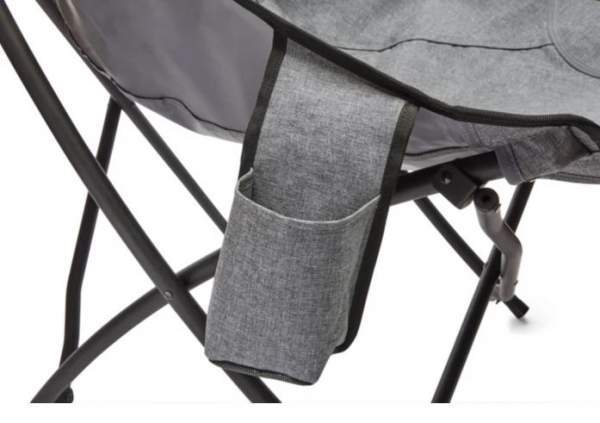 ---
Who is it for
Regarding the capacity, it is a bit modest with its 250 lb (113 kg) official capacity. If you need more it is best to check in my list of camping chairs for heavy people.
Regarding the dimensions, they are good and the best part is its headrest. There are no solid armrests on the sides so it can accommodate bigger users than what would be expected by its size.
Regarding the weight, the chair is on the heavy side with its 11.5 lb (5.2 kg). But it is quite tall with its high backrest and headrest, so this implies extra poles and fabric.
The packed shape you have already seen, the dimensions are 47.5 x 8 x 7.5 inches (121 x 20 x 19 cm). So it is a bit long but it is indeed thin. All in all, this is a car camping chair, you would not want to carry it long distances.
Regarding the price, it is very good for such a great chair and from such a brand.

---
Specifications
Weight: 11.5 lb (5.2 kg).
Capacity: 250 lb (113 kg).
Folded dimensions: 47.5 x 8 x 7.5 in (121 x 20 x 19 cm).
Frame: steel.
---
Rating, pros & cons
Below is summarized my rating and some pros and cons, so you can compare this chair with some others presented here in the site. You can rate it yourself, a rating bar is available below.
Easy to use folding chair with a headrest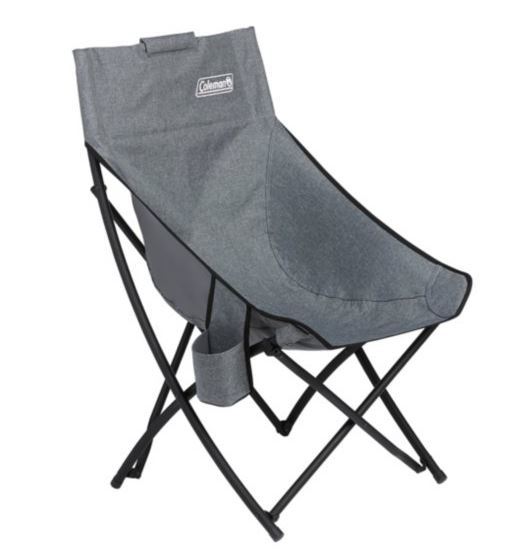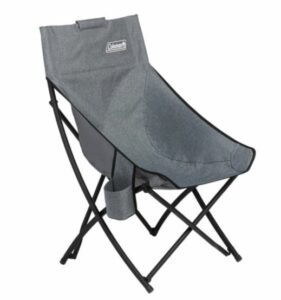 Product Name: Coleman Forester Series Bucket Chair
Product Description: The Coleman Forester Series Bucket Chair Is a Folding and Easy to Use Comfortable Outdoor Chair with a Headrest, a Carry Bag Included & a Great Price Tag.
Brand: Coleman
SKU: B08YKH5DBY
MPN: 2149900
Weight -

5.5/10

Dimensions -

8.1/10

Packed size -

4/10

Capacity -

7/10

Comfort -

9.2/10

Craftsmanship -

9/10
Summary
The chair is a bit long when folded, but the overall rating is Good.
Pros
Easy to use.
Headrest.
Carry bag.
Very good price.
Cons
Not so great feet design.
Long when folded.
On the heavy side.
---
Final thoughts
In summary, the best features of this Coleman Forester Series Bucket Chair are its ease of use and its headrest. The chair is a part of a collection so you can have them several built in different styles but with the same fabric and color.
It may look a bit long when folded, but it is thin and it will not take much space in the car. You have an oversized bottle holder on the side, but you can use it also for other small items to keep at hand. The price is appropriate, fully recommended.
Best places to buy:
For more options, please check under the category Camping Chairs, you will find them many here in the site, and in all sizes and shapes. Check also the Forester Series Deck Chair, it is with solid and padded armrests.
Bookmark this site and visit it when you find time, this will keep you informed, you have new texts added here on a regular basis. Let me know if you have questions, there is a comment box below. Thank you for reading and have a nice day.