---
This Coleman Folding Camp Chair Woodsman II is a lightweight aluminum portable outdoor chair, easy to use, and incredibly affordable.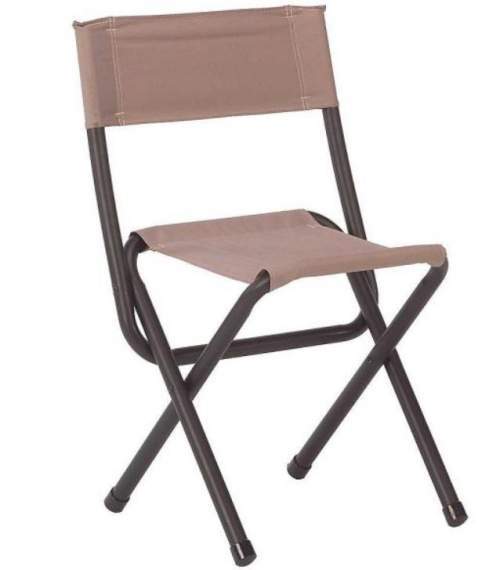 ---
Key features & benefits
Lightweight chair.
Aluminum frame.
Very easy to use.
Great price.
---
What this is about
This Coleman Woodsman II Chair has a long history, it has been around for at least a decade. I am not sure if this is why there are so many different numbers regarding its weight, packed size, seat size, etc. From what I know, it has remained unchanged in all these years.
This is a folding chair and this means it is incredibly easy to use. All that you see in the picture above is a single piece. Namely, the seat, the legs, and the backrest are three pieces of U-shaped bars. So this is an ingenious construction.
To fold it, just push the seat bars to each other, and then rotate and fold the backrest, it will fold side by side with the other two U bars but it will be oppositely oriented.
So folded it becomes relatively small and very thin, the dimensions are 22.24 x 19 x 4 inches (56.5 x 48.3 x 10.2 cm).
The frame is powder-coated aluminum, and the fabric is just two pieces, so this is all minimal design. The feet have plastic caps, but they are narrow and the chair is not suitable for soft ground. I would not use it in a floored family camping tent without some protection.
---
Who is this Coleman Folding Camp Chair Woodsman II for
Regarding the capacity, the chair officially supports the weight of up to 225 lb (102 kg). So this is quite a modest value and if you are a heavy person it is best to check for a stronger chair. But this is good enough for most potential users, it has been on the market for so many years, tried and tested by many people.
Regarding the dimensions, they write about 'wide and supportive back' but let's be realistic, this is a small chair with the dimensions around (H x W x L): 38 x 15.5 x 15.5 inches (97 x 39 x 39 cm).
The seat is 17.5 inches (44 cm) high so this is not a low chair. The seat width is 15.5 inches (39 cm), but the fabric alone is around 12 inches (30.5 cm) wide.
Regarding the weight, the chair can be described as very light with its 2.9 lb (1.31 kg). But in view of its packed size, this is not an item to carry in the pack. If this is what you need, please check my list of ultralight backpacking chairs.
Regarding the price, the chair is a true bargain, so it is not surprising it is so popular. There are thousands of reports at various online sellers around.
---
Specifications
Weight: 2.9 lb (1.31 kg).
Capacity: 225 lb (102 kg).
Dimensions (H x W x L): 38 x 15.5 x 15.5 in (97 x 39 x 39 cm).
Seat height: 17.5 in (44 cm).
Seat width: 15.5 in (39 cm).
Packed size: 22.24 x 19 x 4 in (56.5 x 48.3 x 10.2 cm).
Frame: aluminum.
---
Rating, pros, and cons
The table below summarizes some of my pros and cons, and my rating against the standard set of criteria used in the site. With this you can easily compare this chair with some other chairs:
Incredibly affordable & easy to use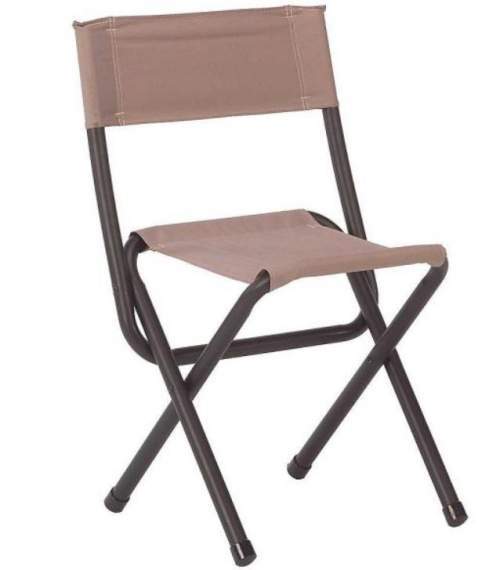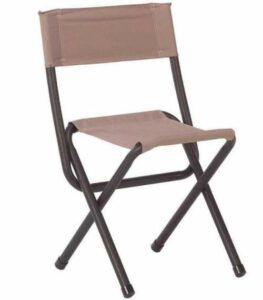 Product Name: Coleman Folding Camp Chair Woodsman II
Product Description: This Coleman Folding Camp Chair Woodsman II is a Lightweight Aluminum Portable Outdoor Chair, Easy to Use, and Incredibly Affordable.
Brand: Coleman
SKU: B00339C3PK
MPN: 2000003743
Weight -

8.8/10

Dimensions -

7/10

Packed size -

6/10

Capacity -

7/10

Comfort -

9.4/10

Craftsmanship -

9.7/10
Summary
The chair is well-built and it scores well in most of the rating criteria.
Pros
Incredible price.
Very simple structure.
Easy to use.
Cons
No carry bag.
Not very large.
---
Final thoughts
To summarize this Coleman Folding Camp Chair Woodsman II, what you have here is a very simple but timeless construction and design. This makes it so easy to use and so lightweight.
The three U-shaped bars determine its two larger dimensions when packed. So it is not for a backpack, but put it in your car trunk and leave it there, it will be useful wherever you find yourself outdoors.
I find it very useful for hunters, fishermen, you can use it for sports events, open-air concerts, and anywhere really. Fully recommended. I have included it in my list of best folding camping chairs and also in my list of armless folding camping chairs.
If this chair is not compact enough for you, please check this Cliq Camping Chair. See also this interesting ALPS Mountaineering Grand Rapids Chair/Stool.
Let me know if you have questions or comments, there is a comment box below. Thank you for reading and have a nice day.