---
Cabela camping cots presented here are all very different, large and comfortable, easy to use, and some of them are with an impressive capacity.
There are many cots on the market, many of them are light and compact, but in most cases this is because of a relatively small size. This is not so with Cabela's cots. These are built as car camping outdoor beds, and they are among the largest on the market.
You will see some great examples here, some are very wide and long, and designed to support the heaviest users. The downside of this is the weight, so these are heavy items, be ready for this.
---
My list of best Cabela's cots for camping
So here are the cots ordered by weight from heavier to lighter:
---
1. Cabela's 2XL Outfitter Bunk Bed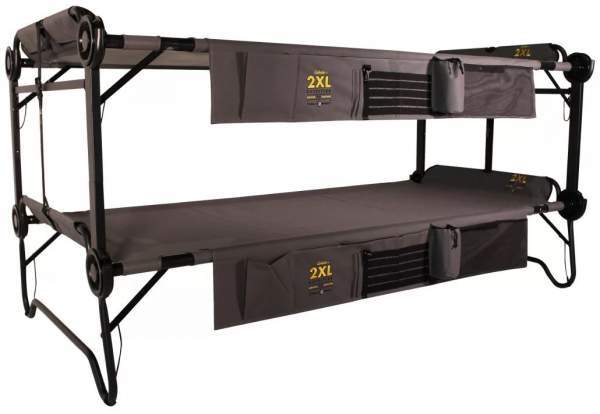 This Cabela's 2XL Outfitter Bunk Bed is a stackable and incredibly functional modular set. So naturally, it is the heaviest here, the set weighs 94 lb (42.6 kg).
What you have here is a set of 2 large cots that you can use as in the picture. But you can use them separately of course, or as a bench with a backrest. As you realize, this is an incredibly functional and versatile system.
The frame is a strong steel with a PVC-coating. The fabric is extremely durable 1200D polyester. The total capacity is 600 lb (272 kg).

---
2. Cabela's Lounge Cot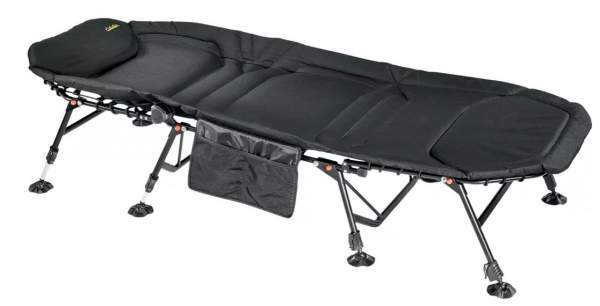 Here you have a cot that is generously padded, so you can use it even without any extra sleeping pad. This is also a reclining design. This implies that you can use it also as a lounge chair/cot.
This is not all, its 8 legs are all fully adjustable in the range 20/13 inches (51/33 cm). With this you can make it fully leveled and flat on any terrain. The feet are large and they are pivoting, so they also adapt to any surface.
The cot is heavy, it weighs 32.4 lb (14.7 kg), and the capacity is 350 lb (159 kg). The length is impressive, the bed measures 80 x 26 inches (203 x 66 cm).

---
3. Cabela's Big Outdoorsman Cot with Lever Arm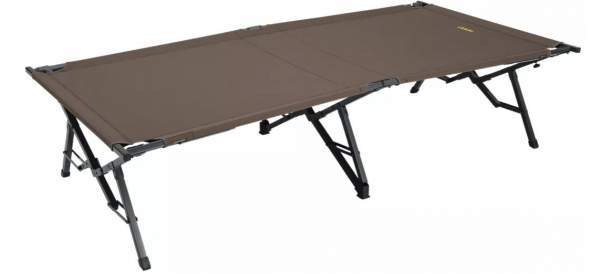 The dimensions of this Cabela's Big Outdoorsman Cot with Lever Arm are truly impressive. The bed measures 85 x 40 inches (216 x 102 cm). This is why it is in my list of extra long camping cots.
But this is also a cot with an impressive 600 lb (272 kg) capacity. So if you need a cot for tall and heavy people this is it.
The cot is built as a military type outdoor bed, so it needs a simple assembly, but it comes with a lever arm mentioned in the name that makes assembly very easy. The weight is 31.3 lb (14.2 kg).

---
4. Cabela's Alaskan Guide Cot with Lever Arm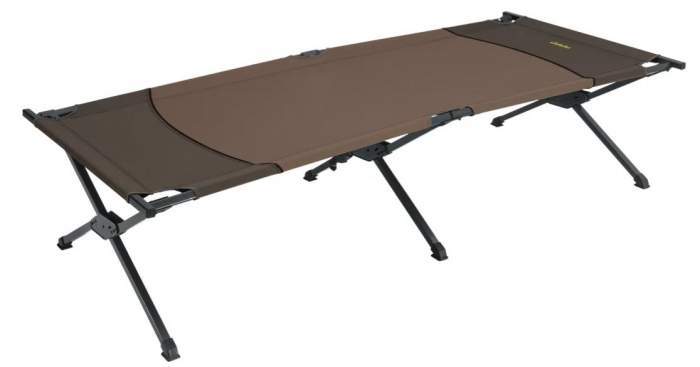 Here you have a large and tall cot that measures 83.5 x 32 x 19.5 inches (212 x 81 x 50 cm) so it is also in my list of cots for tall people.
The cot is built as a military type, it is collapsible and with an impressive capacity of 400 lb (181 kg). This is why I have added it to my list of cots for heavy people. Note that it weighs 28.5 lb (12.93 kg).

---
5. Cabela's Camp Cot with Organizer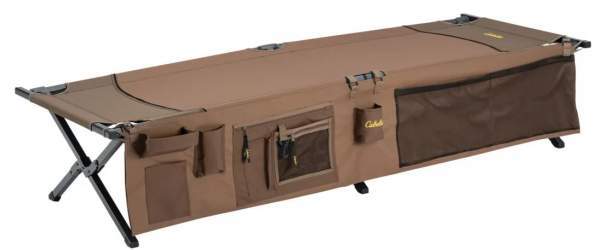 This is a very typical military-style cot, so it needs an easy assembly. The best part is its incredibly functional organizer mentioned in the name, you can see it in the picture above. You have numerous pouches for storage of your gear.
The weight is 22 lb (10 kg), and the dimensions are (L x W x H) 74.8 x 26 x 15.7 inches (190 x 66 x 40 cm). So it is a bit smaller than its cousins presented above, and this is why it is lighter as well.

---
Final thoughts
So this was my selection of Cabela camping cots, the list will be updated whenever I find a cot of this brand worth adding here. This is why you might want to bookmark this text and visit it occasionally, this will keep you informed.
I guess it should not be difficult to choose one for you. Make the list of priorities and then check the features of the cots in the list. For example, if you are a very tall person, check the lengths. Similarly, if you are a heavy person, check the official weight capacity, it is given for each of them.
But let me know if you have questions and if you are not sure what to choose, there is a comment box below. Thank you for reading and have a nice day.