---
The Cabela's 2XL Outfitter Bunk Bed by Disc-O-Bed is a stackable and incredibly functional modular set with 2 separate large cots.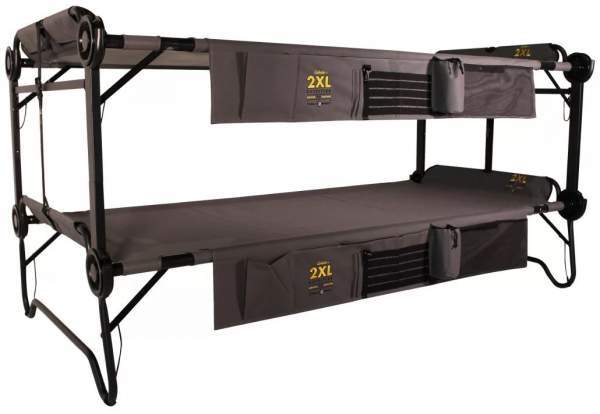 ---
Key features & benefits
2 Cots in one.
Modular design.
Very large.
Top quality. 
Steel frame.
Storage features.
Great carry bags.
---
What this is about
So this Cabela's 2XL Outfitter Bunk Bed by Disc-O-Bed appears to be a version built specifically for Cabela's. But the design is very similar to the original Disc-O-Bed bunk cot.
There are some differences in how the bed deck is attached to the frame on the narrow sides. However, functionality and quality appears to be the same, but the weight is significantly different.
So this is a collapsible stackable camping cots set. This means it needs assembly. You do not need any extra tool, this is all easy and one person can do this, but it takes some time.
There are two separate carry bags, for each of the cots, see how they look below. The dimensions of one bag are 45.5 x 21 x 4 inches (116 x 53 x 10 cm).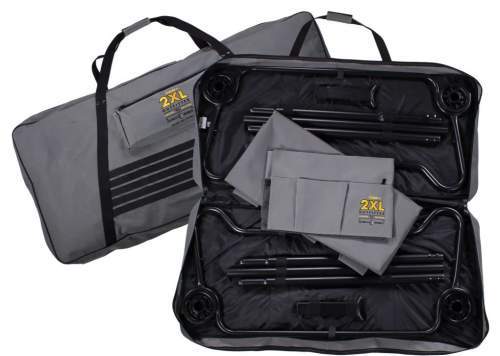 Modular features
You can use this products in several different ways. The one is shown in the top picture above, so this is a set of 2 great stackable camping cots or bunk bed cots.
But you can use both of them separately as standard single cots, as shown in the picture below:

This is not all, you can transform the bunk construction into a nice bench with a functional backrest. In view of its length, this is plenty of space for sitting for 3-4 people.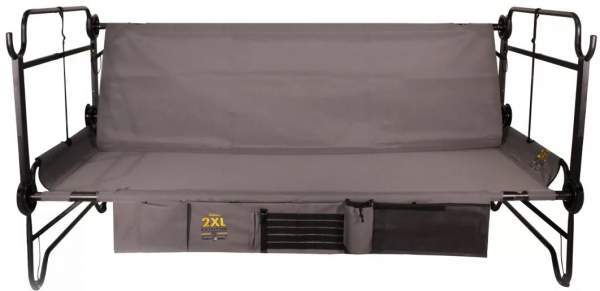 Bonus organizers
Each of the cots has its own removable organizer that attaches to the side. They offer plenty of storage pouches for small items so you can have them all off the ground and close at hand.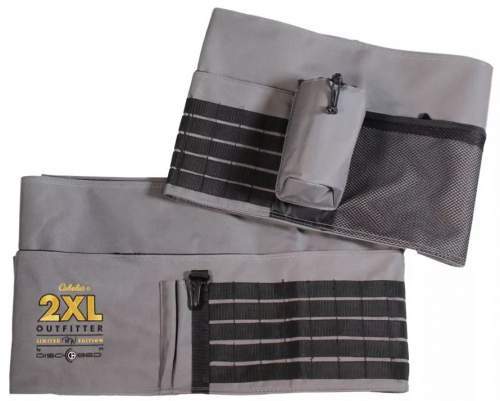 Materials
The frame is a strong steel with PVC-coated tubes that have 2.2 mm thick walls. The feet are with rubber stabilizers and they are rounded so they will not easily sink in the ground.
The fabric is extremely durable 1200D polyester, I do not remember any other brand using such a strong fabric for cots. In fact, this is two times the denier value of the original Disc-O-Bed bunk cot.
There are many elements in the package and they include: 2 single cots, 2 rounded end frames for the bottom cot, 2 straight end frame for the top cot, 2 polyester mats, 8 black discs, 8 swaged side rails, 4 straight side rails, 4 square foot plugs, zippered storage bags, 4 stack adapters, 2 locking straps, and 2 hanging organizers.
Using this cot in a tent
Note that the lover cot is with a clearance of 15.5 inches (39 cm). So you have plenty of volume underneath this set to store your camping gear.
The distance from one bed frame to another is around 27.5 inches (70 cm). The total height of the bunk cots together is around  46.5 inches (118 cm).
So you realize that it does not need an enormously high tent. Even if you have some 150-170 cm close to the wall, this will be plenty of height for such a bunk cot.
This means you can save a lot of space, both for sleeping and for storage. It is best suited for tents with straight and steep walls, and this means cabin-type tents of course.
Note that the upper cot, when used on the ground, has different legs, it is on the left in the picture below. The design should be safe for a tent's floor, but I would suggest always adding something for extra protection.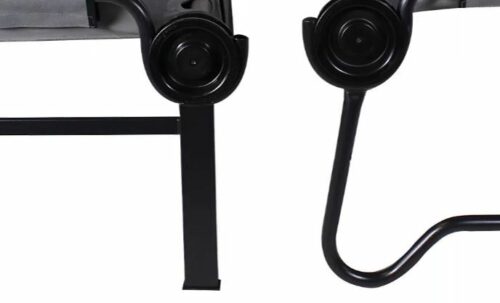 ---
Who is it for
Regarding the capacity, it seems that the total weight capacity is 600 lb (272 kg), so this would mean half of it is per cot. But at the Bass Pro site, I have seen a statement that the mentioned capacity should be per cot. 
So the situation is not completely clear to me. I know that in the original Disc-O-Bed bunk cot it is 500 lb per cot. On the other hand, this Cabela's version is with a much stronger fabric and the frame is also far heavier, so I would expect that the capacity is indeed much higher than in the original version. 
But I take the numbers from the Cabela's because this is its official product.
Regarding the dimensions, you have impressive numbers here, the bed measures 85 x 40 inches (216 x 102 cm).
So as you see it is both wide and long, suitable for tall users and for anybody who wants space to sprawl in the bed. I have included it in my lists of extra long camping cots and extra wide camping cots.
Regarding the weight, this is a very heavy item, the total weight is 94 lb (42.6 kg). But this is about two extremely large and sturdy steel structures.
You have already seen its packed size, so it is also very bulky, you will see below how I rate it. Clearly, you need a car for such an item.
Regarding the price, it is high, but this is a top quality product from a globally known brand. 
---
Specifications
Weight: 94 lb (42.6 kg).
Capacity (total): 600 lb (272 kg).
Dimensions (L x W x H): 85 x 40 x 46.5 in (216 x 102 x 118 cm).
Folded dimensions (per cot): 45.5 x 21 x 4 in (116 x 53 x 10 cm).
Frame: steel.
---
Rating, pros & cons
Below you can see how this set stands against my standard criteria used for cots. Note that I rate it for one cot, so you can compare with other similar cots here in the site.
Also, I use the capacity given at Cabela's site, so it is moderate, but in reality it is probably much higher. You can rate it from your side, there is a rating bar below.
Incredibly functional, versatile, and high quality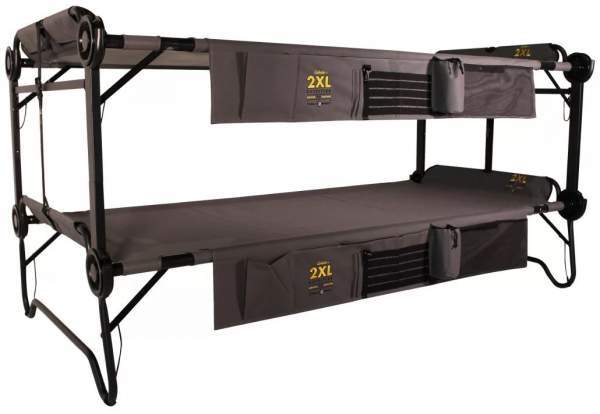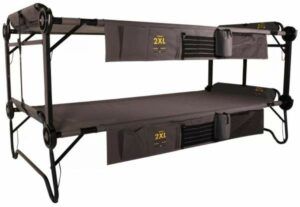 Product Name: Cabela's 2XL Outfitter Bunk Bed by Disc-O-Bed
Product Description: The Cabela's 2XL Outfitter Bunk Bed by Disc-O-Bed Is a Stackable and Incredibly Functional Modular Set with 2 Large Cots that Can Be Used Separately.
Brand: Cabela's
SKU: 4598897
MPN: 100134091
Weight -

3/10

Size -

10/10

Capacity -

7.5/10

Packed size -

4.8/10

Ease of use & features -

8.6/10
Summary
This set is all in extremes regarding rating, so the overall score is Good.
Pros
Modular design.
Durable materials.
Top quality.
Very large.
Storage pouches.
Great carry bags.
Cons
Expensive.
Heavy.
Bulky.
Assembly takes time.
---
Final thoughts
So this Cabela's 2XL Outfitter Bunk Bed by Disc-O-Bed is built in the best tradition of the Disc-O-Bed brand. It is huge, high quality, incredibly versatile and functional. Fully recommended if you can afford it, it is worth the money for sure. I have included it in my list of best stackable cots for camping.
Best places to buy:
For more options, please check under the category Collapsible Cots, you will find them many here in the site, and in all sizes and shapes. But see also my list of Cabela's camping cots.
Bookmark this site and visit it when you find time, this will keep you informed, you have new texts added here on a regular basis. Let me know if you have questions, there is a comment box below. Thank you for reading and have a nice day.