---
The Cabela's Alaskan Guide Cot with Lever Arm is a military type collapsible cot, very long and with an impressive capacity.
---
Key features & benefits
Collapsible cot.
Lever arm for easy setup.
Huge capacity.
Very long.
Impressive capacity.
Carry bag included.
---
What is in the name
This Cabela's Alaskan Guide Cot with Lever Arm is a very typical military-type outdoor bed. This implies three pairs of X-crossed legs and a full frame around a bed.
As you may know, such a design implies that the cot needs a simple assembly. Namely, most of the parts are pre-attached to each other, but you have to add two end bars.
The lever arm
Now, adding the first end bar is easy with every military-type cot, but with the second bar you normally need a bit of force to put its second end in place because of the tension in the fabric. This is particularly so when the bed is new.
For this reason, the end bar in most cots considerably exceeds the width of the bed itself. This allows for having a space to grab the bar with your hand.
However, with the lever arm you do not need such a long end bar, and it also locks the bar in place. In the process, it adds a bit of tension to the fabric.
So this is a very useful detail, but it should not be mixed with the so-called pivoting arm that is available in some cots on the market. See how the lever arm looks, this is when the end bar is un-locked: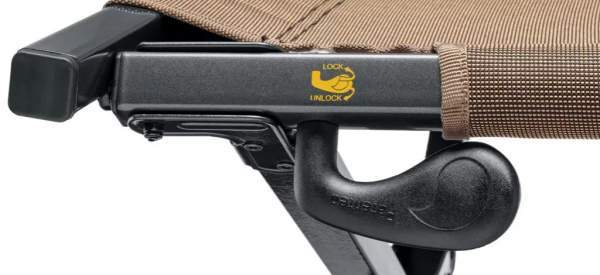 To lock, you just press the arm under the cot, you will see this below.
Materials
The frame here is a powder-coated steel with strong brackets and hinges for long-lasting strength. The feet are with some plastic caps, but if you use the cot in a floored tent, it is best to put something for the floor protection.
The fabric is quite standard water-resistant 450D polyester. The carry bag seems to be from the same material.
You can see more in this video, please have a look:
---
Who is it for
Regarding the capacity, this cot is officially for users of up to 400 lb (181 kg). So this should be good enough for practically everybody. This is why it is included in my list of cots for heavy people.
Regarding the dimensions, it is very long and reasonably wide. The bed size is (L x W) 83.5 x 32 inches (212 x 81 x 50 cm). There is a frame around that takes a few centimeters, but this is still a large bed with lots of space to sprawl.
Note that the height is 19.5 inches (50 cm) so you have plenty of space underneath the cot to store you gear. This is around 0.85 cubic meters of volume for storage.
With such a height, it is also suitable for elderly users because it is easy to get in and out of the bed.
Regarding the weight, this is not its best feature, it weighs 28.5 lb (12.93 kg). So you would not want to carry such an item far from the car.
But you have a carry bag included, see the picture, so you can keep it in to protect from dust. The packed size is 42.1 x 8.3 x 5.1 inches (107 x 21 x 13 cm).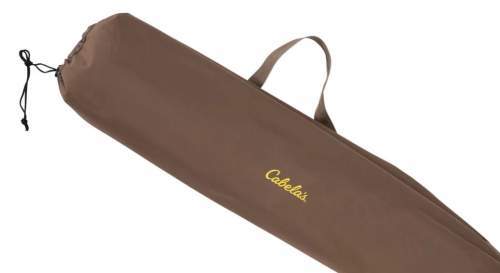 ---
Specifications
Weight: 28.5 lb (12.93 kg).
Capacity: 400 lb (181 kg).
Dimensions (L x W x H): 83.5 x 32 x 19.5 in (212 x 81 x 50 cm).
Folded dimensions: 42.1 x 8.3 x 5.1 in (107 x 21 x 13 cm).
Frame: steel.
---
Rating, pros & cons
Below is summarized my rating and some pros and cons. You can rate the cot from your side, there is a rating bar for this purpose.
Very long & huge capacity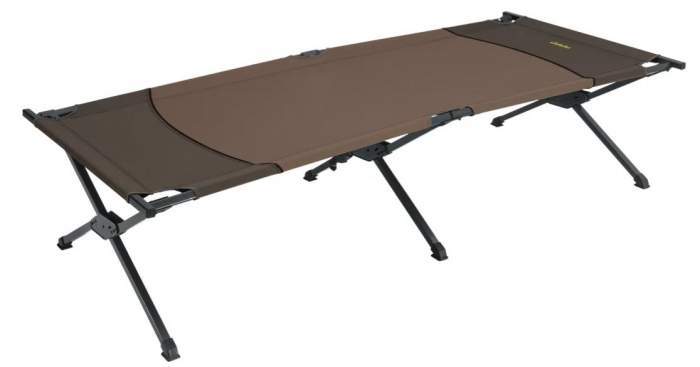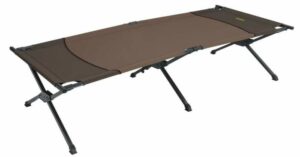 Product Name: Cabelas Alaskan Guide Cot with Lever Arm
Product Description: The Cabelas Alaskan Guide Cot with Lever Arm Is a Military Type Collapsible Cot, Easy to Use, Very Long and with an Impressive Weight Capacity.
Brand: Cabelas
SKU: 2509684
Weight -

5.6/10

Size -

9.3/10

Packed size -

8.2/10

Capacity -

9/10

Ease of use & features -

9.2/10
Summary
The cot scores great in almost all criteria so the overall rating is well-deserved Very Good.
Pros
Great capacity.
Very long.
Easy to use.
Carry bag.
---
Final thoughts
So this Cabela's Alaskan Guide Cot with Lever Arm may look like a typical military type cot, but note that it is very large. The lever arm also sets it apart from the cots of this type.
This is a reliable and trustworthy outdoor bed with an impressive capacity and strong materials. Because of its size, it is included in my list of very long cots for tall people.
Best places to buy:
You might want to consider also this Bass Pro Shops Eclipse Camp Cot built in the same military style but with a very different fabric. If you need a smaller cot built in the same style, check the Base Camp Folding Cot from Stansport brand.
Bookmark this site and visit it when you find time, this will keep you informed, you have new texts added here on a regular basis. Let me know if you have questions, there is a comment box below. Thank you for reading and have a nice day.