This Bushtec Adventure Sierra Oversized Canvas Camp Bed is a very long and wide military-style collapsible camping cot with a carry bag included.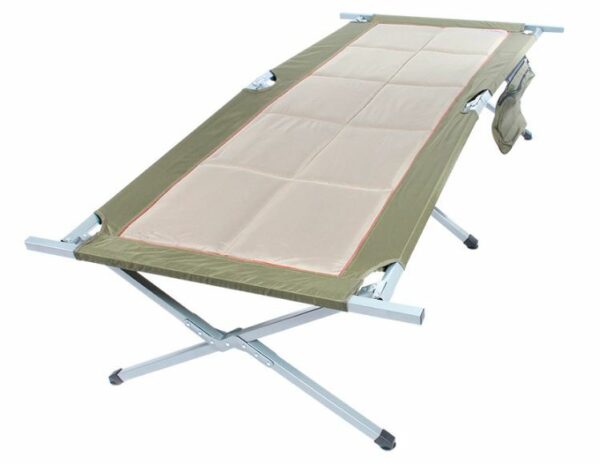 ---
Key features & benefits
Extra-long cot.
Padded.
Wide.
Easy to use.
Carry bag included.
---
What is in the name
The name as displayed by some sellers may be confusing because of the word Sierra. This should not be mixed with yet another camping bed from this brand, the Bushtec Adventure Camping Cot Sierra 440 which is a completely different type.
On the site of the manufacturer, this cot is under the name Bushtec Adventure Sierra Oversized Camp Stretcher.
So what you have here is a very typical military-type camping cot. This implies that it needs a simple assembly, and this means only adding the two end bars. All the other elements (the legs, the side bars, and the bed deck) are permanently pre-attached to each other as usual for such a type of cots. So this is an item from the group of collapsible cots.
Padded cot: The cot is with a light padding and you can see this in the picture above. This structure looks very similar to what you have in the OzTent King Goanna Camping Cot Stretcher. This is why I have added it to my list of padded cots.

The bed deck is a polyester with some synthetic padding. The Bushtec Adventure is a brand know for the durability of its products, and this is what you have here.
---
Who is it for
Regarding the size, this is a very long cot with the bed size 83 x 31 inches (211 x 79 cm). There are end bars that take a few centimeters of the useful length, but this is still an impressive cot for very tall people. Now you realize why they use the word Oversized in the name. I have included it in my list of extra-long cots.
The width is also great, this is more than what you have in most of the cots on the market. But if you still need something wider, please check my list of extra-wide camping cots.
Regarding the capacity, with its declared 286 lb (130 kg) weight capacity this is a cot suitable for most of potential users, but more or less this is quite a typical capacity. So if you need something stronger, check my list of cots for heavy people.
Regarding the weight, with its 28 lb (12.7 kg) this is a very heavy cot and you would not want to carry it anywhere.
Note also that its packed size is huge, it is very long when packed, so you will need a car for transportation.
Using this cot in a tent
Regarding the climate, in view of its padding, this cot can be used in tents in 3 seasons without any sleeping pad. In a colder environment you will add something extra, but in general when you sleep on a cot you need far less insulation from below.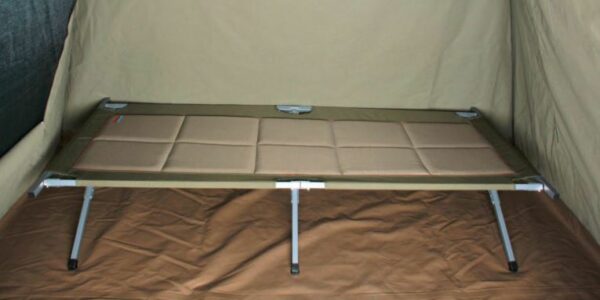 Note that the feet are with plastic caps visible in the picture above, but they are not large and this can damage the tent's floor. So add something for protection if the ground is soft or if you are a very heavy person.
What you also can realize from the picture above is that you have a huge storage area underneath the cot. Imagine that you sleep on the ground, all this space would be lost. But here you have 46 cm from the ground, and the total storage volume under the cot is huge.
---
Specifications
Weight: 28 lb (12.7 kg).
Weight capacity: 286 lb (130 kg).
Dimensions (L x W x H): 83 x 31 x 18 in (211 x 79 x 46 cm).
Packed size: 42 x 10 x 10 in (107 x 25 x 25 cm).
---
Rating, pros & cons
My rating is negatively affected by the weight and the packed size, but I use the same rating criteria for all the cots here in the site so you can easily compare.
Impressive size and padded cot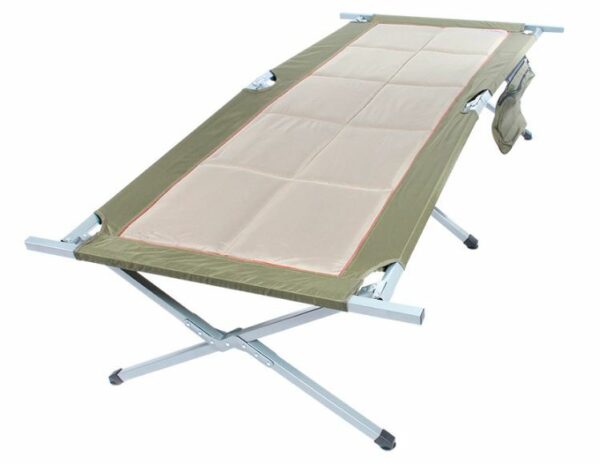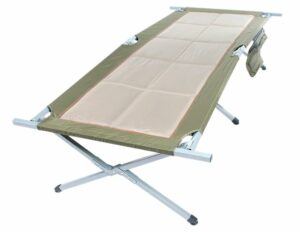 Product Name: Bushtec Adventure Sierra Oversized Canvas Camp Bed
Product Description: This Bushtec Adventure Sierra Oversized Canvas Camp Bed is a very long and wide military-style collapsible camping cot with a carry bag included.
Brand: Bushtec Adventure
SKU: B01LW1PCS9
MPN: SMA020
GTIN-8: 49000000
Weight -

5.6/10

Size -

9.1/10

Capacity -

7.5/10

Packed size -

7.8/10

Ease of use & features -

9.2/10
Summary
My overall rating of this cot is affected by the weight but it is still Good.
Pros
Very long.
Wide.
Padding.
Durable.
---
Final thoughts
In the summary of this Bushtec Adventure Sierra Oversized Canvas Camp Bed, I wish to stress that here you have a reliable camping cot built in the best tradition of this brand, to last for many years. This is a large cot so if you are a tall person or simply love to have lots of space to sprawl, this is the cot to consider. Fully recommended.
If you need more options, please check under the category Camping Cots, you will find them in hundreds. You might want to compare this cot with yet another long cot built in the same style, the Kelty Discovery Cot.
Bookmark this site if you want to stay informed, we add texts regularly here. Thank you for reading and have a nice day.