---
If you need a large cot for tall users, this Kelty Discovery Cot review is the text for you. Here you have a very long military-style outdoor bed.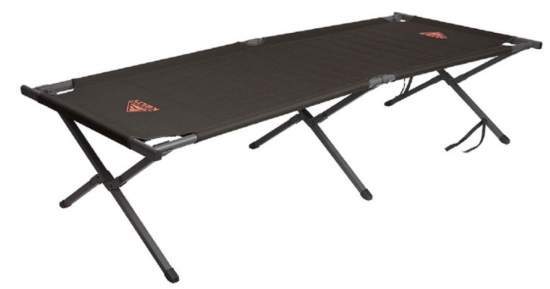 ---
Key features & benefits
Military-style cot.
Very long.
Roll-tote bag.
---
What this is about
This cot is in the group of collapsible cots, and more precisely military-style cots. The meaning of this is that the cot packs to a relatively small size, and it needs assembly.
Namely, most of the elements are pre-attached to each other, all you have to do is to unfold them and then attach the two end bars, one of them is shown in the picture below. So to put it in place, you pass it through the sleeve, attach it to one of the side bars, and then attach its other end to the other side bar. In this final step, you need a bit of force because of the tension in the fabric, but this is done without any extra tools.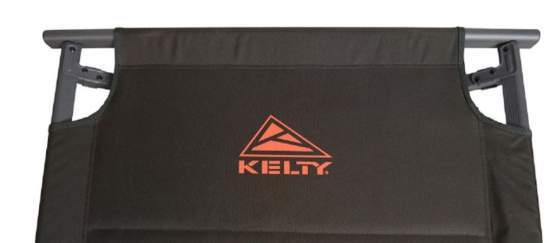 I mentioned that it collapses to a small package, and you can see this in the picture below. So this is not a classic carry bag, this is a roll-tote bag. As you see, it has a nice shoulder strap so you can carry it short distances.

Kelty uses this system in several of its products. The idea is that this roll tote can be used also as a camping mat. The picture below shows one way of using it, but there are many other possible purposes for such an item.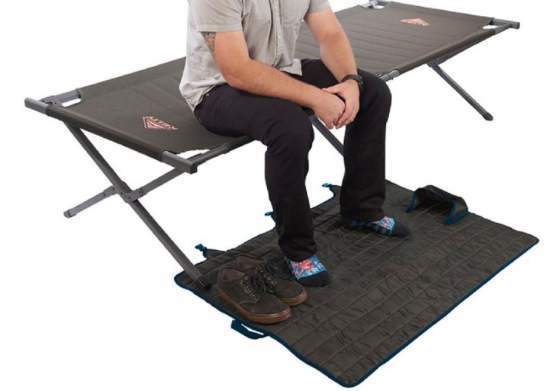 Materials
The frame is a combination of steel and aluminum. This is a very typical military-style design so you have seen already that it has a frame, i.e., bars on all sides.
With 6 legs, the weight is reasonably well distributed. The feet are with some plastic caps. I do not see them as tent-floor-friendly, so it is best to put something underneath it.
The fabric is a standard and durable 600D polyester typically used in such camping cots.
---
Who is it for
Capacity-wise, this cot is with an official capacity of 300 lb (136 kg). This is typical for cots of this type and it should be good for most of the users.
Size-wise this is an impressive cot that measures 83 x 32 inches (211 x 81 cm). As you realize it is very wide and more importantly it is exceptionally long, so I have included it in my list of extra-long cots.
Weight-wise, this is a heavy cot, it weighs 18 lb 15 oz (8.6 kg), and you would not want to carry it long distances. But this is possible, you have already seen its carry system.
The packed size is reasonable, it measures 41 x 8.5 x 8.5 inches (104 x 22 x 22 cm). In view of all this, this is a car camping cot and it is included in my list of cots for car camping.
Using this cot in a tent
The cot is large and it will probably not fit in a solo tent. So make sure to check the tent's length if you plan to use this cot inside.
I would like to point out its height, this is a very high cot, you have 20 inches (51 cm) clearance. So this is lots of space and volume to keep your gear out of way. As you know, when you sleep on the ground, this space cannot be used for storage, this is an advantage of sleeping on a cot.
---
Specifications
Weight: 18 lb 15 oz (8.6 kg).
Capacity: 300 lb (136 kg).
Dimensions: 83 x 32 in (211 x 81 cm).
Height: 20 in (51 cm).
Folded size: 41 x 8.5 x 8.5 in (104 x 22 x 22 cm).
Frame: aluminum/steel.
---
Rating, pros & cons
This cot scores well in all of my rating criteria, though indeed it is heavy, see how it looks:
Huge Military Style Cot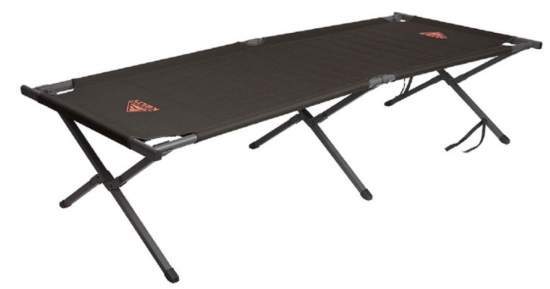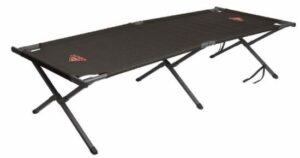 Product Name: Kelty Discovery Cot
Product Description: If You Need a Large Cot for Tall Users, This Kelty Discovery Cot Review is the Text for You. Here You Have a Military-Style Outdoor Bed.
Brand: Kelty
SKU: 130066
Weight -

7/10

Size -

9.3/10

Capacity -

7.5/10

Packed size -

8.2/10

Ease of use & features -

9.2/10
Summary
The cot is heavy and its capacity is modest but the overall rating is very good.
Pros
Very long.
Interesting carry system.
---
Final thoughts
To summarize this Kelty Discovery Cot review, what you have here is a very typical military-style cot, so there is nothing unique in its design, but this is a very long cot and this is its main feature. You have a renown brand behind this cot, Kelty has been around even before I was born.

For more options please search under the category Cots here in the site. There is a subscription form below for my weekly newsletter, so subscribe and stay informed. Thank you for reading and have a nice day.