---
The Teton Sports Adventurer Cot is a strong and sturdy military-style steel cot with a huge capacity, great packed size, and a very reasonable price.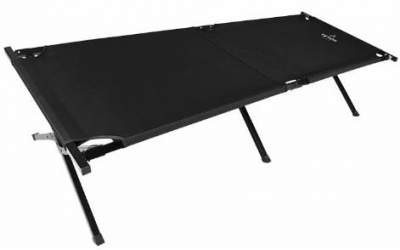 ---
Key features & benefits
Great capacity.
Good price.
Very reliable.
Carry bag included.
Easy setup.
Reliable brand.
---
What is in the name
The Teton Sports brand has currently 4 cots on the market. Three of them are military-style tools, and this Adventurer Cot is the smallest of the three. The other two are the Universal Cot and the Outfitter Cot XXL, the latter is the biggest of all available on the market and I added it to my list of cots for heavy people.
They also have yet another smaller cot built in a different style, the Somnia Cot described in my separate text.
So it is best to start with this short video by Teton Sports, please have a look:
Being a military cot, this also implies it is collapsible, and it needs an assembly. So this is nothing special, all is typical for this type, the assembly implies unfolding it and spreading, and then adding the two end bars. You do not need any tool for all this. All is done in just a few minutes. You can see more in the videos given here.
I must note that they have made a bit of a mess on Amazon by presenting all 4 cots together. Due to this, you cannot distinguish easily the comments by users, which cot they are talking about. The same is when you see the questions, they may be about any of the 4 cots, and they all are very different in reality. Of course, the same is with pictures which you have there.
So the purpose of this text is to help you understand the features and purpose of this cot alone.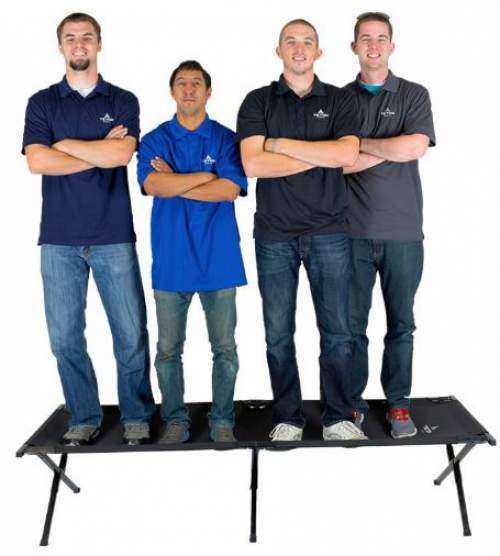 Adventurer LE Cot
This is a part of the confusion. You will notice they have two versions. The letters LE here mean 'limited edition'. The true meaning is that the cot has a pivoting arm. Why is this important?
Well, some users find it difficult adding the second end bar. Namely, when you put one end of it in place, then adding the second end requires a bit of force because of tension created in the bed fabric. This is all normal because you need to have such a tensioned bed deck under you.
So they have added a pivoting arm here. The same is in their Universal Cot which also comes with its LE version.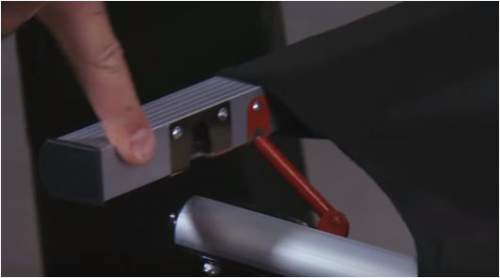 The whole concept comes from some much earlier cot from some other brand, and here I give a picture of it (so the actual picture is not from the Adventurer cot, but it works the same way).
The idea is that instead of pulling the end bar and putting it in place (as you have seen in the video), you fix the pivoting arm in place (the red bar above) and it introduces the pivoting motion to the end bar setup (hence the name), so that you can put the end bar in place with one finger, literally.
So again, if you are a weak person and do not want to wrestle with the bed deck, order the LE version. This is a clever design and it helps a lot; the usual complaint by users of any military cot is about setting the second end bar in place.
---
Who is it for
The capacity of this cot 400 lb (181 kg) is simply impressive, and it is for heavy people indeed. But the size is not so great, so bear this in mind if you are a tall person.
The packed size 38 x 8 x 4 inches (87 x 20 x 10 cm) is really good, and it will not take much space when you store it at home. So you can use it as a spare bed for sudden guests. The carry bag comes with the bed, and with this you will keep it clean and protected from dust wherever you put it.
The cot is a bit heavy, 20 lb (9.07 kg), so as an outdoor camping tool, it requires a car for transportation. In this case, you can use it for a variety of activities, like vacations, hunting, at trailhead hotels, for fishing, at open-air festivals, etc.
---
Materials
The capacity mentioned above indicates that this is a strong and sturdy tool. So the deck bed is 600D Brushed Poly Canvas, and the frame and bars are steel. The structure is with 6 legs, X-shape type shown below, so it is very stable.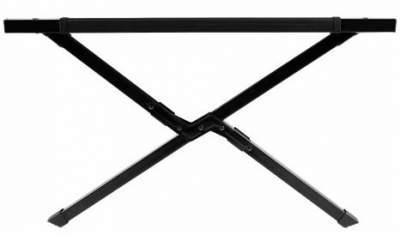 The assembly is typical for this type so it is best that you see this short video by Teton Sports:
---
Using the cot in a tent
The Adventurer is a relatively small cot, but it is quite high, 17 inches (43 cm). So it might not fit in just any solo tent. But if you have a 2-person tent and use it solo with this cot, you will have a great combination with a lot of space around the cot for your equipment and the dog if it is with you, and extra storage space under the cot, see this in the video below.
But if you have any bigger tent, you will not have any issues. See in the video how this guy is using two Adventurer cots in a big tent:
So for couples, I would suggest these big tents: the Kelty Outback 4 and the Big Agnes Tensleep Station 4. The latter is indeed very expensive but incredibly versatile.
In the video, you have seen the feet on the tent floor, so they are with rubber caps and you should have no issues. But if you are very heavy and the ground is very soft, adding something to spread the weight might be a good idea.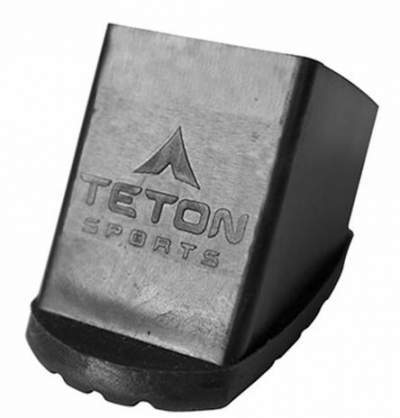 ---
The price, my rating, pros & cons
The Adventurer is heavier than some of its competitors. But this is immaterial, this is not a tool to carry around.
The question of assembly applies to all cots of this type. The size is something to bear in mind, so if you are a tall person check the other models from the same brand, I mentioned them above.
The daily updated Amazon price is given in the link. This is a fair price for such a quality item. Note also that you can have it shipped for free, this is an Amazon Prime product.
Please see how I rate this cot against my standard set of criteria:
My rating breakdown of the Teton Sports Adventurer Cot
Weight -

6.8/10

Size -

8.3/10

Capacity -

9/10

Packed size -

8.6/10

Features and bonuses -

8.5/10

Ease of use & features -

9/10
Summary
My overall rating of this cot is Excellent:
Pros
• Very reliable.
• Great capacity.
• Affordable price.
• Carry bag included.
• LE variant to choose.
Cons
• Needs assembly.
• Quite a modest size.
• A bit heavy.
Specifications
Weight: 20 lb (9.07 kg).
Capacity: 400 lb (181 kg).
Dimensions: 75 x 25 x 17 in (191 x 64 x 43 cm).
Packed size: 38 x 8 x 4 in (87 x 20 x 10 cm).
Bed deck: Heavy-duty 600D Brushed Poly Canvas.
Frame: reinforced steel X-legs.
Rubber feet protection.
---
Accessories
There are many items from the Teton Sports brand that can be used in combination with the Adventurer Cot, see some of them.

The Teton Sports is known for very affordable prices but those are quality items, I have them many presented in this site.
---
Summary
In the conclusion of this Teton Sports Adventurer Cot review, I wish to stress again that this is a very reliable and strong cot. It has been on the market for at least 4 years already, so there should be no surprises with this cot. The brand behind it is renown, I trust them and have confidence in their products. Therefore I can fully recommend it. But bear in mind my objections above.
The cots size is not for every person, so if you are a big guy, try this camping king, the Outfitter XXL Quick Cot from the same brand.
If you are still not sure, please just look around, this site is only about cots, so all possible types are available here. Go and check in the Categories on the right above. I am sure you will find something useful for you.
Thank you for reading. Would you want to add anything about this cot, some comment or question? Please use the comment box below. I wish you a nice day.
---