---
Rio Adventure One Piece Military Style Camp Cot is a camping bed with a unique design, without end bars, and with an incredibly easy setup.

Key features & benefits
One piece design; see more below.
No end bars.
Very easy setup.
Great price.
Two sizes, Standard and Large.
Carry bag included.

What type is it
The Rio Adventure Military Style Cot is what its name says, a cot from the group of military type cots. This implies a collapsible structure with X-shaped legs, simplistic in design and easy to use, but in this case there is more to this, see below.
The term collapsible implies that it packs to a relatively small size of only 37 x 8 x 5 inches (94 x 20 x 13 cm). Note that it is available on the market also under the name Rio Gear Portable Smart Cot Military Style Folding Camping Cot, this is the same cot.
What is in the name
The full name of this cot "Rio Adventure One Piece Military Style Camp Cot" indicates a unique feature: this cot has no end bars. So why is this so important?
Well, military-style cots are normally designed with side bars, legs, and the bed fabric making one single piece so you just unfold it when you set it up. But they also have two separate end bars that have to be attached separately, one by one. These end bars give stability to the bed and create tension in the bed deck.
Now, these end bars effectively make the bed shorter because you have to fit between them to avoid pressure spots on your legs (or/and your head).
But this Rio Adventure cot has a clever design. Instead of end bars, they have added locking bars attached to the legs on both ends, far below the bed surface, which fix the legs in position. So the full length of the bed is a useful length, and fixed legs create tension in the bed deck. This is a unique One Piece design based on their patent-pending Tension Lock Technology, see the picture.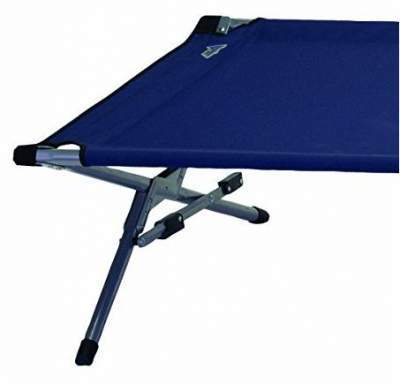 Who is it for
This is a versatile cot, a great tool for disaster relief needs, for outdoor use, and for home use as a spare bed for sudden guests. It comes with its carry bag so when you store it at home it will not collect dust wherever you put it, in the closet, attic, or under a bed.
The packed size is great, but with 37 inches (94 cm) you can only transport it in the car. The weight of 15.85 pounds (7.19 kg) is such that this is not to be carried long distances. So it can be used at any camping place with a car access.
Setup
Sets up is done in seconds, and the same is when you want to fold it down. All is done quickly and easily, no need for any tool. As I said above, the whole bed is one single piece, so just unfold, put it on its 6 legs and press the tension lock bar. You will see this in the video below.
Using this cot in a tent
If you have a normal family tent, then you have no problem to put such a cot or a few of them inside. But if you are interested in the smallest possible tent which can accept such a cot, then bear in mind its height. With 14.5 inches (37 cm) it should fit most of the normal solo tents, they are typically around 1-meter peak height. But the question is how to get it inside.
A much better option is a 2-person tent with the front entrance, so you can unfold the cot outside and bring it in. One great example of this type is the Kelty Horizon 2 tent.
If you try a tent with a side door, you will get into the situation which you can see in this video, so please have a look:
But if you would need two cots in a tent, for couples for example, then try these great tents: Kelty Camp Cabin 4 and Kelty Mirada Tent.
The legs are with plastic caps, but they are narrow and I would be careful with the tent floor. This in particular if the ground is soft. Small pieces of thick cardboard under the legs may put your mind at rest.
My rating, pros & cons
The cot is a bit narrow, but the price is great and this is a true bargain for such a unique cot.
Please see how I rate it:
My rating breakdown of the Rio Adventure Military Cot
Weight -

7.6/10

Size -

8.3/10

Capacity -

7/10

Packed size -

8.6/10

Ease of use & features -

9.4/10
Summary
My overall rating of this cot is Excellent:
Pros
• No assembly needed.
• Unique functional design.
• Carry bag included.
• Stable construction.
• Versatile tool.
• Portable tool.
Specifications
The numbers below are for the Standard size:
Weight: 15.85 lb (7.19 kg).
Capacity: 250 lb (113 kg).
Dimensions (L x W x H): 75 x 27 x 14.5 in (190 x 68 x 37 cm).
Folded size: 37 x 8 x 5 in (94 x 20 x 13 cm).
Included a zippered carry bag with handles.
Powder-coated steel frame.
Polyester fabric bed.
Color: blue.
About Rio Brands
Rio Brands is a privately held company with headquarters in West Conshohocken, PA and with offices in Philadelphia, PA and Ningbo, China.
The company was founded in 1947, and it holds 21 patents for various products. One of them you have seen above. They have patented Wonder Wheeler beach carts, backpack chairs and the Integrated Sand Anchor for beach umbrellas.
The word Brands here include Rio Beach, Rio Creations, Rio Gear, and RIO Adventure which you have here.
Summary
To conclude this Rio Adventure One Piece Military Style Camp Cot review, what you have here is a really nicely designed cot with some unique features which make them very different and much more functional than other cots of this type.
The absence of end bars means a lot, and the same holds for the One Piece construction. I can fully recommend this cot.

I have already mentioned in the beginning that they have also a much larger version of the same Rio Adventure Military Style Camp Cot, with 84 inches (213 cm) of length, you can see it here. They also have an option with a storage pocket attached to the bed, you will see it in the link. Check also this World Outdoor Products Military Style Camping Cot which is larger and lighter.
This Large version of this cot is certainly good news for very tall people, but if you need really heavy-duty tools for very heavy and tall people please check these giants.
Thank you for reading, and please let me know if you have any question or comment, there is a comment box below. Have a nice day.

---