---
The Timber Ridge TR Fir Magnum XL Oversized Heavy Duty Cot is huge and built in military style with a steel frame and incredible capacity.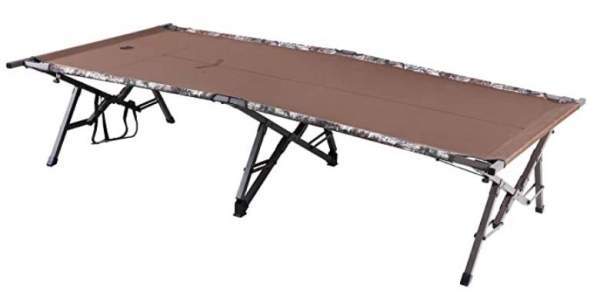 ---
Key features & benefits
Enormous size.
Huge 600 lb (272 kg) capacity.
Military-style cot.
Carry bag.
Legs locks.
---
So what this Timber Ridge Fir Magnum Deluxe Cot is about
Here you have a cot from the Outfitter series of this brand, designed in camo style. This cot should not be mixed with their Timber Ridge Deluxe XL Camp Cot With Carry Bag or with Timber Ridge TR Cedar Deluxe Camo Heavy Duty Folding Cot which is built in the same style and in the same outfitter series.
This is a military-style cot and this means it needs a simple assembly. This implies only adding the two end-bars. Everything else is permanently pre-attached to each other. So the official setup time is 60 seconds, and this is realistic.
You have folding legs and a folding frame, plus the bed deck, and these elements remain pre-attached all the time. The mentioned end bars are separate pieces.
It comes with a nice and large carry bag shown in the picture below, it is with straps and with a zippered closure. Note that the length when packed is substantial. The folded size of the cot is 44.7 x 7.9 x 6.7 inches (114 x 20 x 17 cm).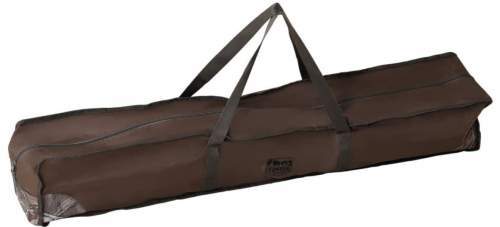 The end bars are visible in the picture below. You pass each of them separately through the sleeves and attach to the frame. When you add the second bar, you will need a bit of force because of the tension created in the fabric. But this is easily done and without any tools.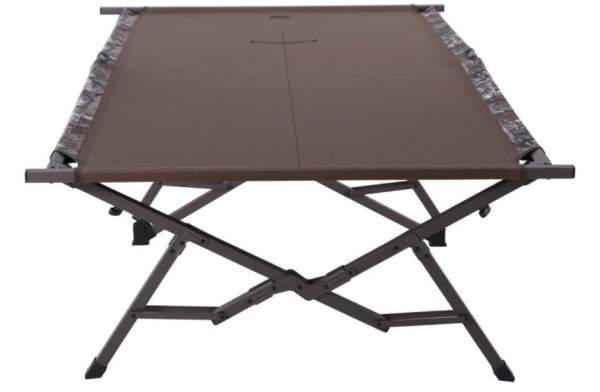 Note that you have to unfold the legs when you make the cot ready. They rotate and need lots of space, so this must be done outside of the tent.
There are locks for the legs on the two ends, they add to stability and contribute to the overall capacity of the cot.
Materials
This is a steel construction with 25 mm tubes, and this is what makes it different from the earlier mentioned Timber Ridge TR Cedar Deluxe Camo Heavy Duty Folding Cot.
According to their statement, the feet are a patented design. They are with plastic caps, but they are small, and I would not use it in a floored tent without some extra protection.
They do not provide information about the fabric, as usual. I assume this is polyester.
---
Who is this cot for
Regarding the size, this is one of the largest cots on the market. It is both long and wide, the bed dimensions are shown in the picture below. I have included it in my list of extra long camping cots and also into extra wide cots. So this is a cot for very tall people and for users who love to have space to sprawl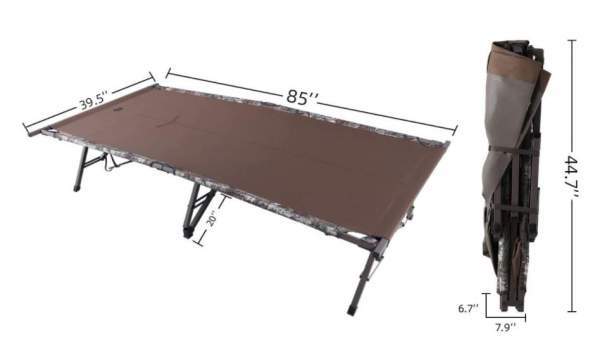 Regarding the capacity, here again, this is one of the most impressive cots on the market. They claim it can support users of up to 600 lb (272 kg). This is more than the weight of any sumo wrestler in the Japanese top division. So there is no doubt you will never need more. I have included it in my list of cots for heavy people.
Regarding the weight, this is not its best feature, the cot weighs 33.6 lb (15.2 kg). You can compare it with the Guide Gear XL Magnum Cot which looks almost exactly the same, but it is slightly lighter.
In view of the previously mentioned packed size, it is obvious that you would not carry this cot anywhere. It is for places with a car access.
Regarding the price, it is quite similar to what you have in some other cots of this size and features. The cot is worth the money.

---
Specifications
Weight: 33.6 lb (15.2 kg).
Capacity: 600 lb (272 kg).
Dimensions: 85 x 39.5 in (216 x 100 cm).
Height: 20 in (51 cm).
Folded size: 44.7 x 7.9 x 6.7 in (114 x 20 x 17 cm).
Frame: steel.
---
Rating, pros & cons
This is an impressive cot, but I have a set of rating criteria and I apply them consistently to all the cots here in the site. So it does not shine in some of them, have a look:
Incredible size & capacity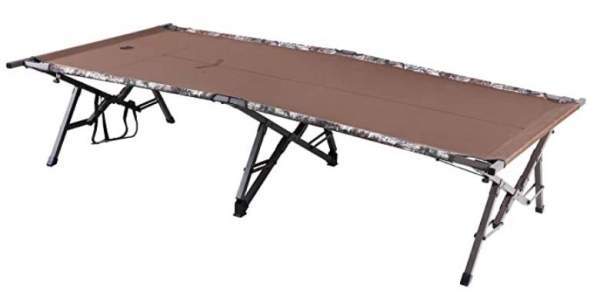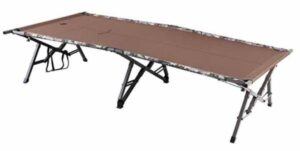 Product Name: Timber Ridge TR Fir Magnum XL Oversized Heavy Duty Cot
Product Description: The Timber Ridge TR Fir Magnum XL Oversized Heavy Duty Cot Is Huge with a Steel Frame and Incredible Capacity, Suitable for Big and Heavy Users.
Brand: Timber Ridge
SKU: B08BYCM8JH
MPN: TRF055
Weight -

4.6/10

Size -

10/10

Capacity -

9.8/10

Packed size -

8.2/10

Ease of use & features -

9.2/10
Summary
The weight negatively affects the overall rating, but it is still Very Good.
Pros
Enormous capacity.
Huge dimensions.
Sturdy steel frame.
Carry bag.
---
Final thoughs
In summary, this Timber Ridge TR Fir Magnum XL Oversized Heavy Duty Cot is impressive in many ways. It is huge and its capacity is incredible. They describe it as suitable for hunters and for camping. No doubt this is so, just do not plan to carry it anywhere, it is very heavy. Fully recommended.

For more options please check under the category Military Cots. Let me know if you have questions or comments. There is a comment box below. Thank you for reading and have a nice day.