---
This Rio Beach Big Boy Folding 13″ High Seat Backpack Beach Or Camping Chair is an easy to use recliner with a headrest and solid armrests.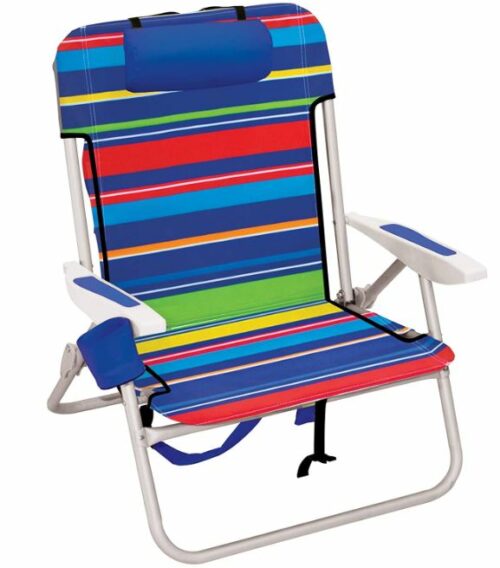 ---
Key features & benefits
Folding design.
Recliner.
Headrest.
Solid armrests.
Storage features.
Backpack-style carry system.
Great price.
---
What this Rio Beach Big Boy chair is about
So here you have a folding chair and this means there is no assembly. You open it seconds. There is a safety hinge that locks the backrest in place. Just to know that they build it several different colors, some are shown in the pictures here.
This is also a recliner chair, so you have 4 different reclining positions. The lowest position is around 130 degrees. I have seen people frequently asking about it. So if you need something that can be completely flat, then check this Ostrich Deluxe Chair, and also Ostrich On Your Back Chair. In any case, because of this feature, I have included it in my list of best reclining camping chairs.
The solid armrests and its high backrest with a headrest pillow make it very comfortable and easy to get in and out. The backrest is around 24 inches (61 cm) high from the seat, so this should be good enough even for taller users.
Note that the pillow is attached by Velcro so you can change its position or remove it completely, see the picture below. Because of such a design, I have included it in my list of camping chairs with a headrest.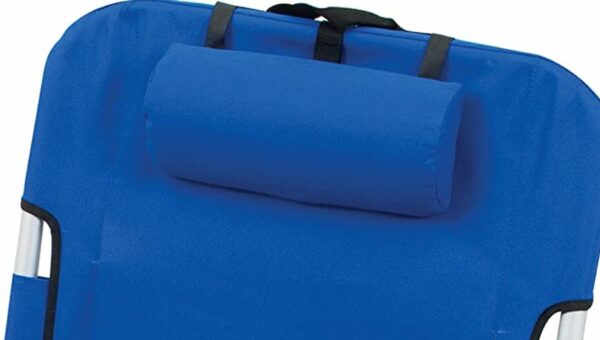 Storage elements
There is a cup holder, shown below, the same fabric material as the chair. It is fixed to the armrest with two rivets.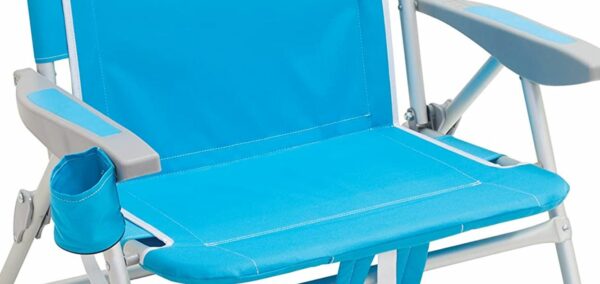 On the back, you have a large storage pouch shown below, with a flap and Velcro closure. This is big enough to keep your towel, books, or pieces of clothing.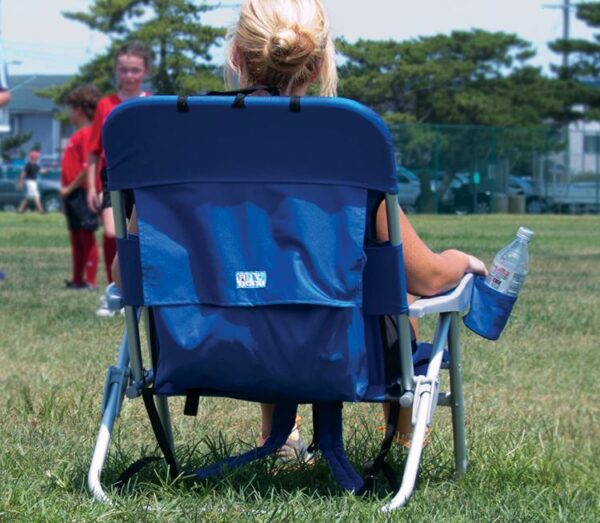 ---
Materials
The frame is a relatively light rust-proof aluminum. The legs are in the shape of two bars, with such a design it will not easily sink in the sand or any other soft ground. This is also a floor-friendly design and you can use it even in a floored family camping tent.
The chair is equipped with two shoulder straps so you can carry it backpack-style. The fabric is a 600D polyester, so this is quite standard for such chairs. But there are many reinforcement stitching.
---
Who is it for
Regarding the weight, the chair is moderately heavy with its 11 lb (5 kg) of weight. But this is a camping chair so you are not supposed to carry it long distances.
Regarding the packed size, the chair is quite large in two dimensions when packed, but it remains thin, the dimensions are 28 x 28 x 5 in (71 x 71 x 20 cm).
I have seen many people asking about carrying it on a bicycle, so the answer is yes this is possible. As mentioned above, you can carry is on the back.
Regarding the capacity, it is designed to support the weight of up to 300 lb (136 kg). So this is quite typical, similar to many other chairs presented here in the site. If you need a camping chair for heavy users, check one of these.
Regarding the design, this Rio Beach Big Boy chair is built as a beach chair, it is with a relatively low seat that is 13 inches (33 cm) above ground. But the legs are such that you can use it on any surface and this makes it a good camping chair as well. You can use it with any of the side tables presented here in the site.
Regarding the dimensions, the chair is only moderately big in spite of its name, you will see below how I rate it, and the seat dimensions are in the specifications below.
---
Specifications
Weight: 11 lb (5 kg).
Capacity: 300 lb (136 kg).
Packed size: 28 x 28 x 5 in (71 x 71 x 20 cm).
Seat height: 13 in (33 cm).
Seat width: 22 in (56 cm).
Seat depth: 17 in (43 cm).
Total height: 36 in (91 cm).
---
Rating, pros & cons
I consistently use the same criteria for all the chairs here in the site, so you can easily compare. The average value here is not particularly high, see how I rate it:
An easy to user reclining folding chair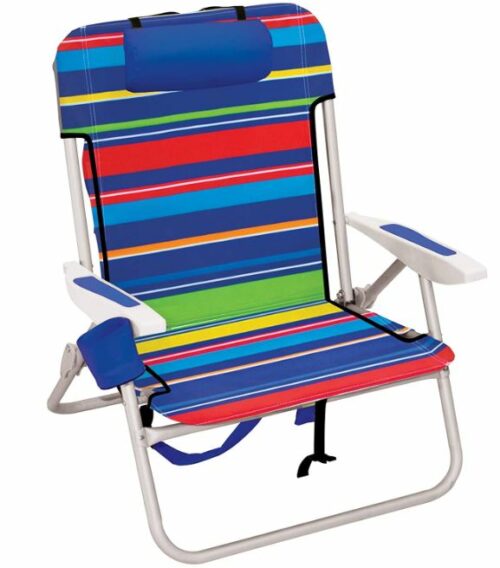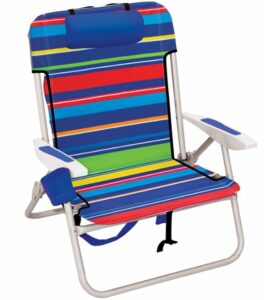 Product Name: Rio Beach Big Boy Folding 13" High Seat Backpack Beach Or Camping Chair
Product Description: This Rio Beach Big Boy Folding 13" High Seat Backpack Beach Or Camping Chair is an easy to use recliner with headrest and solid armrest.
Brand: Rio Gear
SKU: B01H4EKMBQ
MPN: ASC537-46-1
Weight -

6/10

Dimensions -

7.7/10

Packed size -

1/10

Capacity -

7.5/10

Comfort -

9.3/10

Craftsmanship -

9.3/10
Summary
The packed size is not the best feature and it affects the total rating which is still Good.
Pros
Quality manufacturing.
Easy to use.
Comfortable.
Good storage pouch.
Cons
Large when packed.
On the heavy side.
---
Final thoughts
To summarize this Rio Beach Big Boy Folding Chair review, this is an easy-to-use and comfortable chair, its reclining design is its best feature. The legs are such that it can be used anywhere, this is why I have added it here in the camping chairs. But it is included in my list of best lightweight beach chairs.

For more options please check under the category Camping Chairs here in the site. Check in particular my list with folding camping chairs where this chair is also included. This Coleman Folding Camp Chair Woodsman II is built in a similar folding style. Thank you for reading and have a nice day.