---
MARCHWAY Ultralight Folding Tent Camping Cot Bed is a backpack portable collapsible and a nicely packable cot with a great price tag.
---
Key features & benefits
Backpack portable.
Reasonable price.
Good packed size.
Nice design.
Easy setup.
Side storage pockets included.
---
What type is this
In the title above, I use the name suggested by the manufacturer. But it is misleading due to the word folding which would suggest that the cot does not need assembly. In fact, this is a fully collapsible cot from the group of those that need assembly.
So when packed, the cot collapses to a bundle which is only 16.9 x 5.5 inches (43 x 14 cm), and all its elements are separate. This is what makes it very different from folding cots which are always pre-assembled.
---
Who is it for
I have already mentioned the great packed size of this cot. Now, if you add the weight to the picture, which is 4.7 lb (2.13 kg), you realize that this is a cot that can be attached to the pack and carried on shorter hiking, climbing, and mountaineering tours.
I guess backpackers would not consider it (they have several much lighter options to choose). But if you are a cyclist or a motorbiker on a cross-country tour, or a kayaker, hunter, etc, this is a tool to bear in mind.
Apart from its obvious outdoor use, this cot can serve as an emergency bed at home, for sudden guests, for your kids' friends, etc.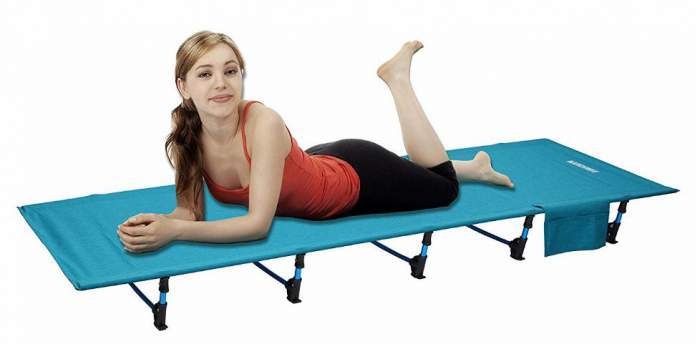 ---
What is included
All the elements are shown in this picture: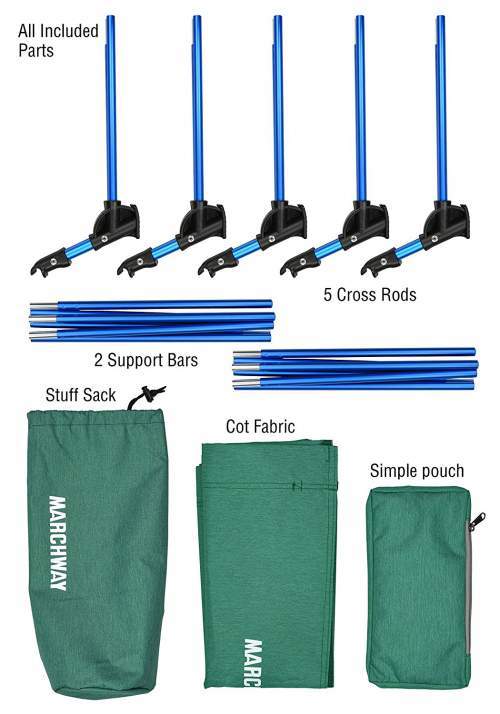 I already mentioned its great packed size, so see how these elements fit inside: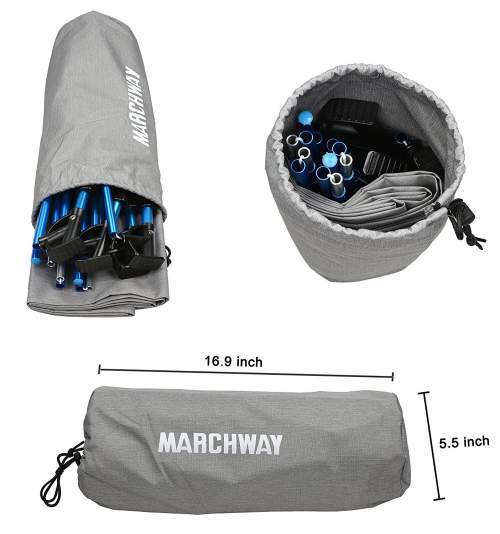 ---
Setup and construction
This is a structure with two sidebars, a set of 5 bars-legs, and the bed deck. The metal parts are aluminum and the fabric is a durable ripstop nylon.
The cot needs assembly, but this is all done without extra tools or force. You start by spreading the deck and putting the sidebars into the sleeves. Note that these sidebars are shock-corded and you will never lose any of its segments. Then you add the legs (which are also shock-corded and their feet are always attached to them).
The procedure should be obvious from this picture: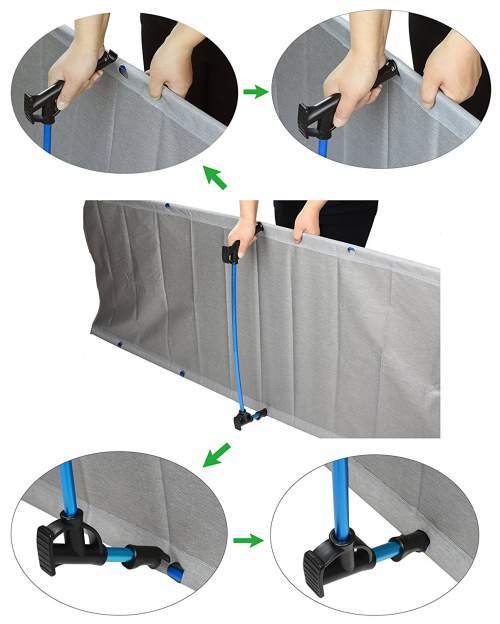 Observe that this is the cot without end bars, which is typical for this type. So you are safe from pressure points, so the length is a fully usable length. Also, there are no bars anywhere under the bed deck, the legs are far below.
Using the cot in a tent
The size of this cot, and in particular its height which is only 6.5 inches (16.5 cm), are such that you can use it in any tent, literally. So it can fit even in the lowest bivy-type tents like this Eureka Solitaire bivy, Alps Mountaineering Mystique 1 Tent, or the Catoma Badger bivy tent.
This is also a great tool for any larger family camping tent, sleeping off the ground is far more comfortable than on the ground.
The legs are floor-friendly design and you can realize this from this picture: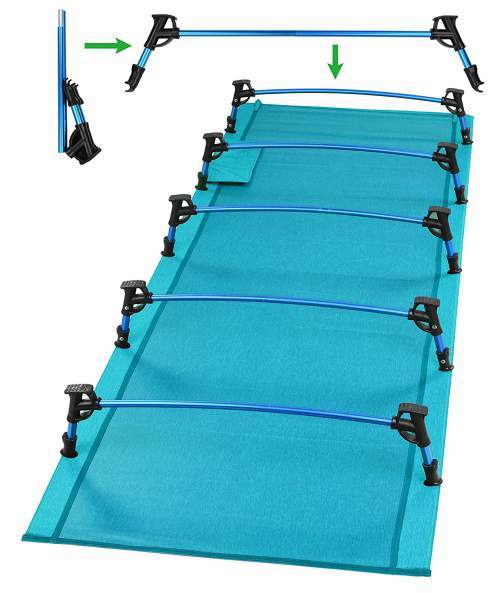 Do you need a sleeping pad
The answer is no, for home use and for a warm environment in general. But you can use it for extra comfort of course.
However, if you are in a cold area, on a high mountain pass or anything similar, you should use some insulated pad. I use to sleep at such high passes in the Alps and can tell you those are areas with winter conditions even in the summertime. There are places where you can go over 2700 meters of altitude, see for example my text about the Stelvio pass and Gavia pass in the Italian Alps.
Note that you do not have to have a high R-value, you are off-the-ground so you lose far less body warmth because the air is under the cot.
---
My rating, pros & cons, price
The cot is nicely built, but it is not unique, there are many similar tools on the market. The size is reasonable and quite typical, but they could have made it longer.
The Amazon price is given in the link below, note also this is an Amazon Prime product.
 See how I rate it:
My rating breakdown of the MARCHWAY Ultralight Folding Tent Camping Cot Bed
Weight -

9.6/10

Size -

8.4/10

Capacity -

7.5/10

Packed size -

9.9/10

Ease of use & features -

8.2/10
Summary
My overall rating of this cot is Excellent:
Pros
Very good price.
Easy setup.
Reasonable size.
Very versatile.
Nicely packable.
Cons
Not for very tall people.
---
Specifications
Type: collapsible backpack portable cot.
Best use: camping, hiking, climbing, kayaking, fishing, travel.
Weight: 4.7 lb (2.13 kg).
Capacity: 300 lb (136 kg).
Dimensions (L x W x H): 74.8 x 27.4 x 6.5 in (190 x 70 x 16.5 cm).
Packed size (L x D): 16.9 x 5.5 in (43 x 14 cm).
Frame: aluminum.
Fabric: ripstop nylon.
Carry bag included.


---
MARCHWAY Ultralight Camping Cot vs competitors
Here I show a couple of cots from the same weight range, just to get some feeling of how the Marchway Cot stands when compared. They are all very similar in style, and to see more please follow the links.
18 x 7.5 x 6
(46 x 19 x 15)

14.9 x 6.3 x 5.9
(38 x 16 x 15)

---
Final thoughts
I would conclude this MARCHWAY Ultralight Folding Tent Camping Cot Bed review by saying that this is a nicely built lightweight cot that can be carried attached to a backpack. Its features make it a very versatile tool for outdoor and home use. It is not unique and it is not the lightest, there are many cots of this type on the market, you have seen a few in the comparison table above. So compare and make an educated choice, this is the purpose of this text.

Thank you for reading. Please check around if you need something different in size or in style. This site contains cots of all possible types. Check for example this G2 GO2GETHER Camping Cot built in the same style.
If you have any question or comment, please use the comment box below. I wish you a nice day.

---