---
Camp Field Camping Table with Adjustable Legs is a best-selling and very popular portable, easy to use aluminum camping table with a great price tag.
---
Key features & benefits
Folding & collapsible table.
Adjustable legs.
Portable.
Great price.
Carry bag included.
---
Where to buy
This Camp Field Camping Table is available on Amazon. They operate globally and I have seen it on several of their global stores. So please follow the link and check the price and shipping conditions for your location.
---
What type of a camping table is this
So this is a folding and collapsible design. The meaning is that the frame and the tabletop fold independently, see the picture below.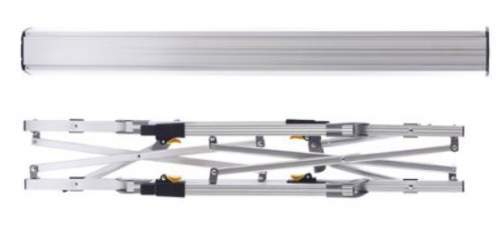 This implies that there is a simple assembly which is done without any tool. When you expand the frame and the tabletop, the latter clips to the frame (see the picture below), and this is all you have to do.
The table comes with its carry bag with the dimensions 36.81 x 7.52 x 5.12 inches (93 x 19 x 13 cm) so you can carry it short distances.
Adjustable height
This is an important feature because it allows you to use this table on any ground and you will always be able to level it perfectly horizontal.
This is because of its legs that can be adjusted independently. You have very easy to use release mechanisms on each of them, see the picture above. The possible height is in the range 17.32 – 25.19 inches (44 – 64 cm). This means you can have any height in this range, and for any leg independently. I have included this table in my list of best camping tables with adjustable legs.
---
Who is it for
Size-wise, the tabletop is 35.4 x 19.7 inches (90 x 50 cm) and they describe it as a 4-person camping table. I think it is a bit small for such a number. It is certainly perfect for two people.
But note that it is a bit low even when you extend the legs to the maximum length. The height in this case is 25.19 inches (64 cm). So although it can be used as a dining table, there are better options for such a purpose. I see it better suited as a side table.
Weight-wise, with its 10.7 lb (4.85 kg) of weight, this is not a particularly light table but it is portable. You have seen its packed size, it is a bit long when packed, so you will need a car for transportation. It will not take much space in the car trunk.
Capacity-wise, the declared weight capacity is 66 lb (30 kg) and this should be good enough for any situation in the camp. But it is less stable when the legs are fully extended.
---
Materials
This is an all-aluminum construction, and this applies to the tabletop as well.
They sell it at the same place on Amazon where they have yet another table which is not aluminum. This seems to make some confusion about the tabletop material.
There are a few plastic elements, clips underneath the tabletop, feet, and the locking mechanisms for legs' extensions.
Note that they give a lifetime warranty and 100% money-back guarantee if you are not satisfied.
---
The price & rating
This table is on the US market with an excellent price shown in the link.
Surprisingly, on the EU market, the price is around 3 times higher.
The average rating by Amazon customers is respectable 4.0/5. Please see how I rate it against my standard set of criteria used for all the tables here in the site so you can compare easily:
My rating of the Camp Field Camping Table:
Weight -

7/10

Dimensions -

8.2/10

Packed size -

7.5/10

Craftsmanship -

9/10
Summary
My total average rating is:
Pros
Very versatile.
Excellent price.
Easy to use.
Legs adjustability.
Cons
A bit heavy.
Long when packed.
---
Specifications
Weight: 10.7 lb (4.85 kg).
Weight capacity: 66 lb (30 kg).
Desktop dimensions: 35.4 x 19.7 in (90 x 50 cm).
Height: 17.32 – 25.19 in (44 – 64 cm).
Packed size: 36.81 x 7.52 x 5.12 in (93 x 19 x 13 cm).
Material: aluminum alloy.
---
Camp Field Camping Table vs Coleman Pack-Away table & Redcamp Aluminum table
It is always a good idea to see how such a table stands when compared with some other tables built in the same style and with similar features. So here it is side by side with Coleman Pack-Away Camping table and Redcamp Camping table. All of them are with adjustable legs.
As you see, the other two tables are folding type, so they remain large in two dimensions when packed, but they become thin in such a state. The Camp Field table is the only one here with an aluminum tabletop. All of them are very affordable.
Dimensions
(L x W x H), in (cm)

35.4 x 19.7 x 25.19
(90 x 50 x 64)

36.8 x 7.5 x 5.1
(93 x 19 x 13)

Redcamp Aluminum Folding Table
35.4 x 23.6 x 27.6
(90 x 60 x 70)

23.6 x 17.8 x 2.7
(60 x 45 x 7)

31.5 x 31.5 x 31.5
(80 x 80 x 80)

31.5 x 16 x 3
(80 x 41 x 8)

---
Final thoughts
So as you have seen, this  Camp Field Camping Table with adjustable legs is nicely built and suitable for a variety of activities like camping, picnics, barbecues, backyard parties, and you name it.
It is portable but not the lightest option out there. The price is more than appropriate for such an all-aluminum construction. I have included it in my list of best collapsible outdoor tables.

Please check under the category Camping Tables here in the site if you need more options to consider.
Note that this is not a sponsored text, and I am not paid to write this text. Do let me know if you have questions or comments, there is a comment box below.

---