---
Eureka! Camping Cot is a new folding and easy to use steel cot on the market, very stable and nicely packable, and with a carry bag included.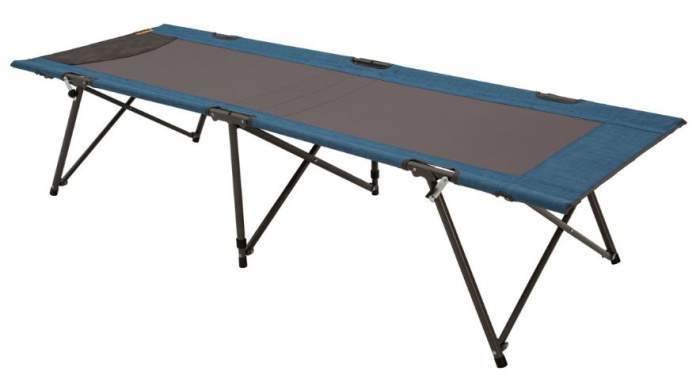 ---
Key features
Quick and easy setup.
Carry bag included.
Steel frame.
No assembly.
---
What this is about
Eureka is a world-renown brand mainly because of their great tents, but they also have a few cots on the market, and one of them is the Eureka Quick Set Camping Cot with instant setup.
But this Camping Cot is slightly different, and this is a new model they launched for the season 2019. The structure is collapsible and folding in such a way that it remains large in one dimension only, see the picture.

This also means that making it ready is very easy, you simply unfold, all the elements are pre-attached to each other. So there is nothing to set up when you make it ready or to do with tools, and also nothing to lose.
The picture below shows the setup procedure: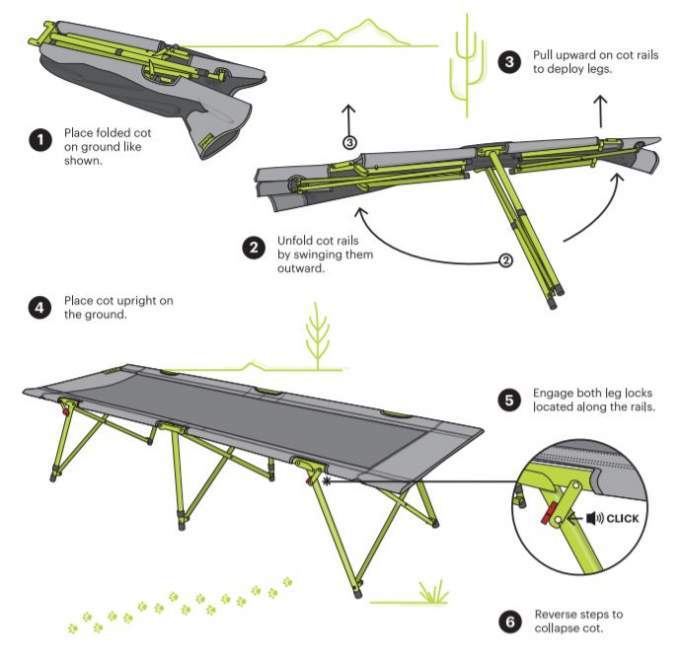 When you do the opposite and fold it, you can pack it in its elegant carry bag which is with a shoulder strap, see it in the picture:

This is a steel structure and you have a comfortable faux leather headrest visible in the picture below. Also visible are the locking mechanisms which you have on the legs at the two ends, the central leg is fixed and you fold the bed towards it.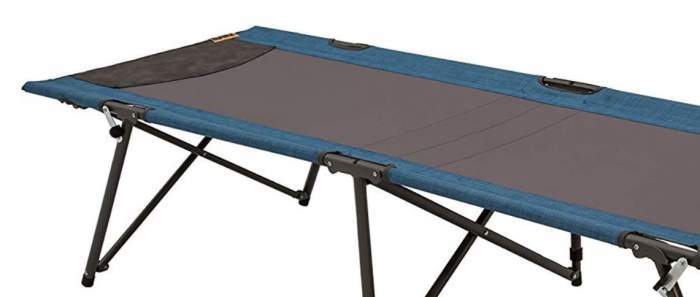 Observe also those diagonal support bars which add to the stability in all directions, so the whole structure is very stable.
Note that this is not a unique construction, there are a few cots here in the site with the same design, you will see some of them in the comparison table below.
---
Who is it for
Size-wise, the bed is quite typical, you will realize this also from the comparison table below. So if you need something considerably bigger, please check my list with camping cots for tall people.
Note however that its 76 inches (193 cm) of length is a truly useful length because the bed is without any end bars. You are also safe from any bars underneath the deck, those support bars are far from the fabric.
Capacity-wise, again quite a standard weigh support of 300 lb (136 kg). But here too to add that if you need something much stronger, check my list with cots for heavy people.
Weight-wise, with its 14 lb 14 oz (6.7 kg) this is certainly not a lightweight item but this weight is normal for such a camping cot.
Using Eureka! Camping Cot in a tent
This cot is very high, the bed deck is 17.5 inches (44 cm) above the ground. This should be a good option for elderly users, getting in and out of the bed is easy.
On the other hand, this is a huge space to store your gear underneath the cot. This is an advantage of using such cot in a family camping tent.
But see the feet, they are with plastic caps but I would not use them in a floored tent without some extra protection.
---
My rating, pros & cons
This cot is available on Amazon and the link below shows you this is an Amazon Prime product.
Please see how I rate this cot, the same criteria are used for all the cots in the site for easy comparison:
My rating of the Eureka! Camping Cot:
Weight -

7.8/10

Size -

8.3/10

Capacity -

7.5/10

Packed size -

9/10

Ease of use & features -

9.5/10
Summary
My overall rating of this cot is Very Good:
Pros
Easy setup.
Quality materials.
Very reliable.
No end bars.
Nice carry bag.
Cons
Moderate size.
A bit expensive.
---
Specifications
Weight: 14 lb 14 oz (6.7 kg).
Capacity: 300 lb (136 kg).
Dimensions: 76 x 25 x 17.5 in (193 x 64 x 44 cm).
Packed size: 37.5 x 5.5 x 5 in (95 x 14 x 13 cm).
Frame: steel.
---
Eureka Camping Cot vs Competitors
The comparison table below shows you that this Eureka Cot is in fact lighter than the other two cots built in the same style, and it is also slightly better packable. But you see also that it is smaller than the Kamp-Rite Cot. Please follow the links for more.
37.5 x 5.5 x 5
(95 x 14 x 13)

38.5 x 7 x 5.5
(98 x 18 x 14)

---
Final thoughts
So there is not much one could object to this Eureka! Camping Cot, except that it is much more expensive than its competitors. But Eureka is a well-established brand and my guess is that the price is a result of that. They offer a 1-year warranty with this cot.
Note that this is not a sponsored text and I am not paid by the brand. There is a comment box below so do use it in the case of questions or comments. I wish you a happy camping.
---