---
In this Byer Of Maine Allagash Plus Cot Review you can read about a very reliable large collapsible cot that has already stood the test of the time. This is an elegant and simple tool that comes with a great price tag.

Key features
Quite a large cot.
Great price.
Very reliable.
Very versatile.
Collapsible.
What type is it
The Maine Allagash Plus Cot is in the group of collapsible cots. This means that it is packed to a very small volume with only one relatively large dimension. Indeed, its packed size is 40 x 6 x 4 inches (102 x 15 x 10 cm).
So this makes it different from folding or foldable cots which fold like a book and remain relatively big in two dimensions.
Being collapsible, this means it needs assembly every time when you use it. But this is simple because the bed deck and the side bars remain connected, and when you unfold this part, you just add the 4 spring steel legs without any tools.

Who is it for
The Byer Of Maine Allagash Plus Cot is equally good as a spare bed at home for sudden guests, and as an outdoor camping bed.
At home, perhaps not everybody may be able to assemble it; you will see in the video this is simple but need just a bit of force to bend the legs in order to fix them in the side bars.
For outdoor use, in view of its length when packed, you will need a car. So I would say it is perfect for any use at places with car access, like regular camping places, trailhead hotels, summer camps, open-air festivals, fishing spots, etc.
Observe its weight, it is only 8.5 lb (3.85 kg), so it can be carried attached on the pack, but it is rather long when packed and this is not the best tool for such a purpose. If you need something backpack friendly, check some of these.
The bed is really simple and elegant in design and this is what I love in it. The tension in the bed deck is created by the W-shaped spring steel legs. Such a construction determines its capacity, it is quite good but not exceptional; this bed can support users up to 113 kg (250 lb).
On the other hand, the bed is quite large, 76 x 30 inches (193 x 76 cm). So it is suitable for tall people. But if you are really tall and really heavy, it is better that you check one of these cots for heavy people.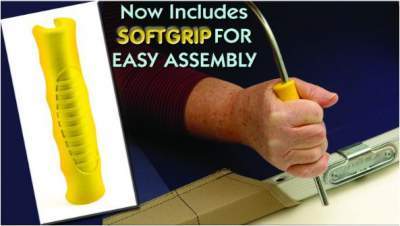 About setup and construction
It is best that you see the video below. The construction is based on four galvanized spring steel legs. They are designed to conform to your body for maximum comfort while doubling as a carry handle.
The bed deck is reinforced in the central zone for extra durability and strength.
Observe that there are no end bars in this design, so the whole length of this bed is a useful length. There are no bars anywhere underneath the deck so you are definitely safe from any pressure point.
The whole assembly is done in just a couple of minutes, see the video:
For extra comfort, you can add a sleeping pad, but in principle you do not need it in the summertime.
In a cold environment you will need some insulated pad, but observe that you need far less than when you sleep on the ground.
Using it in the tent
The legs are floor-friendly, but I would add some extra protection, like a carpet or just pieces of a thick cardboard.
Regarding the size, this cot will fit easily in any solo tent, even in those that are really low. This is because of its own height which is only 8 inches (20 cm). You can still store some small items under the cot, and this is certainly not the case if you sleep on the ground.
My rating, pros & cons, price
The carry bag is not included. Instead, you use straps to fix it down together with legs (that are stored in their own carry bag), and you carry the package by using the legs as a handle.
You have seen in the video how simple the setup is although some force is needed. But here is an ordinary user, not a person from Byer, so see again, the setup is really easy:
The price of this cot is really exceptional and you can see it daily updated in the link below.
This cot has been on the market for several years already, so all is known about it. On Amazon, it has received a very high ratings by customers. See how I rate it:
My rating of the Byer Of Maine Allagash Plus Cot
Weight -

9/10

Size -

8.7/10

Capacity -

7/10

Packability -

8.8/10

Ease of use & features -

8/10
Summary
My overall rating of this cot is Excellent:
Pros
• Quite large.
• Portable.
• Reliable.
• Versatile.
• Easy to use.
• Good price.
Cons
• No carry bag.
• Need a bit of force to assemble.
Specifications
Weight: 8.5 lb (3.85 kg).
Capacity: 250 lb (113 kg).
Dimensions (L x W x H): 76 x 30 x 8 in (193 x 76 x 20 cm).
Packed size: 40 x 6 x 4 in (102 x 15 x 10 cm).
Color: blue/tan.
Frame: aluminum side bars plus 4 spring steel legs.
Fabric: 600D polyester.
Needs assembly.
Summary
To conclude this Byer Of Maine Allagash Plus Cot Review, I really love the design of this cot. It is so simple, without pieces that can be damaged or get loose. It is hard to find any true objection to this cot, so I can recommend it to anybody.
Note that this cot is very similar in design to yet another cot from the same brand, the Byer of Maine TriLite Cot which is a bit smaller.

This site is only about cots, so if this cot is not for you, just have a look around, you will find something suitable. You might want to check this Go-Kot Regular Cot. If you need something with a mattress, please check here. If you need a backpacking tool, see this list with ultra-lightweight cots.
Thank you for reading. Please let me know if you have any comment or question, there is a comment box below. Have a nice day.