---
Simmons BeautySleep Foldaway Guest Bed Twin is a cot with a bonus memory foam mattress, a comfortable spare bed at home and a great camping tool.
---
Key features and benefits
Thick foam mattress included.
Very wide bed.
It folds to only 7 inches (18 cm) thickness.
Plush Micro Quilt removable and washable cover.
Very durable construction.
Locking mechanism for legs.
---
What type is it
As you realize from the name, Simmons BeautySleep Foldaway cot belongs to the group of foldable tools, and many of them are described here in the site. This means that when packed, it preserves two relatively large dimensions, 38 x 31 inches (97 x 79 cm). But it becomes thin, only some 7 inches (18 cm).
So do not mix them with collapsible cots, many of those are available here in the site.
On the other hand, this is a cot with a memory foam mattress. I made a long list of such tools, so you might want to have a look here. Again, do not mix these with cots with air mattresses, several of them are described elsewhere in this site.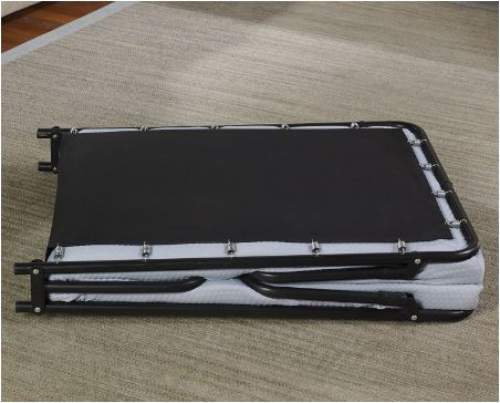 ---
Who is it for
This is a versatile tool to be used at home as a spare bed for sudden overnight guests. Just store it in the closet or under your regular bed and use it when needed. See below how nice it looks: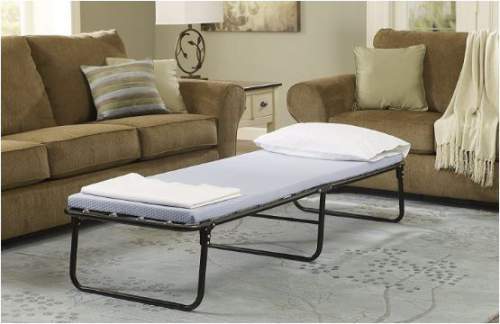 Its cover is removable and washable, this is not so frequent in tools of this type.
But it is also a great camping tool at places with a car access. It is a bit heavy, but this is not to be carried around. These are places that come to mind about its outdoor use:
regular camping places,
trailhead hotels,
summer open-air music festivals,
vacations in general,
any emergency situation.
Obviously, you can use it to sleep in a tent or under the stars, or on a pickup car. Did you see its three U-shaped bar-legs? This is a good design, such bars do not sink in soft ground, and they will not damage tent floor or the floor in the house.
The mattress is removable, this cot is a 3-in-1 tool. This means you can use both the cot and mattress separately and together. For example, you have 2 sudden overnight guests and only one cot, then one can use the mattress and sleep on the floor, the other will manage with the cot only, it is comfortable enough.
---
Why would you need this Simmons BeautySleep cot
Such cots are generally comfortable, and in this particular case, you also have the mattress included. The mattress is high quality, with memory foam and 3 inches (7.6 cm) thick, see the picture below. So this is about comfort. Sleeping on the ground cannot be so comfortable regardless of how good your sleeping pad is.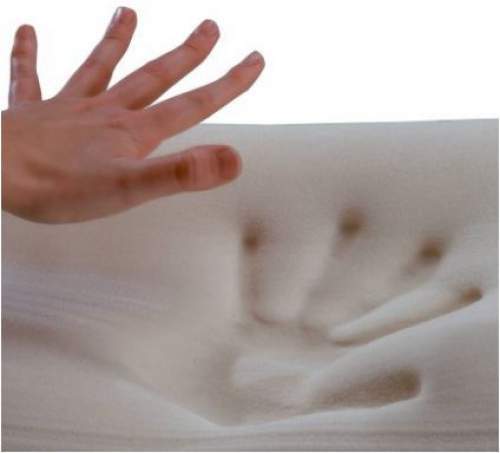 When you sleep on the ground, you need a far better insulation, a cot saves you from that. So you need less investment in expensive sleeping pads.
Using it in a tent
A cot may look like a big tool to use in a tent. The bed size, when unfolded, is 75 x 31 in (191 x 79 cm), so any two-person tent will be fine for such a cot.
The height can be an issue, here you have a cot which is 17 inches (43 cm) high. So you would need some of the tents that are high enough. See this great Kelty Camp Cabin, it can take several cots of this type.
Note also huge space and volume under the cot, this can be used to store the gear.
---
Setup
There is not much to say about setting this cot up. It is the matter of just unfolding it and putting it on his legs. See all in this short video:
---
My rating, price, pros & cons
This cot is on Amazon with the price shown below, so this is very reasonable in view of its mattress. It is not so long, the bed size is 75 x 31 inches (191 x 79 cm).
The rating by Amazon customers for this cot is excellent, but see also how I rate it:
My rating breakdown of the Simmons Beauty Sleep Foldaway Guest Bed Twin
Weight -

5.4/10

Size -

8.9/10

Capacity -

7.5/10

Packability -

4.4/10

Ease of use & features -

9.9/10
Summary
My overall rating of this cot is Very Good:
Pros
• No assembly, ready to use.
• Removable mattress.
• Removable & washable cover.
• Easy setup.
• Foldable.
• Durable materials.
• Versatile.
• Legs locking.
Cons
• No carry bag.
• Not so big.
---
Specifications
Weight: 29 lb (13.2 kg).
Capacity: 300 lb (136 kg).
Dimensions: 75 x 31 x 17 in (191 x 79 x 43 cm).
Packed size: 38 x 31 x 7 in (97 x 79 x 18).
Mattress thickness: 3 in (7.6 cm).
Steel frame.
---
Summary
So to conclude this Simmons BeautySleep Foldaway Guest Bed Twin review, this is a nicely built cot with a bonus memory foam mattress which is quite thick and very comfortable. The cover is removable and washable, and the frame is steel.
I can fully recommend it both for home use and as an outdoor tool to use at places with a car access. Note, I have included it in my list of foldable cots with mattresses just to know if you still feel that you need something different or bigger.
I wish to thank you for reading. If you have any question please use the comment box below. Have a nice day.

---