---
Byer of Maine TLC 7000 Cot is a new aluminum version of the popular cot. It is very lightweight and with great capacity.

Key features & benefits
Lightweight hard aluminum alloy frame.
Portable cot.
Completely collapsible.
Great capacity.
Gear pouch included
Nice carry bag included.

What is in the name
The letters TLC mean 'TriLite Cot" and the number 7000 describes the fact that its frame is built from 7000 aluminum which is the hardest of all aluminum alloys.
So this is an aluminum version of the well known Byer of Maine TriLite Cot which is described in my another text. This aluminum cot is 25% lighter than the original cot.
But there are more differences as you can see in my text with all cots of this brand. This aluminum cot is much lighter, but surprisingly, it is much stronger than the original steel cot, with 325 lb (147 kg) capacity.
Obviously, they sell it under the name TLC 7000 to distinguish it from the original cot which is on the market as well.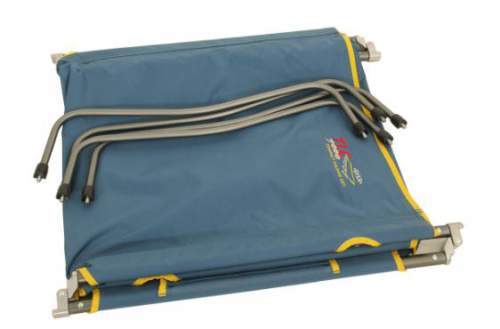 What type cot is this
The TLC 7000 is a collapsible cot, and this has both good and less good sides. The good is that its packed size is really small, only 70 cm (27.5 in) of length, so you can store it anywhere and you can transport it easily in the car.
Less good is that it needs assembly, but this is done easily literally in a minute or two, without any extra tool, see the picture.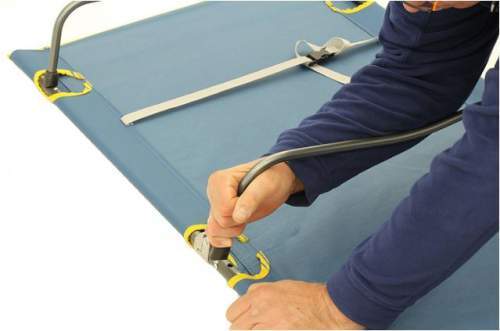 Who is it for
This cot is suitable both for outdoor and for home use. It can be transported in the car or on a motorbike, so this is a great outdoor tool for campers, hunters, kayakers, or for people attending some open-air summer festivals.
At home, it can be used as an extra bed for a sudden guest. Regardless of how you use it, the nicely designed carry bag shown below will be helpful, either to keep it clean from dust or to carry around.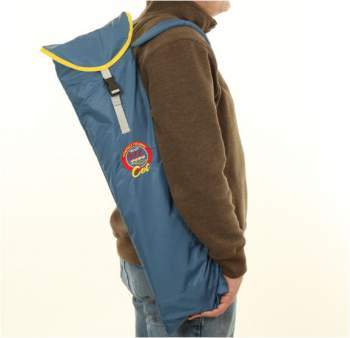 The weight is 5.6 lb (2.54 kg), so it can be carried attached to the backpack, but this is not a tool for long distances. If you need something for backpacking, you might consider some of these ultra-lightweight tools.
Using it in a tent
The legs of this cot are bars, see the picture below, and you have 4 of them, so the weight is well distributed and you should have no issues with the tent floor.
The height is 8 inches (20 cm), and the cot is not so large, so it will fit even in the lowest solo tents. In the case of such small tents, getting it into a tent can be a problem, so it would be best to use it in a tent with a front door. See some great tent options here.
In a cold environment, you will need an insulated sleeping pad, so have a look here for some great pads. Bear in mind that you need less insulation for an off-ground sleeping, so no need to go for very high R-values, this can save you some money.
The cot is not high, but it still allows for storing some gear underneath it, so this will save you some space in the tent.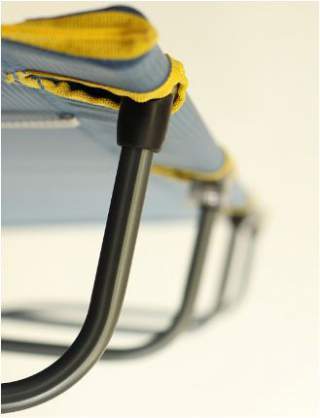 Setup
It is best that you see this video by Byer of Maine:
You realize that this cot has no end bars, this is a good feature, you do not have pressure points on your feet and on the head, and the whole length is a useful length.
There are no bars underneath the bed deck, so you are safe from this. The legs are far below and their design is such that they create tension in the bed fabric.
My rating, pros & cons
It is disappointing to realize that they do not provide official numbers for the cot's packed size. But its packed length is 70 cm (27.5 inches).
The bed width is 25 inches (64 cm), so this is not unusual to see, many cots are with the same width, but this is not much space indeed. Also, if you are very tall, better look for something else, perhaps some of these cots.
The bed is with a useful small pouch for small items to keep at hand during the night. The carry bag is particularly nicely designed, and I love the logo on the bed deck and on the carry bag.
This cot comes at a price shown in the link below. Note this is an Amazon Prime product.
See my rating of this cot against my standard set of criteria used consistently for all of them for easy comparison:
My rating of the Byer of Maine TLC 7000 Cot
Weight -

9.4/10

Size -

8.6/10

Capacity -

8/10

Packed size -

9.2/10

Ease of use & features -

8.3/10
Summary
My overall rating of this cot is Excellent, but I have objections:
Pros
• Nicely packable.
• Portable.
• Reliable.
• Versatile.
• Easy to use.
• Nice carry bag included.
• Great capacity.
Cons
• Not for very tall people.
• A bit narrow.
Specifications
Weight: 5.6 lb (2.54 kg).
Capacity: 325 lb (147 kg).
Bed size: 75 x 25 x 8 in (191 x 64 x 20.3 cm).
Packed length: 27.5 in (70 cm).
Two integrated straps keep the pad in place.
Final thoughts
The Byer of Maine TLC 7000 Cot is a new tool on the market, from a renown brand that was established in the 19th century. The cot is a reliable product that also shows the brand's attention to detail. I can fully recommend it. You can also have a look in my another text where all the cots of this brand are presented.

But if you need something different, just look around. This site is about cots, so you will surely find something for you. Check in the Categories above on the right.
Thank you for reading, and let me know if you have a question or comment, there is a comment box below. Have a nice day.

---