---
With its 2.6 lb (1.18 kg), the Desert Walker Camping Cot is currently the lightest camping cot on the market, yet with 440 lb (200 kg) capacity.
Key features and benefits
Ultra-lightweight.
Great capacity.
Simple setup.
Nice packed size.
Fits into any tent.

What type is it
The Desert Walker Cot is a collapsible tool, and here this implies that a) in the collapsed state it reduces to a very small size, and b) it needs an assembly.
So indeed, its packed size is 20 x 5 inches (51 x 13 cm), see the picture below, and all elements are separate, but the setup is easy and can be done in a couple of minutes literally, without any tool.
This is a truly ultra-lightweight cot, and it is in the list of ultralight backpacking cots.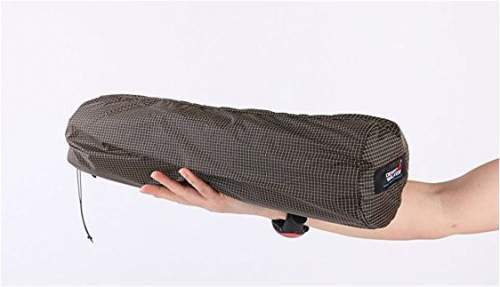 Who is it for
With such a packed size and the mentioned incredible weight, this is the most versatile outdoor cot that you can imagine. It can be carried attached to the backpack, or in the backpack, it can be transported on a bicycle, in a kayak, on a motorbike, in a car.
So this is a tool for hikers and backpackers, hunters, and for any other outdoor activity.
At home, this is a spare bed which you will use when needed, and being so nicely packable, you will not notice it when it is stored in the closet or in the garage.
Here is the summary of possible activities where this cot can be used:
• Camping.
• Hiking.
• Backpacking.
• Hunting.
• Open-air festivals.
• Home spare bed.
• Travel.
• On beaches.
• Motorbike tours.
• Cycling tours.

The bed length is 73 inches (185 cm), so clearly if you are a very tall person, better check something else. There are many cots for tall people described in this site.

Setup and construction
All metal elements in this cot (the sidebars' segments, and the legs with their plastic feet) are shock-corded. So there is no possibility to lose any of them, and the setup is truly easy and self-evident.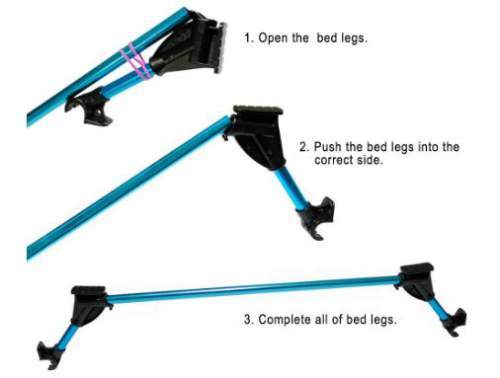 You start by sliding the sidebars into the sleeves in the bed deck, then you set each of the four legs up and add fix them to the sidebars.
There are no end bars, and there are no bars under the bed deck, so you are free from any pressure point.
This is a good system, the legs are in fact bars, so they will not sink on any ground. Even in the sand where the feet may sink, the bed will then rest on the bars which you can see in the pictures, so this will prevent any further sinking.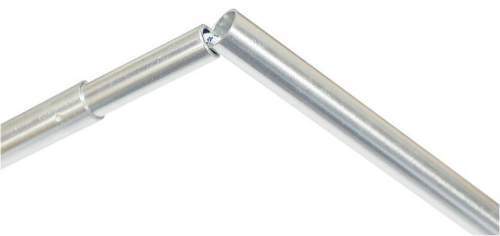 Using it in tents
The Desert Walker Cot is of such a size and height that you can use it literally in any tent. It will fit even in so-called bivy tents, like the Eureka Solitaire Bivy Tent, Catoma Badger, and Winterial Single Person Tent. This is good to bear in mind, so by choosing such a low tent, you can shed some weight to compensate for the weight added by the cot itself.
The cot is with 8 wide plastic feet, see below, so it will not sink in the ground and the design is really floor-friendly.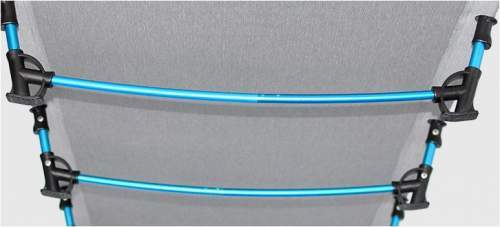 Normally, in the summertime, you do not need a sleeping pad with such a cot. But at high elevations and for winter use, some insulated pad is needed. Though, being off the ground, you need far less insulation in any case. So this also implies possibilities to shed weight and save some money.
You can also shed the weight by using a bottomless sleeping bag; they are designed with a sleeve where you slide the pad (if you use it).
My rating, price, pros & cons
I have already mentioned its dimensions, this cot is not for very tall people. There are longer cots, but this implies more weight. See for example the closest competitor, the Therm-a-Rest UltraLite Cot, which comes in two sizes.
Note that the Desert Walker has yet another ultra-lightweight cot in three different sizes, though a bit heavier and with a very different construction.
The daily updated price on Amazon is given in the link. When you compare it with some of its top competitors, you will realize this is a great price. Note also that you can have it shipped for free, this is an Amazon Prime product.
This cot has received hundreds of reports by users and the average rating is very high. See my own rating:
My rating breakdown of the Desert Walker Camping Cot
Weight -

9.9/10

Size -

8.1/10

Capacity -

9.5/10

Packed size -

9.9/10

Ease of use & features -

8/10
Overall rating
My definite rating of this incredible cot is Excellent:
Pros
• The lightest on the market.
• Very versatile.
• Very reliable.
• Easy setup.
• Reasonable price.
• Great capacity.
• Shock-corded elements.
Specifications
Weight: 2.6 lb (1.18 kg).
Capacity: 440 lb (200 kg).

Dimensions: 73 x 23.5 x 6 in (185 x 60 x 15 cm).

Packed size: 20 x 5 in (51 x 13 cm).
7001 aerospace aluminum alloy poles and frame.

Bed fabric: composite fabric, waterproof, tear-proof, and excellent ventilation.
Desert Walker Cot vs top competitors
See how the Desert Walker Cot stands in comparison with some of its  competitors, to see more please follow the links:
---
Summary
To conclude this Desert Walker Camping Cot review, the comparison table shown above describes it all; this cot is far more affordable than its main competitor the Therm-a-Rest model, and its setup is also easier.
Bear in mind its length to avoid surprises. Other than that, this is a great backpack-friendly cot which is light enough to be used even for backpacking. I can fully recommend it.

Note that this site is all about cots, so if you feel you need something different, please check in the Categories above. If you need a longer cot in the same weight range please check this Femor Camping Cot.
If you have any question or comment, please use the comment box below. Thank you for reading and have a nice day.

---