---
Yolafe Detachable Camping Cot is a collapsible structure, easy to use, nicely packable and incredibly affordable. Keep reading.

---
Key features & benefits
Lightweight & portable.
Collapsible.
Carry bag included.
Incredible price.
---
What is in the name
They use the word Detachable in the name of this Yolafe Cot, and the meaning should be understood correctly as 'collapsible'. All the elements of this structure are shown below.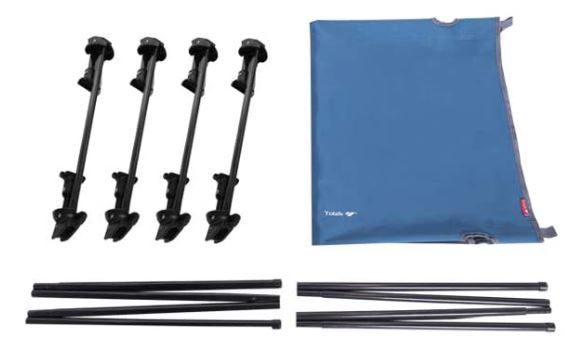 So this implies it needs a simple assembly when you want to use it. This is done in a couple of minutes and without any tool or brute force. As you see, you have two shock-corded side poles, four shock-corded legs, and the bed fabric. The setup steps are shown below: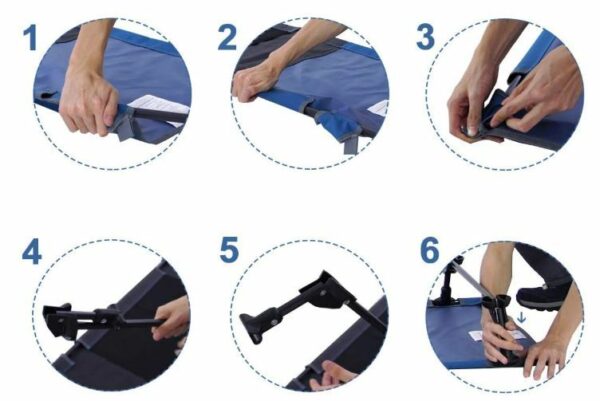 You start by spreading the bed fabric on the ground, upside-down, and then add two side poles one by one. After that start adding the four legs-bars.
The cot comes with a carry bag so this is convenient for transportation, and to keep it stored at home with all the pieces together and also to protect it from dust.
The metal parts here are an aluminum alloy, the usual material used in all cots of this type. The fabric is a heavy-duty 600D PVC coated polyester. Plastic joints are probably nylon, there is no info about this.
---
Who is it for
Weight-wise, with its 8.9 lb (4 kg) this is a very light cot. However, this is not something you would want to carry attached to the pack. For such a purpose there are much lighter cots on the market.
The packed size is also exceptionally good, the size is 24.8 x 7.9 x 5.9 inches (63 x 20 x 15 cm). So you can easily transport this cot on a bicycle or on a motorbike.
Size-wise, with its 75.6 x 23.6 inches (192 x 60 cm) bed size this cot is quite long, but it is very narrow, there are two poles on the sides that make it even more narrow. So if you want more space to sprawl, check these extra wide cots.
But the mentioned length is a truly useful length, there are no end bars. Nevertheless, if you are a very tall person you might want to check this list with extra-long camping cots for tall people.
Capacity-wise, the declared capacity is 300 lb (136 kg), though on Amazon you will see also 250 lb mentioned. So it is not clear which is correct. This should be fine for most of the users. But if you are a heavy person, check one of these.
Using this Yolafe cot in a tent
You have seen the dimensions, so this cot will fit in any tent. Note also that it is 5.9 inches (15 cm) high. This is enough to keep you off the unpleasant ground, and this also allows for a storage space underneath the cot. This space is not available if you sleep on the ground on a pad.
Yet another detail related to the use in a tent is the feet design. There are 8 feet here and they are very wide, so the weight is distributed and you should not have any issue with the tent floor.
---
Rating, pros & cons
Below is the summary of my pros and cons and the rating of this cot. I use the same criteria for all of them so this allows for easy comparison. Please have a look:
My rating of the Yolafe Detachable Camping Cot


Product Name: Yolafe Detachable Camping Cot
Product Description: Yolafe Detachable Camping Cot is a collapsible structure, easy to use, nicely packable and incredibly affordable.
Brand: Yolafe
SKU: B083FLBYN6
Weight -

8.8/10

Size -

8.1/10

Capacity -

7.5/10

Packed size -

9/10

Ease of use & features -

8.2/10
Summary
My overall rating of this cot is Very Good:
Pros
Great price.
Carry bag.
Good length.
Lightweight.
Good packed size.
---
Specifications
Weight: 8.9 lb (4 kg).
Weight capacity: 300 lb (136 kg).
Dimensions: 75.6 x 23.6 in (192 x 60 cm).
Height: 5.9 in (15 cm).
Packed size: 24.8 x 7.9 x 5.9 in (63 x 20 x 15 cm).
Frame: aluminum.
---
Final thoughts
In the summary of this Yolafe Detachable Camping Cot review, I wish to stress that this is a nicely built colt. It is quite typical for such a type, though its feet design is quite unique.
It is not ultralight as they describe it, and it is not for backpacking and hiking as they write, but it is very light and very packable. This makes it a very versatile cot suitable for camping, for hunters, for road trips and bicycle tours, for home use as a spare bed, and also for office to take a nap after long hours.
If you do not want to spend much and want a nice cot, this is the one to consider.

For more options, please check under the category Camping Cots here in the site, you will find them many in all shapes and sizes. If you want a taller cot, check this MOON LENCE Folding Camping Cot.
We add texts here on a regular basis, so bookmark this site and visit occasionally. Subscribe to our weekly newsletter and stay informed, there is a subscription form below.